This article was originally published by MDC's College Forum.
Pass it on. Pay it forward. However you phrase it, working far in advance to attain a goal can be a smart move. That mentality has been the driving force of Miami Dade College's Earth Ethics Institute since its founding nearly three decades ago. The goal was to influence the next generation in some way. Little did they imagine that years later, it might lead to a tour of Biscayne Bay, an exhibition at Coral Gables Museum and an interest in careers that are related to the environment.
Sowing the Seeds of Future Advocates
Now one of those wise investments in human capital is bearing fruit through the work of alumna Jacqueline Crucet, who is curating an exhibition on the 100th anniversary of the National Parks Service. Running this summer to Jan. 8, 2017, at the Coral Gables Museum, it focuses on four local national park sites: Everglades, Biscayne and Dry Tortugas National Parks along with Big Cypress National Preserve.
Crucet was among the first group of MDC students in 1995 to take part in the EEI Honors Program, a unique experience that enabled her and more than 10 other MDC students to live at the Miami River Inn for a whole year.
"Having education be my primary focus was a major shift that empowered me to think more broadly about the world and my place in it."
"We built community gardens and learned a lot in terms of the environment in an urban setting," said Crucet, who studied photography and history at MDC and credits professors Christine Evans, Michael Hettich and Joseph Tamargo with motivating her to excel.
"My MDC professors encouraged me to change from being a full-time worker and part-time student to a full-time student and part-time worker. Having education be my primary focus was a major shift that empowered me to think more broadly about the world and my place in it."
Years later, Crucet now is in her eighth year with the National Parks Conservation Association (NPCA), where she serves as program manager for national parks in the Sun Coast Region of Florida, Louisiana, Puerto Rico and the U.S. Virgin Islands.
"Success for the NPCA is creating future advocates, so that they take their new love for national parks and act on it," Crucet said.
She is ensuring just that type of success through the exhibition she is curating and an NPCA video that features her working with the next generation of MDC EEI social entrepreneurs, two of whom share their stories below. See their video at tinyurl.com.EEItoParks.
A Grain of Sand, a Mountain of Inspiration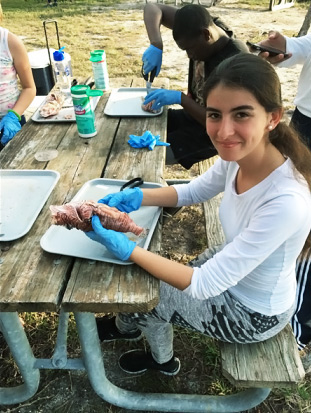 In high school, María Parra was shy, reserved and afraid of challenges.
That's no longer the case.
The now outspoken 19-year-old has become a strong advocate for the environment, and she credits the change to her professors in MDC's Honors College at Kendall Campus, especially English Professor Maria Hospital, who showed Parra's class the 2013 film Sand Wars.
Little did she know before that documentary that sand is the world's second-most consumed natural resource, trailing only water. And sand's extraction, largely by construction and other companies, is damaging the environment and endangering beaches.
This insight motivated Parra to serve as president of MDC's YES Club at Kendall Campus, where she helped with beach cleanups and habitat restoration. It also inspired her career choice.
"I aim to go to law school," said Parra, who arrived in Miami at age 4 from Bogotá, Colombia. "I want to specialize in environmental law, international law or human rights, but the environment is at the core of all my goals since it's the center of survival for everyone."
Parra said she learned a lot during the recent MDC two-day field trip to Biscayne National Park in Homestead hosted by the National Parks Conservation Association (NPCA).
"College shouldn't be just about your education," Parra said. "It should be about helping the community and seeing the positive changes you can create."
Care for Your Body and the Planet
Take care of your body, take care of the planet – it all fits together in the mind of José Bregio, recipient of the Mirta Penelas Scholarship.
Bregio, who is studying nutrition at Kendall Campus, lost his mother in 2015 when she was only 49 years old. She had suffered a four-year fight, first with breast cancer and then, after she had been in remission, with bone cancer.
The family's tragic loss inspired Bregio to research cancer. What he learned about functional medicine led to a dramatic transformation.
"I changed how I ate," said the 23-year-old, who dropped from 220 pounds to 175. "I also added exercise – it was very natural."
Taking charge in the fight against cancer is the core mission of the Mirta Penelas Scholarship. Named after the late mother of former Miami-Dade County Mayor and MDC alumnus Alex Penelas, it is awarded to students with cancer or those who are the children of cancer victims.
"Nature, when preserved, is the most soothing force."
To improve his health, Bregio not only fixed his diet and exercise regime, he also got back to nature by joining the YES Club at Kendall Campus.
"The YES Club is about saving the Earth," said Bregio, 23. "I like the idea of not destroying the land we're living on."
As part of the club's activities, Bregio spreads the word out about the organic produce program CROPS, run by MDC's Earth Ethics Institute (EEI). He also informs others about ways to reduce their carbon footprints. In addition, Bregio and club members recently participated in a two-day expedition to Biscayne National Park.
"Nature, when preserved, is the most soothing force," Bregio said. "When I get really down about my mom, I find peace on the nature trail, kayaking or just being among trees.
"I'm grateful to MDC. Coming from a poor background, I never would have had these opportunities had it not been for MDC and my wonderful professors. I hope share this healing sense of nature with others in my future work."