This article was originally published by MDC's College Forum.
Three gifted MDC graduates who won the Tuskegee University Distinguished Presidential Scholarship Award for 2016 have begun their coursework there this fall on a full ride that covers tuition for two years along with room and board and a voucher for textbooks.
Recently completing associate degrees, the three scholars receiving the prestigious scholarship are accounting major Alicia Royes, criminology and sociology major Fredricka Jean-Pierre, and biology and pre-med major Alexzandria Hunter.
In addition, 11 more MDC students will be continuing their education at Tuskegee as winners of the various Tuskegee scholarships. Tuskegee's financial commitment to MDC alumni for the 2016-17 academic year stands at nearly $360,000.
"Attending Miami Dade College was an amazing opportunity."
Since 2009, 13 MDC students have graduated with bachelor's and master degrees as a direct result of the Tuskegee scholarships. The partnership with Tuskegee University is just one of more than 70 such articulation agreements that MDC has crafted with other universities to extend students' opportunities.
Fredric Toney, assistant director of Advisement and Career Services at North Campus, said the relationship with Tuskegee is a gold standard of what an effective articulation can accomplish.
"The admissions administrators at Tuskegee are so pleased with the academic progress and success of MDC students that they ask me to send more because they have transfer scholarships they'd love to award."
MDC alumnus and 2012 Tuskegee scholarship recipient Royan Reddie said, "Attending Miami Dade College was an amazing opportunity, and receiving the scholarship for Tuskegee University offered great hope, not only for myself, but also for my family members who never had the chance to get a good education."
The academic and professional growth of MDC's transfer students has been impressive and translates into benefits for the whole community when these hard-working adults finish their degrees and return home.
A New View of Plastics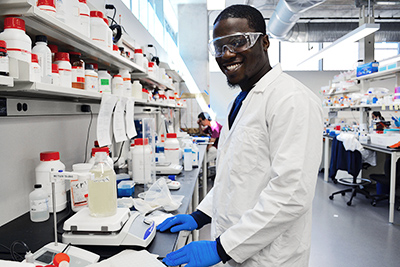 Sam Merlus, a chemistry major who completed an MDC associate degree in May, was awarded a prestigious Tuskegee University Transfer Scholarship in August. The scholarship covers full tuition and books for Merlus for a period of up to four years as he pursues his bachelor's degree in chemical engineering.
Merlus, who graduated with honors and finished with a 3.91 GPA for his coursework at MDC, is a first-generation Haitian-American and the first in his family to attend college.
A man of faith, Merlus said, "Jesus Christ is my motivation, and the reason I have achieved what I have." The young MDC alum is beginning classes at Tuskegee this fall, then plans on going to graduate school at Harvard University.
Over the summer, Merlus was one of just nine students selected nationwide for a fellowship at the Center for Sustainable Polymers at the
 University of Minnesota.
"I wanted something more rigorous that could bring out the best in me, and I found that in MDC's chemistry classes."
"I was thrilled to be part of the fellowship, since the chemical engineering graduate program at the University of Minnesota is ranked No. 2 in the nation," Merlus said.
While there, he worked on using traditional metabolic engineering techniques to design pathways to later be synthesized in novel monomers for potential use in sustainable polymers.
"It's a whole new dimension for plastics," said Merlus. "These have the potential to reduce petroleum use and benefit the environment."
Looking at his academic development at MDC, Merlus said, "I started off studying business, but it didn't captivate me. I wanted something more rigorous that could bring out the best in me, and I found that in MDC's chemistry classes."
Besides chemistry, Merlus is devoted to community service.
"I grew up in a tough, underprivileged neighborhood. There was a lot of violent crime, and a lot of people were incarcerated," he said. "One of the things I intend to work on is helping those coming out of prison transition successfully to a normal life."