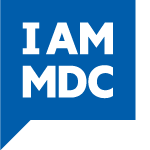 Opportunity is often the one thing between us and a better future. For Paula Pearson-Tucker, '76, that opportunity was Miami Dade College.
"I came to MDC because I didn't know what else to do," said the 2009 MDC Hall of Fame inductee, who, despite growing up in a neighborhood stricken with crime and violence, was determined to have a better life. "I never thought I could be a college student. But I got accepted."
During her time at MDC, Pearson-Tucker found support and mentorship through sports. She credits her then-coach Bruce Davis for helping guide her through to graduation. "Coach seeing something in me completely changed my focus," said Pearson-Tucker. "I was able to look outside my community and see everything I could be. I am the woman I am today because of Coach."
Years later, while working as a stockbroker, Pearson-Tucker discovered a love for golf and eventually decided to leave her 20-year career in corporate America to pursue the game and inspire young people in her community along the way. "To succeed as a golf player, one must think first and react second," said the LPGA Teaching Club member and head golf pro for the city of Lauderhill.
In 1998, Pearson-Tucker partnered with a fellow pro athlete, football Hall of Famer Lawrence Taylor, to start Fore Life, Inc., a nonprofit that uses golf to inspire youth. The afterschool program trains young athletes, ages 4-17, in competitive golf, while teaching them soft skills they can apply to their personal lives. Through the Fore Life program, young golfers are also often eligible for athletic college scholarships.
"I knew I needed to give back because someone gave to me," said Pearson-Tucker.
Written by Janee' Brown, MDC Alumni Relations Officer
---
SharkTalk by MDC Office of Alumni Relations showcases stories of MDC alumni and their accomplishments.
Do you have a story to tell?
Submit your story or nominate a fellow alum at mdcfoundation.com/sharktalk