In 2020, few Americans have been spared from financial setbacks wrought by the COVID-19 pandemic. But for Miami Dade College students already dealing with economic hardships under ordinary circumstances, it turned the idea of "making it" from a journey to commencement into a quest for survival.
With the lowest tuition in South Florida and an open-door policy that accepts all high school graduates regardless of financial or academic standing, MDC serves the most vulnerable student body in the region. Already, 84% of students rely on financial assistance to attend college, and job losses following the outbreak immediately compounded that vulnerability.
In a survey of students, nearly two-thirds reported experiencing food and/or housing insecurity in the past year; 44% reported being hungry, 51% said they were unable to pay rent or utilities, and 13% experienced homelessness.
Ready for the Challenge
MDC has been helping students succeed against all odds for 60 years. With a $49M grant of CARES Act funding from the U.S. Department of Education, new scholarships and certifications, the College activated to help students stay in school or pursue jobs in in-demand fields, including cybersecurity and digital marketing.
Student services staff were equipped to nimbly ramp up wraparound supports. Through the College's Single Stop offices at each of the College's eight campuses, students have been able to access expanded emergency aid made possible by generous donors and MDC Foundation, which activated its I AM MDC Fund to support basic needs like food and rent, and provided 3,000 devices for remote learning.
"When a lot of students write us for help, they tell us, 'My parent has lost their job and I'm the one they depend on,'" said Single Stop Director Janet Mapp. "People are living it."
Over the past 10 years, Single Stop has connected more than 66,000 students with resources to overcome various life hurdles, directing them to financial aid, walking them through applications for government benefits, providing childcare resources, qualifying them for access to the College's food pantries and more. Over the course of the pandemic, Single Stop staff have fielded more than 1,400 calls for assistance, and counting.
A One-Stop Shop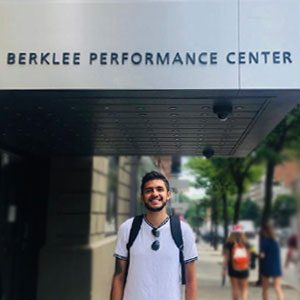 When Mateo Suarez reached out for help, he wasn't sure where his next rent payment would come from.
As an international student, he could not qualify for in-state tuition and relied on scholarships, work and family assistance to pay his way through college. "It was really hard for me to stay financially stable because I'm an international student, so I tried to get it done quickly," said Suarez, who took eight or nine classes a semester with the dream of transferring to Berklee College of Music in Boston. When he needed to find a new apartment, he turned to Single Stop and learned of websites where he ultimately found a new place. "I found the apartment because of Single Stop, and I loved it."
But after the pandemic hit, his family could no longer help, and staying afloat became difficult. "I approached Single Stop and they gave me $1,000 in relief funds for my May and June rent," said Suarez. With Single Stop's help, he also accessed the Kendall Campus Food Pantry to keep down his grocery bills.
"For students who were in school," said Mapp, "who were working or getting a job and gaining their independence, when the pandemic hit, it was like the rug was pulled out from under them."
Despite all the challenges he faced, Suarez made his dream come true, and began studying at Berklee this fall. "MDC was the first step I took toward my dream," Suarez said. "Living alone and trying to be enrolled in everything that MDC offered me, I grew up a lot."