Rising Stars, a professionally staged, energy packed, one-of-a-kind showcase, presented the extraordinary talent of high school and college students from New World School of the Arts (NWSA), Florida's premier arts institution. Comprised of a cutting-edge visual arts exhibition and an evening of performing arts excerpts, Rising Stars has become the signature event of the school and a highly anticipated showcase of the arts for the South Florida community.

Of Pale and Furious Youth, the Rising Stars visual arts show, kicked off the signature event with a varied exhibition curated by Miami exhibiting artist and NWSA alumnus, Loriel Beltran. Tasked with addressing the uncertainty that recent world events have unfolded, where the new normal has taken new meaning, sixteen visual arts students from the high school and college programs of New World School of the Arts presented their response through a vast and varied display of artistic expression.
Dedicated in memoriam to NWSA friend, supporter, fervent advocate, and Miami-based philanthropist, Myrna Palley, the Rising Stars Performance was presented – for the first time in over three decades – at the historic Miami-Dade County Auditorium. Directed by NWSA Dean of Theater Patrice Bailey, the performing arts showcase was hailed as "one of the most impressive and dynamic Rising Stars ever presented," offering more than 250 arts-focused high school and college students the opportunity to explore and present their artistry on a professional stage, in front of 1000 guests. "Rising Stars is one of the most important steps in the molding of our students – spotlighting, illuminating, and showcasing their talents in preparation for their future careers as professional artists," noted Dr. Jeffrey Hodgson, Provost & CEO of New World School of the Arts.
Student dancers enthralled the audience with a diverse mix of choreography including Land of the Sea and Sun, set to the irresistible music of Harry Belafonte and presented in two parts. Created by award-winning choreographer and filmmaker Darshan Singh Bhuller, Jujun also gripped the audience with its quick and powerful movements, while a solo performance entitled Sequential, offered a mesmerizing display of choreographic exhilaration and elegance. The varied music program beautifully brought on stage the NWSA choir to interpret Entreat Me Not to Leave You – an inspiring tribute to love. Under the masterful direction of Dr. Hyunjee Chung, select orchestra and opera students performed portions of the comedic opera Cosi Fan Tutte, while 46 young musicians on wind interpreted the blues-inspired melody Blue Shades. The lively 1924 jazz composition Rhapsody in Blue rounded-off the music program with four rousing solos. Among the theater performances presented were spirited scenes from the award-winning musicals Ragtime and Grease, poignant excerpts from The Crucible and Faust, and a series of brief humorous monologues that seamlessly intertwined and welcomed the other performing genres.

Other highlights of the arts-filled evening included inspiring welcoming remarks by Dr. Jeffrey Hodgson, Dr. Contessa Bryant – NWSA high school Principal, and a special presentation of the Rising Stars Alumnus Award, this year dedicated to Tony award-winning actor Michael Aronov (NWSA theater class of 1994) by his mentor, dean, and director of the show, Patrice Bailey. Just before the Rising Stars Performance began, a VIP reception held at the venue's mezzanine, welcomed esteemed supporters of New World School of the Arts and its partner institutions, including President of Miami Dade College, Madeline Pumariega and MDC Wolfson Campus President Dr. Beatriz Gonzalez; NWSA Executive Board Chair, Mark Trowbridge; Foundation Board Chair, Jacqueline Calderin; Executive Board member, Maria Alonso; and City of Miami Beach Chief Operations Officer, Jimmy Morales; among many other friends, board members, and patrons of New World School of the Arts.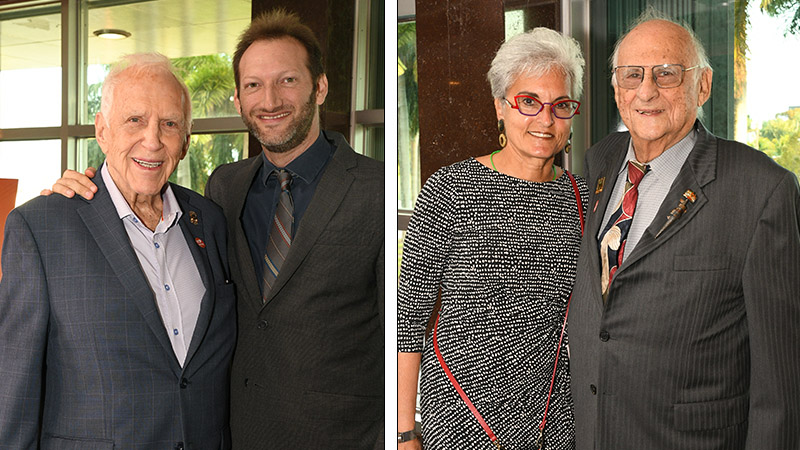 New World School of the Arts, created by the Florida Legislature as a center of excellence in the performing and visual arts as an educational partnership of Miami-Dade County Public Schools, Miami Dade College and the University of Florida, proudly acknowledges Bank of America and its educational partners for their invaluable support of Rising Stars.