Dr. Raimundo Socorro is not only the first dean of the School of Justice, Public Safety and Law Studies at North Campus but also a proud alumnus whose legacy at MDC is impacting the future of public safety.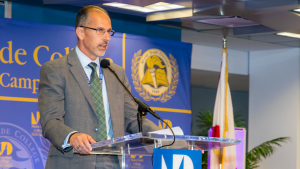 "Miami Dade College accepted me in my first attempt at college before joining the military," said Socorro whose MDC story began long before becoming dean. "Then, MDC was there for me again when I returned as a police academy trainee, then as a police training instructor, then to complete my associate's in arts, and now as dean."
Today, Dr. Socorro holds a doctorate in leadership and education from Barry University and is known for his public service and dedication to preserving the safety of our community. His expertise in the criminal justice field comes from serving nearly 30 years within the Miami Police Department, where he moved up the ranks from police officer to lieutenant and communications commander.
His decades of field experience greatly impacted how programs are taught today at MDC. Dr. Socorro brought important concepts to MDC's police academy curriculum that are critical for the field, and today, those concepts are taught at police academy training programs across the state.
With Dr. Socorro's leadership at MDC, the School of Justice has earned its reputation as a premier provider of training and education for criminal justice practitioners in the southeastern United States. Dr. Socorro is often seen mentoring students, coaching them into their programs, and advising them on which classes to take. He strongly believes that the more educated law enforcement officers are, the more effective they will be.
More than 80 percent of all public safety professionals in Miami-Dade County have been trained at the School of Justice. The school offers a Bachelor in Applied Science degree in public safety management with four specialized tracks, associate degrees in criminal justice, college credit certificates in homeland security and crime scene technology, certifications in basic law enforcement, corrections and firefighter, and private security, and specialized executive leadership training and assessment services.
To learn more about the MDC School of Justice visit www.mdc.edu/justice/about or call 305-237-1722.