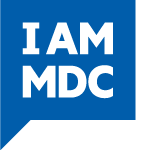 Sarah I. Zabel is a former judge of the Eleventh Judicial Circuit Court, Civil Division, in Florida. She served on the bench from 2003 to 2018. Zabel, who holds her bachelor's degree from Florida State University and law degree from Nova University, got her start at MDC. After graduating from law school, she worked as an assistant division chief for Florida's Child Support Enforcement Program. She later ran her own private practice, specializing in family and civil law, and was a certified circuit court mediator for the family and civil court.
Why did you choose to attend MDC?
I wanted to pursue theatre and dreamt of becoming an actor, but I wasn't ready to leave home. Miami Dade College Wolfson Campus had a theatre department so I decided to attend MDC.
Who influenced you the most during your time at MDC?
While attending MDC, I met the late Dr. Paula Milton. Her mentorship completely shaped my experience at MDC. She taught me to believe in myself and empowered me. She was a true role model.
Today, you are practicing law. How did you transition from theatre to law?
I moved to New York City to pursue a career in acting and I struggled. I decided to pivot from acting into another profession in the arts. I considered becoming an agent of some sort but I was always interested in law. I did my homework and decided on entertainment law.
Tell us about your career in law.
After law school, I wanted to return back to New York City and practice entertainment law. Right before I took the bar, my former supervisor from Child Support Enforcement called and offered me a job. Working at Child Support Enforcement, I developed a passion for public service. I took the job but still wanted to eventually return to New York City. I worked as an assistant state attorney and eventually assistant division chief for Child Support Enforcement. I started my own law practice for a few years. Then, in 2002, I ran for Circuit Court Judge in Miami-Dade County and took the bench in 2003.
How was your experience as a judge?
I served on the bench for nearly 16 years. I had some great mentors and good experiences. I wanted to become a judge because I wanted to ensure people received due process. As a judge, I always referenced my experience as a lawyer. It was important to me to make sure that everyone in my courtroom received justice.
Tell us about your firm, MAZE Resolutions PA.
In 2018 I started a dispute resolution practice, MAZE Resolutions. M.A.Z.E. is an acronym for Mediation, Arbitration, Zabel and End. I wanted to help people navigate the court system and resolve conflict through arbitration and mediation. Settling out of court is a healthy alternative for families and children. I am a firm believer compromise is a strength not a weakness.
How have you created a legacy?
Mentorship is so important. Nothing matters more than leaving a legacy of paying it forward. I am an advocate for mentorship and volunteerism. I serve as a mentor for Women of Tomorrow, my girls are at MDC North Campus School of Advanced Studies. I also sit on the Board of the Miami Dade Commission for Women. Mentorship is so important. Nothing matters more than leaving a legacy of paying it forward.
What keeps you connected to MDC?
Life is about paying it forward, and MDC was the launching pad for my career. So, in any way I can, I give back to simply say thank you to the place I learned to succeed and believe in myself. Life has now also come full circle, and my daughter attended MDC at Wolfson Campus.
Written by Janee' Brown, MDC Alumni Relations Officer
---
SharkTalk by MDC Office of Alumni Relations showcases stories of MDC alumni and their accomplishments.
Do you have a story to tell?
Submit your story or nominate a fellow alum at mdcfoundation.com/sharktalk