Mikael Alfonso opened this year's MDC Alumni Hall of Fame awards ceremony with a moving speech about finding one's path. After losing his job in the pandemic, he took the time to uncover his true passions. Mikael recently completed the MDC Fire Academy program, graduating at the top of his class and receiving the Best Overall Student Award. He plans on continuing his studies at MDC and becoming a firefighter to serve his community.
What follows is the speech he gave during the Hall of Fame Heroes Edition awards ceremony held on June 9, 2021. You can also watch a recording of the event. Mikael speaks at the 16-minute mark.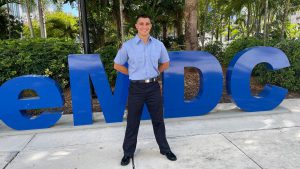 Good evening everyone, my name is Mikael Alfonso and I AM MDC.
I was born in Miami and raised in Jupiter Florida by Cuban parents. After graduating from high school, I found myself bouncing around from college to college. I received an associate degree from FGCU, started my bachelor's degree at UCF, and later completed my studies at FIU in 2016 where I received a bachelor's degree in Biological Sciences. I was able to acquire knowledge and skills that have aided me in my educational and professional well-being.
Once I received my degree, I thought I was on the right track to going to medical school but something didn't feel quite right. I knew I wanted to pursue a career in the medical field to help my community but found myself stuck in a rut. I was working in the restaurant industry while in school, comfortable with a steady income and a routine, but always longing for more. I began to feel unmotivated and took a break from my studies.
And then, the year 2020 came along, just like any other year at first, and quickly changed all our lives before we knew it. Everyone has been affected by COVID-19. It flipped our lives upside down. Around this time last year, I was laid off from my restaurant job of over five years and was officially unemployed. I felt like I hit rock bottom. During the quarantine, I was able to reflect and find clarity in what really matters in life – spending quality time with family and friends – and reflect on personal goals. I began researching getting back to school and what I could envision myself doing for the rest of my life.
After speaking to my mother-in-law, an MDC graduate and an active firefighter/paramedic, about the benefits of her profession, I instantly felt a passion light up inside me. I had never felt this hunger to want to dive into something like this before. With her mentorship and guidance, I applied to the MDC Fire Fighter/EMT Combined Program and was accepted.
Shortly after, I began to be deeply concerned about my financial obligations. How was I going to pay for school, unemployed, while living off of the bit of income I had put aside to survive through this global pandemic? Fortunately, because of all of you here today and your donations, I was able to continue my education and focus all of my attention on academics. Through my time at the Fire Academy, I excelled in my classes, became a squad leader, and graduated at the top of my class. I was also honored to receive the award for Best Overall Student. I had amazing instructors that pushed me to be the best version of myself. I developed lifelong relationships and formed an unbreakable bond with my fellow classmates.
Today, I find myself as a Firefighter/EMT Graduate from MDC and I plan on continuing my studies and achieving my end goal of getting hired and becoming another member of the "heroes of our community."
I would like to formally thank MDC and the support staff for believing in me, the donors and founders of the grants and scholarships that helped fund my education, and most importantly the heroes of our community that has gone above and beyond by keeping our community safe and healthy especially in tough times like these.
My name is Mikael Alfonso and I AM MDC.