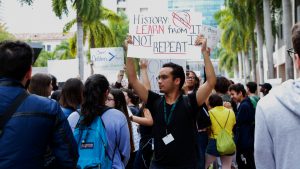 As the country continues to grapple with the emotions stirred by the recent school violence in Parkland, Florida, MDC President Eduardo Padron has stated that he is "immensely proud of our New World School of the Arts and MDC students, who gathered en masse at Wolfson Campus this week as part of a nationwide student 'walkout' in solidarity with the Marjory Stoneman Douglas High School shooting victims.
Without prompting they also organized and held vigils at every MDC Campus. This generation of young leaders is courageously advocating for common-sense gun safety measures, and their voices are being heard.
Many underestimated the resolve and eloquence of this generation. Their collective determination is admirable. This same generation addressed the nation and its leaders at the CNN Town Hall this week, their minds undeterred."
In an email sent out last week, President Padron encouraged us to "take action in order to ensure these unnecessary and preventable tragedies no longer haunt our communities. It is time to hold our leaders accountable and advocate for the implementation of common-sense gun safety measures and the investment of more resources in mental health assessment and treatment, two critical issues at the center of this national tragedy."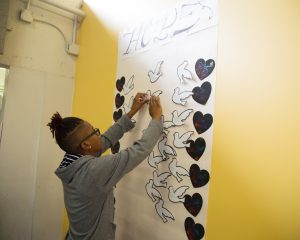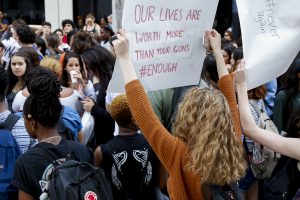 MDC continues to support and facilitate the important conversation around gun violence, mental health and safe schools.
On Sunday, February 25, MDC hosted a Town Hall meeting at Kendall Campus. The meeting, led by State Senator Annette Taddeo, offered local leaders, state lawmakers and citizens of all backgrounds the opportunity to gather, listen and talk about possible solutions.