If you did nothing but watch footage 24/7, it would still take you 19 years to look through everything in the MDC Archives.
The one-of-a-kind collection is housed at Wolfson Campus and is available to students, faculty, scholars, filmmakers, artists and members of the public who want to explore the past through the lens of Miami Dade College and our local community. Archives Director, Rene Ramos describes the collection as "a storehouse of shared memory."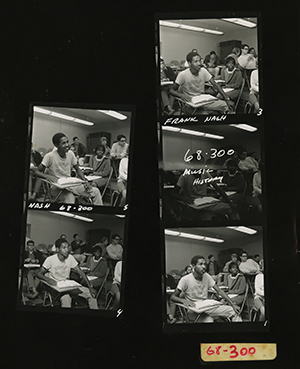 Two in One
The Archives are comprised of two separate collections. The College Archives is a repository for all things MDC, where the history and development of the College is chronicled through documents, publications, videos and a large photograph collection. Items that are considered to be of enduring value and public interest are constantly being digitized, cataloged and preserved for posterity. Searching through these, one could trace the growth of MDC from wide, empty fields best navigated on horseback, to its present stage as an institution of local and national significance spread over eight campuses. "The College has always played a significant role in creating and nurturing the cultural firmament here in Miami," said Ramos. In many ways, the history of MDC is also the history of the community."
The other collection—the Lynn and Louis Wolfson II Moving Image Archives—is a treasure trove of film, video, audio and documents related to Florida. This collection is strong on events covered by television news and also contains a large number of home movies from the twentieth century. The seeds for the collection were planted around 1980 by Mitchell Wolfson and the iconic Ralph Renick, a primal force in the development of television news in Miami. Renick took his post at the Wolfson owned station WTVJ in 1949, where he remained as its longest serving anchor until his departure 36 years later. Eventually, Lynn Wolfson and historian Arva Moore Parks joined the effort, providing the necessary financial and academic backing to support the establishment and growth of the collection, which was formally founded in 1984 and has been housed at MDC since 2009.
The oldest material dates to the 1910s and chronicles the earliest days of Miami's history. There is material from the vaults of the Max Fleischer Studios, which were based here in Miami and gave the world Betty Boop, Felix the Cat, Popeye and the first Superman cartoons. In terms of popular entertainment, there is a wide range of material including footage from the Jackie Gleason Show, the Beatles at the Deauville Hotel during their first visit to America and Muhammad Ali at the 5th Street gym in Miami Beach.
"…it's as if a mirror has been held up to society and we get to look at that reflection through the Archives."
"Sometimes people think of archival material as old, moldy stuff," said Ramos. "But this is so much more than that. The material covers a wide range of areas such as politics, social change, arts and culture. And because national and global events also affect us here in Florida, it's as if a mirror has been held up to society and we get to look at that reflection through the Archives. If something happened in our world, you can usually find some sort of representation of it in the collection. For instance, one of the things we're talking about now culturally is immigration. We have a whole history of immigration as it's happened here in Miami. There is also a whole chronicle of the struggle for gay rights as it played out locally during the Anita Bryant period and beyond."
In fact, Bryant's ex-husband has given all their personal home movies to the collection, which now includes over 4,000 reels of home movies from throughout Florida. "It's like peeking into the lives of average people from 40 or 50 years ago," said Ramos. We have an event every year called Home Movie Day where people gather to watch a selection of these home movies. It's fascinating."
Preserve Your Movies for Posterity
The public is invited to add their home movies to the collection and have them preserved as a part of our community's history. "Just bring them in. The Archives will transfer them for you. We only ask that you leave a copy with us for the collection," said Ramos.
A Resource Like No Other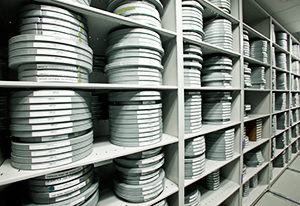 The Archives are a valuable resource that is available to the MDC community free of charge. "We encourage students, faculty and staff to utilize the Archives as much as possible," said Public Programs Coordinator Kevin Wynn. "We'll help you find what you need so you can embed video or use photographs from the Archives to give added depth and interest to your college paper, business presentation or creative project. We can also provide you with raw material that you can edit according to your needs."
As long as the material is being used for academic purposes, College business or small independent projects, it's free of charge. Licensing fees are charged if the material is used in professional media productions or other for-profit situations.
The Archives contain 35,000 hours of videotape and 23 million feet of film. If you put all that film into a single reel, it would stretch all the way to Los Angeles and back. 
Start Discovering
Due to the vast amount of material in the Archives, there are things that are still undiscovered. Users are encouraged to search through the collection and report back if they come across anything of special significance. You might be the one to stumble across a hidden historical gem.
A good way to start exploring is through the Archive's YouTube channel, which currently has close to 1,000 videos. Users may also do research at wolfsonarchives.org. Users can do a key word search on any number of topics such as immigration, crime, the tourist industry, aviation, and so forth. Results will be pulled from the 60,000 videos that are online.
"If you forced me to use one word to describe what we have here I would say it's 'memory,'" said Ramos. "We are a memory institution, we help society remember."
---
There are a number of other ways to experience the MDC Archives. Here are a few:
REWIND Screenings
Public Programs Coordinator Kevin Wynn presents a curated program of videos from the collection twice a week. Each Rewind screening consists of two elements:
Rewind Short Takes – Tuesdays and Thursdays, noon to 1:00 p. m.
15 – 30-minute selections that repeat during each one-hour screening with an emphasis on vintage news stories.
Rewind Long Form – Tuesdays and Thursdays, 1:00 to 1:30 p. m.
Features lengthier film and video works from the collection, emphasizing complete programs.  Programs will vary, showcasing the broad range of vintage TV shows in the Archives.
Programs are presented free of charge and are open to the public.  MDC Wolfson Campus – Room 8401.
MDC TV and the Archives
Take a look at Florida's video and film history with Kevin Wynn on MDC TV's program Rewind.
Museum of Art + Design (MOA+D)
75 Years of EFE Images: Wars, Triumphs, Disasters, People and Politics
On view through August 28, 2016, this exhibition is presented in collaboration with the Lynn and Louis Wolfson II Florida Moving Image Archives. The exhibition features over 75 photographs donated to MDC's Permanent Art Collection and the MDC Archives from Agencia EFE, the world's leading Spanish-language news agency.
The exhibition includes photographs of Ibero-American and world history, featuring images of historic importance, such as the meeting between Francisco Franco and Adolf Hitler at the start of World War II. It also includes images of Princess Diana, Martin Luther King, Celia Cruz, Cantinflas and Gabriel Garcia Marquez. This collection will continue to grow, as Agencia EFE donates a historically significant photograph that encapsulates the most important headline of each coming year.
Join the Archives community on Facebook.