The Board of Trustees of Miami Dade College announced the selection of Madeline Pumariega as the College's fifth and first female president. She is expected to assume office in early January. The Board voted unanimously for the appointment, highlighting her impressive record of achievement, experience, vision, passion, and consensus-building abilities.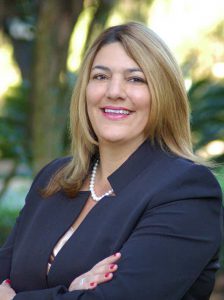 Currently, Pumariega serves as Executive Vice President and Provost of Tallahassee Community College, where she provides leadership and is responsible for aligning and advancing the high-impact practices within the institution's three core divisions – academic affairs, student affairs and workforce development.
A thought leader in student success, workforce innovation and higher education policy, Pumariega was appointed as the first female and Hispanic Chancellor of the Florida College System in 2015. Prior to that, she was president of Take Stock in Children, a statewide nonprofit focused on breaking the cycle of poverty through education.
Pumariega began her academic career at MDC and returned to work at the College for 20 years, growing her career and culminating as President of the Wolfson Campus. While at MDC, she developed innovative approaches to support academic progress and student success, ensuring that thousands of youths would have the opportunity to access and complete college. Pumariega was instrumental in supporting workforce programs by leveraging key partnerships in the community. She believes in giving back and being involved in both statewide and local boards that focus on transforming communities.
The national search for MDC's next president began in January but was interrupted due to the COVID-19 pandemic. On November 6, the 17-member Presidential Search Committee composed of internal and external stakeholders from all sectors, recommended four finalists to the Board of Trustees. Each of the finalists were invited to make campus presentations on November 12 and 13, to the MDC community. The finalists were interviewed by MDC's Board and Madeline Pumariega emerged as the unanimous selection to serve as MDC's fifth president from a very competitive pool.
Pumariega succeeds Dr. Rolando Montoya, who was called to serve as MDC's interim president in August 2019. He retired as provost for operations in 2017, and previously served the College in various ascending capacities since 1987.
The College's Board and leadership have expressed gratitude for everyone's support and participation throughout the selection process. They look forward to moving ahead successfully into this new chapter of MDC's history and building on the College's unparalleled record of achievement.