A Successful Virtual Open House Greets New Students
NWSA hosted future New World School of the Arts students from around the globe to explore NWSA during the school's first ever Virtual College Open House. Prospective students and parents learned about NWSA's Bachelor of Fine Arts and Bachelor of Music programs, the audition and portfolio review process, financial aid, and scholarships, and much more, all in a virtual setting that was as unpredictable just a few short years ago, as it was successful this Fall. The sessions, offered during the week and on the weekend, provided the opportunity to connect directly with New World School of the Arts students and staff and get to know more about each of the four arts divisions – Dance, Music, Theater and Visual Arts. With the New World School of the Arts Provost, Deans, Student Services Director and SGA President on hand to answer questions, the session was an incredible opportunity to learn about NWSA's conservatory-style program and opened the floor to an animate and insightful dialogue.
New World School of the Arts Welcomes High School Principal
New World School of the Arts proudly welcomed Dr. Contessa Bryant as Principal of NWSA High School. A 1992 graduate of the NWSA Music Division, Dr. Bryant returned to her Alma mater as a seasoned educator and administrator where she is responsible for planning, organizing, administering, and directing academic and operational activities at the high school level, which are essential to the operation of NWSA. "I can't believe that I get the opportunity to return to my alma mater, a place that gave me so much, to serve as Principal," said Dr. Bryant. "I marched down these hallways as a youngster – yes learning my discipline; but more importantly, I learned lessons of love, humanity, leadership and advocacy. It is an honor to join the ranks of those who ensure pure enjoyment of this magical place for our students – the NWSA faculty & staff," said Dr. Bryant. New World School of the Arts also welcomed Dr. Maggie Rodriguez, who began her tenure as Assistant Principal in the Fall of 2020.
"Tell It. Don't Take It. Silence is NOT Golden"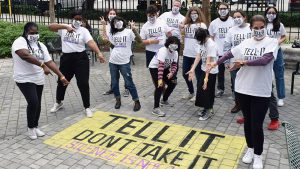 New World School of the Arts "TELL IT. DON'T TAKE IT. Silence is NOT Golden" was launched as a school-wide awareness campaign at the start of 2021, to address the serious topic of abusive behavior within school settings. The ongoing campaign, created for both the high school and college programs, encourages students to speak up or "TELL IT" if at any time they experience behavior in the school that might be considered discriminatory or abusive, perpetrated by other students, faculty or staff. Where students have been taught that "Silence is Golden", in an instance of any type of abuse "Silence is NOT Golden." The campaign rolled out for in-school students, faculty and staff with multimedia assets that included social media, in-school promotional materials, wearable collateral for students, faculty and staff and detailed resource handouts. New World School of the Arts takes discrimination and harassment complaints very seriously and is fully committed to the physical and emotional well-being of all its students.
"Arts Al Fresco" Brings the Arts Outdoors
Parents, alumni, friends, and supporters of New World School of the Arts visited the Miami Dade College Wolfson Campus to enjoy an afternoon of captivating artistic offerings during NWSA's new initiative, "ARTS al fresco, a strolling experience" – in person! After a year of mostly virtual performances, concerts, exhibitions and events, New World School of the Arts sought to design a Dance, Music, Theater and Visual Arts showcase, akin to the school's popular annual signature event, Rising Stars, directed by dean of theater, Patrice Bailey. Mindful of the health safety measures that MDC had in place, namely Phase 2 level of the College's pandemic recovery plan, NWSA's ARTS al fresco featured ten separate performance spaces throughout the Wolfson Campus with over thirty artistic offerings, a visual arts exhibition and more than 100 participating students. "Artists have an innate need to create and share art; it's an essential part of their lives," said Dr. Jeffrey Hodgson, Provost and CEO of New World School of the Arts. "As an educational institution dedicated to the arts, we recognize this in our students – creating art is what fuels their passion. Our mission was to offer an outlet for NWSA students to explore and showcase their artistry while being mindful of the limitations imposed by the current state of our nation. The open-air landscape of MDC's Wolfson Campus was the perfect backdrop for our first steps back into live performances after so many months of working separately and online. The students were energized to be performing and exhibiting and were buoyed by having real, live, in-person, cheering audiences. It was the kind of boost so many of us needed, to be together (safely distanced) and to feel connected by a shared artistic experience. It was a monumental day for our students and a most welcomed artistic treat for our community."
Some of the performances featured in the program included "UPHILL," choreographed by Jeffrey L Smith, an evocative choreography underscoring the struggles of pandemic-related isolation and "The Nile," choreographed by Peter London, an inspiring explosion of movement and color evoking African rhythms and dance traditions. "Magic to Do" shared the outdoors stage with "New York, New York," in alternating renditions of the popular musicals, "Pippin" and "On the Town," respectively. College student monologues, high school student playwrights and solo dancers sprinkled with some duets presented the audience with more intimate and poignant performances. There were strolling musicians that delighted the audience with their operatic voices and musicians who captivated and held the socially distanced crowds eager to enjoy the sounds of jazz, cello, and wind instruments. On the south part of the campus, the New World Gallery was a coveted and well-attended exhibition space showcasing the work of more than two dozen young visual artists in DISCIPLINE: INTRA | MULTI | CROSS | INTER | TRAN.
"Commisioner" Cultivates the Next Generation of Art Collectors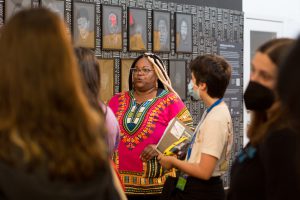 Commissioner and Mitchell Wolfson Sr Foundation partnered to accelerate the careers of local artists who attended New World School of the Arts as well as to cultivate new art collectors who support NWSA alumni artists' contributions to Miami and society. The partnership, underwritten by a two-year $100,000 grant from Mitchell Wolfson Sr Foundation, commissioned two NWSA alumni visual artists and provide them with curatorial support to share their work with Commissioner's growing member community. Launching this initiative was Miami-based artist-activist Chire Regans (NWSA 1995), with "A Reflection of the Times." The exhibition commemorates the lives of one hundred victims and is conceived as a space for collective remembering and healing for families and the community, reminding us of the critical role of community-led activism and the urgency of magnifying its message.
"New World School of the Arts is so deeply thankful that Commissioner and the Mitchell Wolfson Sr Foundation are helping to support NWSA alumni artists here in our community," said Dr. Jeffrey Hodgson, Provost and CEO of NWSA. "This sense of locality makes Chire Regans's work resonate deeply reflecting the humanity and justice that needs to be expressed, seen and felt." Commissioner members have commissioned more than a dozen local visual artists, four of whom are alumni of NWSA including Kelly Breez (NWSA 2008), Adler Guerrier (NWSA 2001), Alan Gutierrez (NWSA 2005), Morel Doucet (NWSA 2008).
New World School of the Arts visual arts students visit A Reflection of the Times at Bakehouse Art Complex in November 2021.
"Dancemakers: New Works" Highlights Lyrical Dance Voices
Led by New World School of the Arts Dean of Dance Mary Lisa Burns, the NWSA college dance division presented its first performance of the year, "Dancemakers: New Works 2020," by 14 dancers in two online presentations. The two short and innovative programs featured a variety of works, some created in conjunction with the celebrations of Hispanic Heritage month, coordinated by faculty member Lara Murphy, and others inspired by ongoing choreographic explorations in dance division courses. The programs include site-specific works such as Lauryn LaPread, "Her Side of His Song", and Melissa Del Carmen Gonzalez's "Raices," in which the dances were filmed on location in stunning Miami beach settings. Arielle Francois' film/dance "HERE/THERE," featured one dancer in multiple lighting, spatial configurations, and color schemes, while Jennifer Ima's powerful work, entitled "You Can't Force the Art Out of an Artist," showed Ima as the artist alone in her studio. Dianne Cano's evocative and moving work, "Para Papi," was filmed in a variety of outdoor locations including the steps of Miami Dade College's iconic Freedom Tower and finally, Naya Merisier's lyrical and elegant work, "Pou Mwen." Guided by the faculty, these talented young choreographers turned the restless times of pandemic isolation into works that pushed boundaries and reached beyond the screens used to reach the audience.
"College Spring Dance Concert" With Renowned Choreographers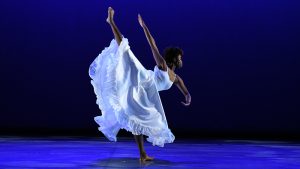 The 2021 "College Spring Dance Concert," presented as a virtual, online performance, featured works by world-renowned choreographers in a variety of mediums and settings. The program included Jennifer Archibald's powerful work, created for NWSA students, "Bloom"; a solo excerpt from Robert Battle's lush and lyrical work, "Channels," which is set to a moving Brahms lieder; and an excerpt of Ronald K. Brown's work, "Dancing Spirit," which was created and premiered in 1999 as a tribute to former Alvin Ailey Artistic Director, Judith Jamison and which was taught to the dancers online in Fall 2020. An excerpt of Paul Taylor's masterwork, "Cloven Kingdom," was also presented, staged by guest artist Laura Halzack and NWSA faculty member Jeffrey Lloyd Smith. In addition, guest artist Annabelle Lopez Ochoa created a thought-provoking and witty dance film with the dancers remotely, entitled "Zootcase." College faculty Peter London created an African-inspired new work, "The Nile," for dancers remotely as well and faculty member Jeffrey Lloyd Smith's work "UPHILL" was a site-specific work, filmed in the MDC parking garage and invoking the difficulties of the times we live in. It is a testament to the dedication and creativity of these artists and the dancers that these works were created/staged and filmed for our audiences to share.
Dance Guest Artists and Masterclasses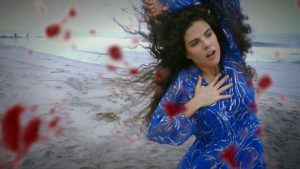 The New World School of the Arts dance division hosted three weeks of virtual master classes by renowned choreographer Ronald K. Brown for both high school and college dancers. Brown, Artistic Director of his company, "EVIDENCE" – founded in 1985, has created works on the Alvin Ailey American Dance Theatre, Ballet Hispánico, TU Dance, Dayton Contemporary Dance Company, Philadanco, and many more. He is also the recipient of numerous awards and recognition including a 2020 Jacob's Pillow Dance Award, the Doris Duke Artist Award, and a New York Dance and Performance ("Bessie") Award and has been awarded grants by the Guggenheim Memorial Fellowship, the National Endowment for the Arts Choreographers Fellowship, New York Foundation for the Arts Fellowship and many more. In addition to Brown, Silas Riener staged a "MinEvent" by Merce Cunningham on NWSA high school sophomores, with important support from the Merce Cunningham Trust. This work was staged remotely by Riener, who danced with the Merce Cunningham Dance company from 2007-2011 and was awarded a Bessie (New York Dance and Performance Award) in 2012 for his solo performance in Cunningham's work, "Split Sides," and in 2013 (with Rashaun Mitchell) was named one of Dance Magazine's "25 to Watch". NWSA alumna, Yara Travieso, created a dance film with NWSA high school students, entitled "My Name Is Ocean." Travieso is a sought-after choreographer, director, and filmmaker currently on faculty at the Juilliard School and a recipient of the 2019 United States Arison Artist Fellowship, among other awards and distinctions.
"Resilience: A Musical Response from Our Home to Yours"
After months in the making and thousands of collective hours of rehearsals and production, New World School of the Arts' first ever NWSA Online Music Concert, "Resilience, a musical response from our home to yours," premiered on NWSA's YouTube channel. For 43 minutes, the NWSA music faculty and students demonstrated their resilience in the face of adversity during a time of remote learning. The virtual concert, led by Dean of Music, Dr. Daniel Andai, was masterfully produced and presented – and while seats in concert halls remained empty for most of 2020 and early 2021, the homes of those who eagerly tuned in to the concert via cell phones, tablets, and computers, not only heard the beautiful compositions, but also appreciated the talent, dedication, and musicality of New World School of the Arts' young musicians. The concert showcased over 200 musicians: 180 instrumental and voice students, 11 renowned guest artists, three alumni and more than ten faculty members and ensemble directors. "This was an unprecedented project during unprecedented times, which made it more challenging, but it inspired all of us," said Dr. Andai. "Like any true ensemble, everyone played their part to the best of their ability and this epic presentation was undoubtedly one of resilience and pride that I hope everyone can enjoy for years to come. This project is only one of many examples demonstrating the importance of New World School of the Arts in our community and in the world."
JEN Honors Associate Professor of Jazz Jim Gasior
Jazz Education Network (JEN), the world's largest jazz education organization, presented the coveted Elis Marsalis Jr. Award to New World School of the Arts Associate Professor Senior of Jazz and Instrumental Studies, Jim Gasior. The annual conference was hosted virtually for the first time, featuring professional and student performances from around the world. NWSA's performance video was recorded in part on campus in December, as well as through remote video recording and accompaniment from students' homes. The performance featured the compositions of Horace Silver and Mongo Santamaria.
An educator and pianist, Jim Gasior leads the NWSA High School Jazz Ensemble which has been a 1ST Prize winner in the Jazz at Lincoln Center's Essentially Ellington competition in New York. The Ensemble has also received recognition from Downbeat Student Music Awards, Grammy High School Jazz Band, and the National Young Arts Foundation. Gasior has recorded with Benny Golson, Slide Hampton, and Terrel Stafford, among countless others. "I'm deeply honored by this recognition. As a pianist myself, Elis Marsalis was one of my early heroes. It's amazing for me to be appreciated for what has essentially become my life's work and passion," said Professor Gasior.
"Professor Gasior is a prized faculty member in the Music Division," said Dr. Daniel Andai, Dean of Music at NWSA. "On behalf of the department, we are so proud that he is being recognized with the prestigious Elis Marsalis Jr. Award. Jim's passion for music, his students, the industry, along with his courage to envision new ideas for a better tomorrow, makes this achievement most deserving. Professor Gasior's receipt of this inaugural recognition sets a high standard for this award that will undoubtedly motivate the future of jazz education in our nation."
"Guitarfest"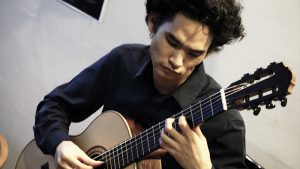 The New World School of the Arts music division presented GuitarFest, a guitar event of masterclasses and workshops directed by NWSA guitar faculty member, Dr. Koh Kazama. The event kicked off with a workshop on fretboard harmony by Alvaro Bermudez, faculty member at Ronald Reagan High School, followed by masterclasses by Dr. Koh Kazama and Max Zuckerman, Professor of Guitar at Fordham University.
A New York City native, Dr. Koh Kazama is a concert guitarist and educator exposing audiences to the endless possibilities of the classical guitar. He started his guitar studies at the age of six, after being inspired by a Japanese rock musician. His diverse repertoire ranges from early music played on period instruments to contemporary music using electronic effects. Colombian-American guitarist, composer and native of White Plains, New York, Alvaro Bermudez has been making music professionally since the age of 15. He is highly sought after as a performer, composer, and teacher. As a composer, Alvaro has been recognized by South Florida Classical Review for his "fine…contemporary choral music." Max Zuckerman is a multifaceted guitarist, musician, and songwriter. He received his Master of Music Degree from Yale University School of Music where he studied with Benjamin Verdery. Max is also a graduate of the Peabody Institute of Johns Hopkins University, where he earned both a Bachelor of Music and a Graduate Performance Degree in the studio of Manuel Barrueco.
Music Guest Artists and Masterclasses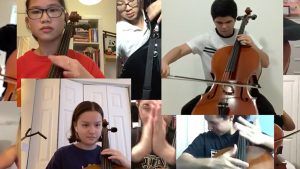 The NWSA music faculty work daily with the talented music students, so to enhance students' learning opportunities, guest artists are sought after to further support the curriculum. With four college tracks and two high school areas of study, guest artists offering an array of expertise, work regularly with faculty and students in master classes, workshops, and performances. During the 2020-21 remote learning, the Music Division invited guest artists from around the world to connect virtually in a variety of events, including the first ever NWSA Online Music Concert – Resilience, a musical response from our home to yours, as well as chamber music forums, master classes, and for signature programs including Violafest and CelloLab Miami at NWSA.
Music Guest Artists in 2020-2021.
"The Jealous Husband and Other Bits of Fun and Froth"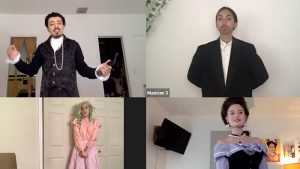 Directed by NWSA theater faculty member James Randolph, "The Jealous Husband and Other Bits of Fun and Froth" was presented as a virtual mini festival of one-act plays by one of the greatest playwrights of all time: Molière, featuring the New World School of the Arts college junior theater students. Not only did the audience see characters in his plays but they also see Molière's portrayal of himself as he prepared his very demanding and opinionated company of actors to perform for King Louis XIV. These pieces captured the grace, beauty, wit, flair, humor and indomitable spirit of Molière's life and times. "Infidelity, greed, passion, lust for life, lust for others, the pursuit of fame and money in the mise en scene (the arrangement of scenery and stage properties) of these works reveal a light series of romps, combining farce, commedia dell'arte and high comedy, that show the timelessness of his writing and the flawed but funny human condition," stated Randolph. "In these shows the audience will see their friends, family and even themselves… and they'll laugh about it."
A conversation with James Randolph.
"One Festival" Takes the Screen with 15 Virtual Monologues
The 2020 edition of The One Festival was unlike any other in the history of New World School of the Arts, making its premiere virtually via the school's YouTube channel. The biggest festival in the NWSA theatre division's history, the One Festival is a collection of fifteen-minute plays written, directed, and acted by BFA seniors. In four programs over the course of three days, the themes of these plays were relevant, varied, and personal, taking audiences on what is on the conscience of these artists and offering an important display of vibrant artistic styles and intricate stories about the human condition. Unlike any prior year, each of the shows was recorded at the NWSA Louise O. Gerrits Theater without a live audience, which made it particularly challenging for the actors. Theater is a living art that largely depends on the energy and engagement of the audience for its success. Despite the unusual circumstances experienced this year, because of Covid-19 health and safety measures, the students were able to adapt and masterfully present their monologues in a seamless and undisturbed manner.
Scheduled One Festival for December 2021.
"Pippin" Graces the Iconic North Beach Bandshell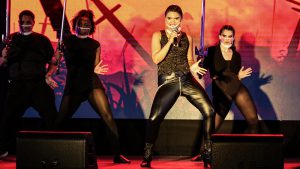 The NWSA college theater division presented the Tony Award-winning musical, Pippin, music & lyrics by Stephen Schwartz and book by Roger O. Hirson. Fully produced and fully staged with choreography, the musical was performed by 19 NWSA junior and senior college music theater students directed by faculty member James Randolph with music direction by faculty member, Jeff Hess. "While we had to be innovative in the way in which we rehearse our productions due to the restrictions imposed by the pandemic, students were eager and excited to get back to doing what they love to do – act! We used available outdoor spaces such as the MDC parking garage roof top and the NWSA park adjacent to the building to simulate how the musical would ultimately be presented to a live audience," said Jim Randolph. "Theaters in South Florida and across the country are availing themselves of outside theater. It is an old and well-known mode of performing live theater which I have done myself several times with professional companies including Shakespeare. Knowing that theater can somehow be produced live, even through the crisis of a pandemic, is a great gift and we all cherish this opportunity. It's also good training for the students in our BFA program. It's actually a rite of passage to perform live theater outdoors, which allows the students an added layer of training." Pippin was presented as an outdoor live event for the first time ever at the historic North Beach Bandshell in Miami Beach.
"Overdone & Underdone – A Broadway Cabaret"
Directed by NWSA theater faculty Matthew Buffalo with music direction by Jeff Hess, the New World School of the Arts high school music theater students presented a virtual compilation of 46 music theater songs that ran the gamut of this genre, during 2020's first theater performance, "Overdone & Underdone – A Broadway Cabaret." "In the theater world, we hear these terms (Overdone & Underdone) for songs and musicals that are performed more often than others or sadly not performed much at all," explained Buffalo. "Why not celebrate the under-performed songs as well as celebrate the music theater songs that we have come to know as our favorites? And that is what we have done. Of course, there are thousands of songs to choose from. However, music director Jeff Hess and I decided on 46 songs that spoke to the times we live in as well as specific circumstances that speak to our students." Overdone & Underdone, was comprised of a variety of solos, duets and trios performed by 33 high school juniors and seniors will be live streamed on the NWSA YouTube channel.
O. Gustavo Plascencia to Lead Visual Arts at NWSA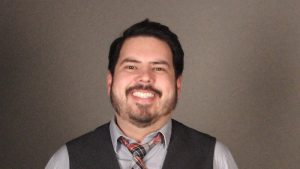 New World School of the Arts selected practicing exhibiting professional artist and educator O. Gustavo Plascencia as Dean of Visual Arts to lead the high school and college visual arts programs. "Plascencia joins NWSA in a moment where creativity is key more than ever. He will support our students and faculty to innovative and productive in this challenging time by being imaginative and resourceful, leading in truly unprecedented times. Through his artistry and administrative skill, I know Gustavo will be an asset to our school and cultural community," said Dr. Jeffrey Hodgson, Provost of New World School of the Arts. "I encourage the arts community and our alumni to get to know him and welcome him to South Florida and NWSA."
"New World School of the Arts is an inspiring and unique institution with faculty who in addition to be being excellent educators are culture makers with a very active roles in the community," said Plascencia. "NWSA is a student-centered institution that has nourished lasting partnerships with alumni and has a visible presence in the community. I am honored to have the opportunity to join this incredible school."
Oolite Arts Honors Photography Professor Maria Martinez-Cañas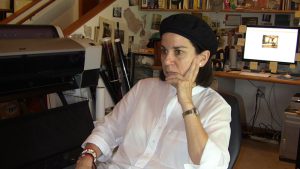 Oolite Arts selected New World School of the Arts photography professor Maria Martinez-Cañas as the 2020 recipient of the prestigious Michael Richards Award. The award of $75,000 celebrates a Miami-Dade artist who has created a recognized body of high-quality works, and who is achieving the highest levels of professional distinction in the visual arts through their practice. The award supports this practice over a two-year period, including a commission to create a work of art to be exhibited at The Bass. Professor Martinez-Cañas was chosen by a jury of national and local artists and curators. "I am absolutely honored, humbled and grateful to be this year's Oolite Arts Michael Richards Award Recipient," said Maria Martinez-Cañas, "not only because of what this means to my artistic work, but because it was also given to me because of my years of teaching in this community. I hope that in my teaching career I have given back to my students what was given to me by my own teachers – as this is the greatest of gifts." In addition, Oolite Arts also selected NWSA 2011 alumna Luna Goldberg as the winner of the 2020 Creator Award, for "At Memory's Edge," an exhibition and symposium on contested monuments in Miami and abroad, dedicated to creating a public platform for conversation around the function of monuments, their relationship to systems of power and the ability of artists to recast national histories. NWSA visual arts adjunct faculty members Liz Shannon (Art History) and Lauren Shapiro (Ceramics) were also recognized with 2020 Creator Awards.
"Artists, Scholars & Curators: A Lecture Series"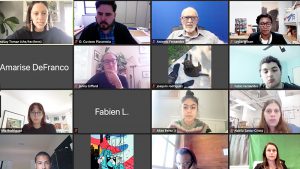 The New World School of the Arts visual arts division launched a new virtual workshop series entitled "Artists, Scholars & Curators: A Lecture Series." Students and faculty had the opportunity to participate in the innovative lectures which focused on contemporary artmaking and research practices. The initiative exposed students to new pedagogical practices and allowed them to reflect on the current world in which visual artists are anchoring their artistic practice. Presented via Zoom, the lectures included Q&A sessions giving students and faculty the opportunity to explore the topics directly with the speakers. Guest artist Lindsay Toman, Ph.D. candidate launched the series of workshops with: Advocating for Affirmation: Creating Inclusive Spaces for LGBTQ+ People. Toman specializes in gender inequality and LGBTQ+ health. Currently, she is writing her dissertation, "Reconnecting Sex to Gender: An Examination of the Medicalization of Transgender Adolescents." An applied sociologist, her aim is to bridge the gap between her passion for education and advocacy. Dr. Lauren Cross, an artist, curator, and scholar whose art, curatorial and research addresses the intersections of race and gender in the field of art and design, continued the series with "Still I Rise: African American Women Artists, Culture Bearing & Herstories" while Dr. Hannah Ryan's lecture "Mapping Ana Mendieta," closed the series of workshops. Dr. Ryan is Assistant Professor of Art History at St. Olaf College where she teaches Modern and Contemporary Art History. She holds a Ph.D. in Art History and Visual Culture from Cornell University where she focused on intersectional feminism and transatlantic visual culture.
Scheduled Artists, Scholars & Curators: A Lecture Series for 2021-2022.
"Unspecified Void" Highlights the Work of BFA Class of 2021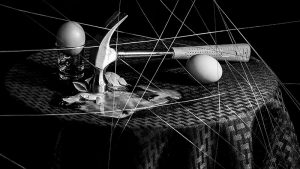 New World School of the Arts Visual Arts BFA class of 2021, comprised of 28 graduating students, presented their final show, "Unspecified Void," in the iconic venue The Moore Building. "This year, our students persevered during very challenging times, said O. Gustavo Plascencia, Dean of Visual Arts at NWSA. "Despite the challenges the pandemic has brought to us, they continued to work in makeshift studios at home and produced an incredible body of work." The work included in the exhibition ranges from documentation of the pandemic to heartbreak to futuristic imagination, among other themes. Among the work featured was Alian Martinez Rives' "Kakotopia." A visual arts graduate from the Art & Technology discipline, the artist concluded his tenure at NWSA with a VR installation comprised of archival digital prints which address society's manipulation of reality. "My work alludes to the essence of human actions, their influence on the environment, and the minimal implementation of technological processes beyond the artist's control." Alicia Betancourt used her color drawing entitled "Can You See Me Now?" to address social topics which are central to the nation's ongoing dialogue. "My work explores the relationship between my experience in everyday life and "intersectionality" in the U.S. The current world operates within the song of the once voiceless mass now roaring with unapologetic confidence. These individuals are united through what should always have been rightfully theirs." Through photography, Michelle Alvarez Collazo aimed to illustrate the stages emotions that often accompany emotional breakups. Collazo's "Rotten Relationship" series highlights the "distortion of emotions through the process of healing. The exhibition culminates these young artists' academic training at the school and will present a wide range of media and themes. The exhibition was curated by faculty member and Miami gallerist Fredric Snitzer along with dean Plascencia. 2021 BFA exhibiting students included Michelle Alvarez Collazo, Alicia Betancourt, Lauren Bouza, Victoria Braga, Ruth Burotte, Erika Cantin, Cassandra Cespedes, Kassandra D'Angelo, Anastasia del Valle, Nuria Dolphin, Daniella Figeroa, Gabriel Garlin, Daniel Gongora, Nicole Gonzalez, Adela Gonzalez, Carlos Jimenez, Alian Martinez Rives, Luis Mederos, John Medina, Eric Mendoza, Daniel Ochoa, Otari Oliva, Katherine Otero, Adrian Sena, Pedro Sena, Megan Tran, Luis Velasco, Astrielle Williams.
"Prelude: Senior Showcase" Closes the Exhibition Season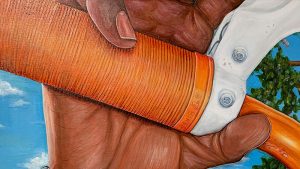 This end-of-year on-site exhibition highlighted the fresh, diverse, and unique talent of graduating high school seniors in their final exhibition at New World School of the Arts. "The Prelude: Senior Showcase 2021″ exhibition set the stage for all the fantastic things we were sure our graduates would accomplish in their future artistic careers," said Dean of Visual Arts O. Gustavo Plascencia. "New World School of the Arts is only the beginning of the many opportunities they will have. We are confident that we prepared them well and cannot wait to hear about what they will do next." The show, curated by Plascencia, featured 22 graduating seniors, and was juried by Michael Goe, Public Programs Coordinator, Museum of Contemporary Art Detroit (MOCAD).
Commencement Ceremony Overlooks the Bay in Glorious Finale
Sporting their New World School of the Arts caps and gowns, and adorned with the now fashionable NWSA face masks, NWSA college graduates gleefully finished their tenure at NWSA during a memorable ceremony unequal to any ever presented at New World School of the Arts. The 2021 "College Commencement," which brought 67 college students onstage to present them with their Bachelor of Fine Arts or Bachelor of Music degrees, took place at the iconic PAMM, officially known as the Jorge M. Pérez Art Museum of Miami-Dade County in downtown's Museum Park. Dr. Jeffrey Hodgson, Provost and CEO of New World School of the Arts, opened the rite with heartfelt welcoming remarks while Madeline Pumariega, Miami Dade College's fifth and first female President, offered a powerful and inspiring speech as the commencement key-note speaker. Dr. Contessa Bryant, NWSA high school Principal and Dr. Beatriz Gonzalez, President of MDC Wolfson Campus also shared their insight and well-wishes to the newly minted New World School of the Arts class of 2021. In addition to parents, faculty and staff, New World School of the Arts Executive and Foundation Board members and other community leaders were on site to cheer on the new graduates.