Since COVID-19 ground normal life to a halt in March, Miami Dade College alumni have been working tirelessly on the front lines of the pandemic, serving and protecting communities near and far in different occupations. From nurses to teachers to first responders, alumni from some of MDC's longest-running and most highly regarded programs have come to embody heroism in the face of crisis to help us all make it through the pandemic.
First Responders at the Ready
With MDC School of Justice alumni on various fronts of the COVID-19 pandemic, residents of Miami-Dade County are in good hands.
One shining example among those alumni is Pete Gomez. Now senior director of Florida International University's (FIU) Academy of International Disaster Preparedness, the veteran first responder and emergency manager brings nearly four decades of experience to the pandemic response as Incident Commander at FIU's COVID-19 testing site on the Youth Fair grounds.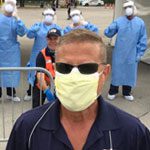 "Believe it or not, transitioning into running a COVID testing site was very similar to my experience being in charge of an urban search-and-rescue team," said Gomez.
A city of Miami firefighter for over 35 years, Gomez has also served as the city's emergency manager through multiple hurricanes. He has led urban search-and-rescue teams who responded to scenes at some of the most catastrophic national and international disasters, including 9/11, Haiti's 2009 earthquake, and Hurricanes Katrina, Irma, Maria and Michael.
As a leader, he is one of the team. "It's definitely not about one individual; it's about the team," said Gomez. "People don't realize the hundreds and thousands of hours that men and women put into responding to this moment."
Holding a bachelor's in fire management from St. Thomas University and a master's from American Military University in disaster and emergency management, Gomez began his educational path at MDC. He obtained his Associate in Science and completed paramedic and EMT training, as well as part of his firefighter and police training. Over the years, he has come back to MDC various times for specialized training and even as an instructor.
"MDC was the building block for my professional career," said Gomez.
Informed by his vast experience and wide-ranging education in public safety and emergency management, Gomez's approach to the pandemic is methodical and wise, backed by knowledge of the preparation that has led up to this moment.
"From a scientific perspective, we've been anticipating this pandemic," said Gomez. "Your community, your elected officials, your first responders – they are prepared and trained for this. Let's protect each other and look out for one another."
Putting Patient Care First
Alumni from MDC's Benjamín León School of Nursing wear many hats throughout the pandemic. From the ER to the schoolhouse, testing sites to telehealth, nurses everywhere are contributing to the multifaceted public health efforts required to treat COVID-19 and reduce the virus' spread while also making sure that patients with any other condition get the care they need.
Caridad Cuellar knows the threats firsthand. She was a school nurse at a middle school in Hialeah when the pandemic forced schools to shut down in March. She shifted gears to provide telehealth for a community health center and, shortly after, contracted COVID-19 herself.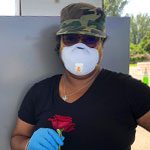 "It was very scary," said Cuellar. "Now that I've had it, I respect the capacity of this virus, especially for patients with a chronic condition like myself." Diagnosed at age 23 with hydrocephalus, which causes a dangerous buildup of cerebrospinal fluid in the brain, Cuellar was told she would not live past 30 without surgery. That didn't stop her. Over the course of earning L.P.N., R.N. and B.S.N. degrees at MDC, and having two children, she underwent a total of six brain surgeries.
"Miami Dade College has just been pivotal in my life," Cuellar said. "It has been a place of growth. It has been witness to a lot of my hardships. I was pregnant, I had surgeries, and through it all MDC was very supportive. I always had a close relationship with my professors and I owe my success to MDC."
After recovering from COVID-19 in the spring, Cuellar went back to the front lines, collecting samples from patients at testing sites during the pandemic's summer peak. When schools reopened in October, she returned to institute new protocols and teach students hygiene practices to prevent spread. "Nurses are now at the front lines of the pandemic inside of schools, therefore, the staff and students look toward us for guidance," she said. "It's been challenging because information is changing from day to day."
Working toward her M.S.N. at St. Thomas University, she recently accepted a position at a Baptist Health urgent care as case numbers climb again.
"It's a beautiful time to be a nurse. I feel proud," said Cuellar. "There are so many people doing amazing work in hospitals and other settings. We nurses are center stage of this pandemic and I'm just proud to be utilized and to be of service."
Schoolhouse Hero
Whether working with her fourth-graders online, in person or both, Keys Gate Charter School teacher Elisse Zimbelmann pushes the challenges of pandemic teaching aside to focus on her students.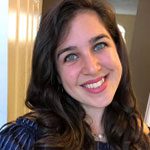 "When I'm teaching, it doesn't feel that difficult because I try my best to still do my job, which is to teach my students," Zimbelmann said. "It's gotten a little bit easier, but I would come home every day completely exhausted from trying to give my attention to the kids online and the kids in class, and to teach in different ways so they would both benefit. It's not easy, for sure."
Growing up in Homestead and an alumna of Keys Gate herself, Zimbelmann is giving back to the community that raised her. "I love the school," she said. "They opened my eyes to opportunities and I feel very comfortable there. It's like my home."
From a young age, Zimbelmann was a natural teacher. "Ever since I was little, everybody knew I was going to become a teacher except me," she said. "In kindergarten, I would come home and sit with my little brother and teach him what I learned, but I always said I would become a vet or CSI agent – anything but a teacher." Her experience as a psychology student at MDC's Homestead Campus began to shift her thinking on that.
Zimbelmann wanted to become a child psychologist and, as president of the Psychology Club, worked with Dr. Jessyca Perez on the campus' annual Day of the Child event. "That was very impactful for me to see," she said. "It showed kids that, even though they have many difficulties, they are still allowed to be kids. There are a lot of kids in our community from low-income families who have to help take care of their siblings. On this day, they had face painting and jump houses and could just be kids."
After earning her A.A. at MDC, Zimbelmann went on to Florida International University to complete her bachelor's degree in psychology, with a minor in education. "I realized what better to get to know kids than to be an educator first?"
She now has to balance on a daily basis her understanding of children's behavior with the need to reinforce safety. "At the end of the day, they're kids and they want to be together," she said. "They say, 'I wish I could take off my mask,' and I have to make sure they understand why it's important that it stays on."