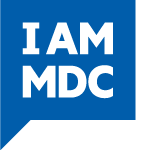 "This pandemic is something that no one has been through. I am dealing with it as a human – a sister and daughter. But I'm also experiencing it as a journalist," said Alex de Armas, an award-winning journalist and Miami Dade College alum who has dedicated her near 10-year career to documenting world-changing events, from hurricanes to presidential elections and, most recently, the COVID-19 pandemic.
The MDC Honors College graduate and WSVN-7 daytime news anchor attributes her success to the opportunities and mentorship received at MDC. "MDC was the first place I exercised my passion for journalism," said de Armas. While studying mass communications, de Armas attended media seminars in Washington, D.C., and Australia, served as the North Campus Bureau Chief for student newspaper The Reporter, and pioneered its first video series. It's these experiences, along with mentors like The Reporter's media advisor, Manolo Barco, and MDC professor David Merves, that helped mold her into a factual, ethical and charismatic journalist.
Today, de Armas serves her community through her work at WSVN-7. "In a time like this, we need a voice that we can trust, and I do not take that responsibility lightly," she said. Her advice to future journalists: "Stay grounded and committed to remaining connected to the pulse of your communities. That commitment has been how I've found my authentic voice as a journalist."
De Armas continues to serve her community during the pandemic through WSVN-7's partnership with Feeding South Florida. She also works as a volunteer and grantor for the Make A Wish Foundation.
Written by Janee' Brown, MDC Alumni Relations Officer
---
SharkTalk by MDC Office of Alumni Relations showcases stories of MDC alumni and their accomplishments.
Do you have a story to tell?
Submit your story or nominate a fellow alum at mdcfoundation.com/sharktalk