Emily Leon, New World School of the Arts college junior in the Visual Arts division, with emphasis in Art & Technology, was one of ten Finalist to participate in the prestigious WindowsWear Mentorship Program 2023 with world-recognized brands Coach and Kate Spade. Along with another student, Emily won 1st place in the Coach collection. "I was so proud that Emily – representing New World School of the Arts – was announced as the first-place winner for Coach!" expressed NWSA Art & Technology professor, Alisa Pitchenik Charles. Emily will be spending the summer working with the mentorship team in New York City while she will also be able to receive college internship credit for this life-changing opportunity.
 
The ten participating Finalists had the opportunity to present their project to the Tapestry Global Visual Experience team, Talent Acquisition team, and WindowsWear who selected two 1st place winners, one 2nd place winner, and one 3rd place winner, all of whom qualify for paid internships for the summer 2023 and other prizes. "As a digital artist who specializes in 3D art, I'm very grateful to have this opportunity," said Emily. "I've always had a particular interest in the beauty and fashion industries, where my art could be utilized to bring new ideas to life and create immersive experiences for audiences across the country."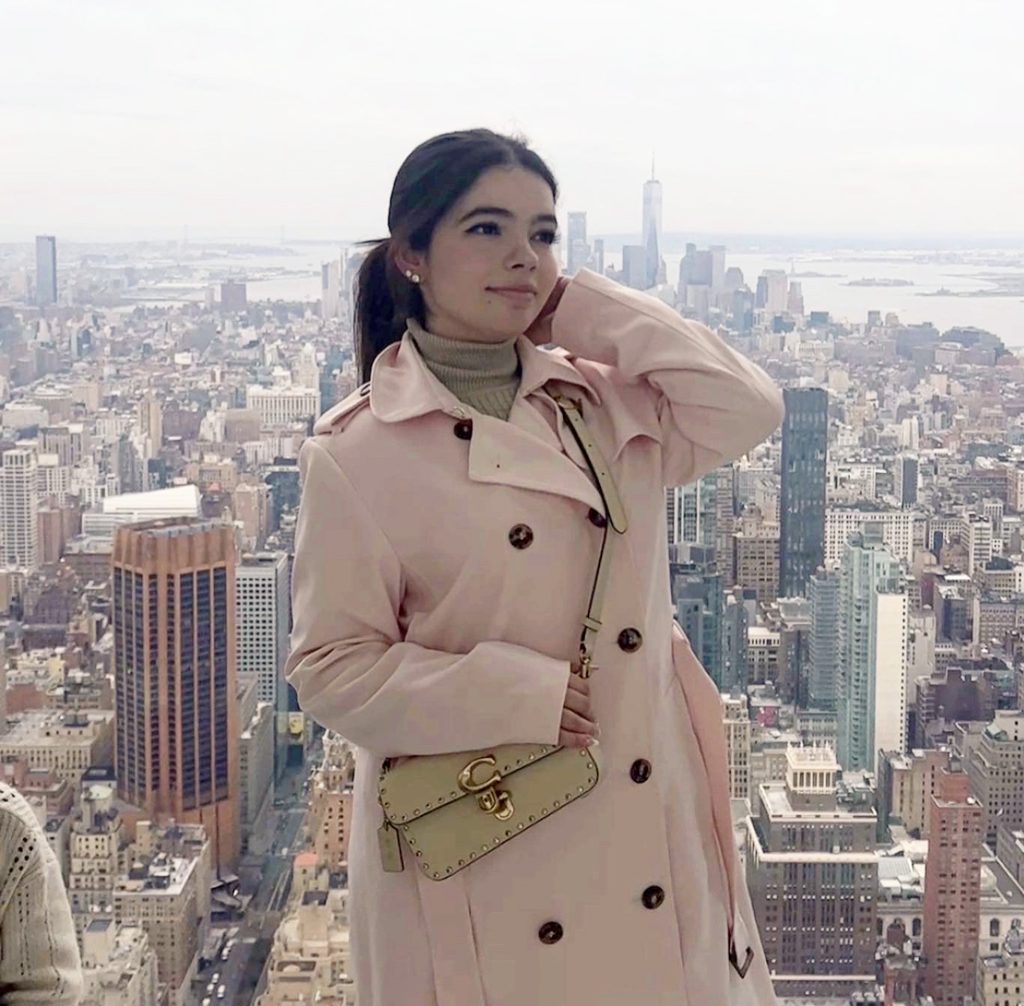 Having guided Emily through the process of entering this national program and working with her during the past three years at NWSA in this artistic field, professor Pitchenick Charles explains, "Emily is a current Art & Technology student who has developed an incredible affinity for creating compelling content using conceptual 3D modeling, and digital illustration techniques she has mastered in her classes at New World School of the Arts. She has a keen interest in virtual design as it relates to fashion, a positive, can-do attitude, and a fastidious attention to detail. These traits and attributes were key for her decision to apply for this design opportunity where her artistic skills were quickly noticed. Emily will benefit greatly as a student and I'm confident the mentors will gain a mutual respect for Emily through the process due to her hard work and dedication to her craft."
Emily, who plans to continue pursuing her passion for Art & Technology while exploring new opportunities in the Fashion industry, highlights, "When I started as a first-year college student at NWSA, I had never opened a 3D program in my life, and it is now my main form of creation! With Miami being a major hub for fashion and art in the nation, I am sure that there are exciting opportunities for me to develop my skills and contribute to the industry. I'm going to begin my career as a visual merchandising intern for Coach, and I'm excited to see where this opportunity will take me!"

WindowsWear Mentorship Program 2023 tasked participating Finalists with imagining the year 2030 to create the design for a full 360 campaign targeting Gen Z as a big part of the global luxury spending power. Emily's creative response was two-fold and addressed a conceptual framework as well as a corresponding technical aspect. "From a conceptual lens, I knew that my first course of action had to be research. I wanted to understand the industry, specifically, and the company for which I was creating this campaign. Coach has always been a classic American brand with years' worth of history and I wanted to make sure I could create something fun and new while still honoring its heritage. Technically, my main form of creating artwork is in 3D. I knew I could use this to my advantage by creating 3D renderings of my artwork. I wanted to create an immersive experience for the viewers, and I felt that 3D was the best way to achieve this."
Crediting the Art & Technology courses she has taken at NWSA for her successful proposal, as well as the technical training she has received at the school, Emily notes that her skills go beyond the classroom and are transferable to real-life opportunities in the arts as well as in the business and marketing arenas. "My Art & Technology training has taught me to think critically and to consider the audience when creating my art. This training has helped me create displays that showcase products and evoke moods and feelings. It has also equipped me with a range of digital tools and techniques that have been useful in creating visually compelling displays. For example, my experience in 3D modeling and digital media has enabled me to create immersive and interactive scenes that engage my target audience. And aesthetically, my training has taught me to appreciate the importance of color, texture, and form in design. I've also learned to consider the brand identity and target audience. All these components have helped me generously when it came to preparing for this internship."
A Florida center of excellence in the visual and performing arts, New World School of the Arts is an educational partnership of Miami-Dade County Public Schools, Miami Dade College, and the University of Florida. NWSA provides a comprehensive program of artistic, creative, and academic development through a curriculum that reflects our community and the rich multicultural state of Florida. Through our partners NWSA confers the high school diploma, Associate of Arts degree, and Bachelor of Fine Arts and Bachelor of Music degrees in programs accredited by the National Association of Schools of Dance, Music, Theatre and Art & Design. New World School of the Arts' rigorous eight-year curriculum and conservatory-style teaching has empowered students in our community and our nation to become leaders in the arts for more than 35 years.
The Visual Arts division emphasis in Art & Technology at New World School of the Arts integrates contemporary art and technology, preparing students for various fields in emerging fields related to film, television, multimedia, and fine arts through the investigation of several avenues of contemporary media. With courses that include hypermedia (Web Art), motion design, 2D animation, 3D modeling and animation, experimental video, and narrative film-making among others, the curriculum culminates in a creative and diverse body of media work synthesized into a final professional digital portfolio and BFA exhibition.
The WindowsWear Mentorship Program connects brands with students from around the world. Through this program, brands present brief ideas to students to identify top talent and students submit projects to win paid internships and prizes from Coach, Kate Spade and Michael Kors. WindowsWear archives date back to 1931. As WindowsWear captures and memorializes the world's latest physical and e-commerce environments, this historical content is searchable as part of WindowsWear's proprietary archival collection which provides historical information covering nearly 90 years. For brands, the information offers unparalleled competitor intelligence and trend data. For educators, the archives provide a rich resource to take students back in time to study visual creative and fashion trends.
For more information, please contact the New World School of the Arts at 305-237-3135 or the NWSA Visual Arts division at 305-237-3620. nwsa.mdc.edu.