The New World School of the Arts visual arts students, both from the high school and the college programs, continue to share their art with the greater South Florida community as they undertake projects and commissions this semester.

Ahead of this year's Art Basel Miami Beach fair, and under the skillful guidance of Professor Aramis O'Reilly, the NWSA college visual arts students embarked in a collaboration with Miami Parking Authority to transform a wall section of the Courthouse Center garage in downtown Miami into an inspiring work of art. Drawing inspiration from our city's rich ecosystem, Environs, the mural that now adorns a section of the parking facility, contains elements of our state's flora and avifauna depicted in a geometric interpretation and imbued in hues and tonalities of blue, purples, and greens.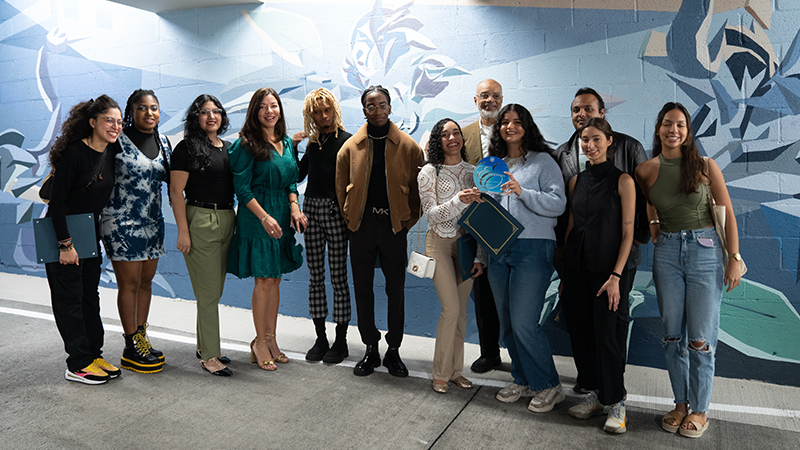 "Three teams of student artists were engaged to develop the conceptual framework for the design. They envisioned an artwork that would be aesthetically pleasing yet purposeful while underscoring the critical importance of preserving the biodiversity of South Florida's fragile ecosystem, its threatened habitat, and the future of sustainable urbanism," highlighted Jennifer Garcia in Parking & Mobility magazine. The Miami Parking Authority recently honored the eleven participating student artists and Professor O'Reilly, who arduously worked hand-in-hand with the students to complete the project in record time, during an inauguration event at the site of Environs.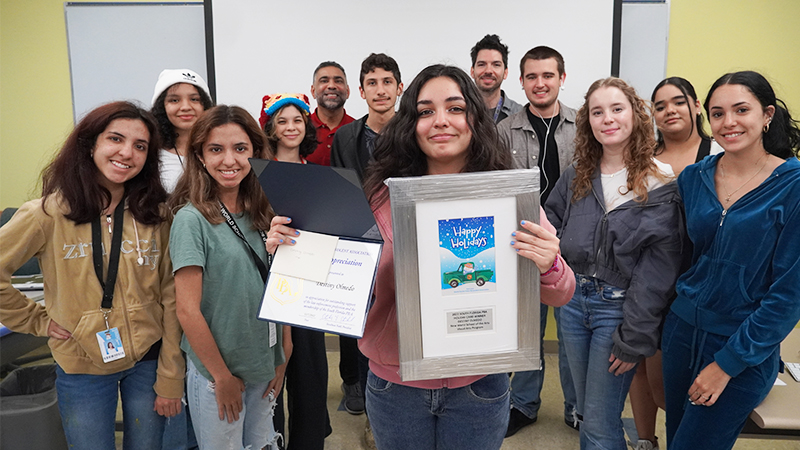 Tasked with designing the Holiday card for the South Florida Police Benevolent Association (PBA), eleven NWSA high school visual arts students submitted their creative renderings for the contest, which last year was assigned to Southwood Middle School. Led by faculty member John Soto, a graduate from New World School of the Arts now teaching graphic design, the card designs ranged in style capturing the essence of South Florida. "Teaching my students the craft of digital art while seeing them win contests is truly a gift and I am proud of all the artwork that was submitted," said Soto.

Selected by members of PBA, the winning Holiday design, representing correctional officers, 911 dispatchers and animal services in South Florida, will be professionally printed and more than 9,000 cards will be mailed to the organization's members as well as to community leaders including Florida Governor Ron DeSantis. The PBA awarded a $100 gift card to the winning artists while each participating student received $25 gift cards.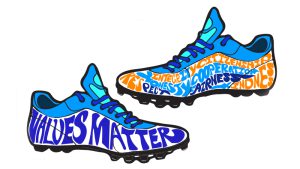 In addition, other students from Soto's graphic design class also participated in the "Values Matter Miami Cleat Design Contest." NWSA eleventh-grade twin sisters Kamila and Karla Fernandez's designs were selected as runner ups for the Miami-Dade County Public Schools / Miami Dolphins competition. Both students also participated in the PBA Holiday card contest.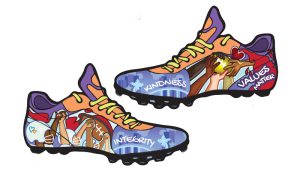 The NFL's annual "My Cause My Cleats" initiative allows players and teams around the league to unveil their specially designed cleats that support their cause or community program. The Values Matter Miami Cleat Design Contest is open to all M-DCPS students in grades K-12 and the winning design is selected by a committee that includes members of the Miami Dolphins organization. Each year the winner receives recognition from the Miami Dolphins organization and the artist can work with the Miami Dolphins design team to create the actual cleat that will be worn by a Miami Dolphins player as part of the My Cause My Cleats campaign week.
A Florida center of excellence in the visual and performing arts, New World School of the Arts is an educational partnership of Miami-Dade County Public Schools, Miami Dade College, and the University of Florida. NWSA provides a comprehensive program of artistic, creative, and academic development through a curriculum that reflects our community and the rich multicultural state of Florida. Through our partners NWSA confers the high school diploma, Associate of Arts degree, and Bachelor of Fine Arts and Bachelor of Music degrees in programs accredited by the National Association of Schools of Dance, Music, Theater and Art & Design. New World School of the Arts' rigorous eight-year curriculum and conservatory-style teaching has empowered students in our community and our nation to become leaders in the arts for more than 30 years.
Providing access is one of New World School of the Arts most important missions. Blind to academic standing at the onset, NWSA's acceptance policy is based solely on artistic talent. This allows students from all backgrounds, ethnicity, and socioeconomic status to compete for their spot in the school's coveted arts programs based on their individual talent. Once accepted, students are expected to achieve both academically and artistically. Earning respected national merit and leadership-based scholarships such as the Gates Scholarship, Posse Foundation Scholars, and Presidential Scholars in the Arts, NWSA students have demonstrated over the years that a rigorous arts curriculum not only helps foster their passion and create the next generation or artists, but it also helps students engage and achieve excellence in any academic discipline.
New World School of the Arts has educated, trained, and cultivated a generation of artists who have become the artistic leaders of the future. Graduates from the high school and college programs of NWSA are award-winning artists, playwrights and performers with Academy, Emmy, Tony, Grammy, and Bessie Awards. They are influential painters, sculptors and graphic designers, and their work thrives in museums and galleries, as well as on stages and concert halls around the globe. Our alumni are a source of inspiration to young artists from all walks of life in our community and in our state, and their success is a testament of the possibilities that emerge when the right blend of support and resources are engaged.
For more information, please contact the New World School of the Arts at 305-237-3135 or the NWSA Visual Arts division at 305-237-3620. nwsa.mdc.edu