MDC's North Campus has partnered for the past six years with Urgent, Inc. a youth and community development non profit, to present the annual Youth Economic Development Conference (YEDC), a premier career exploration conference for young people. The 2019 edition was also hosted at MDC's Homestead campus for the first time.
Approximately 550 teens and young adults arrived from all over Miami Dade County to attend the conference which took place over the course of three days in July.
"I learned how to make money , I learned how to start a business, and I learned how to save," remarked 15-year-old Trish who attended YEDC for the first time.
"The Youth Economic Development Conference is the only one of its kind in the country," said Urgent, Inc.'s Vice President Saliha Nelson. The aim of the conference was to prepare attendees for their economic futures and to become transformative change agents in their communities. The conference was free to attendees thanks to sponsors such as MDC, The Children's Trust, the Southeast Overtown Park West Community Redevelopment Agency and other contributing partners.
The event included student-led campus tours, credited certification courses in technology and film, and an introduction to MDC's curriculum in sciences and forensics.  Other highlights included a youth town hall meeting focused on education and employment, an entrepreneurship panel featuring CEOs under the age of 20, youth-led arts and entrepreneurship expos, and breakout sessions. Sponsors include the Children's Trust and the Southeast Overtown Park West Community Redevelopment Agency.
A keynote conversation kicked off the conference, hosted by Greater Miami Convention & Visitor's Bureau Multicultural Tourism Vice President, Connie Kinnard, who was joined by 14-year old entrepreneur Cory Nieves of Mr. Corey's Cookies and his "cookie Mom," Lisa Howard.  Seated on the stage in a setting reminiscent of a talk show, Cory recalled his desire to start a hot cocoa business at age 6 to help his Mom buy a car. From cocoa to cookies, Mr. Cory now distributes his cookies to major retail brands including, but not limited to Whole Foods, Macys and Williams-Sonoma.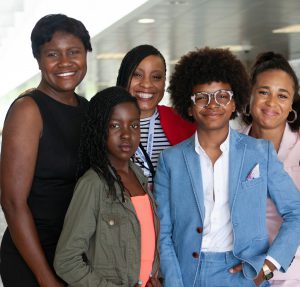 The conference also featured interactive workshops on a large range of topics that explored creative design, tourism, hospitality, business practices, the arts, STEM fields and more. The Miami 4 Social Change Youth Film Festival, featured a filmmaking masterclass, introductory workshops, a media empowerment panel and the screenings of 20 youth short films submitted from all around the country.
Young inventors and entrepreneurs pitched their ideas at the Urban Philanthropies Business Pitch Competition, where the winners Sandra and Serena Noelle, age 16, won with an idea to help their neighbors grow fresh food gardens.
The Mad City Money financial literacy game, sponsored by Dade County Federal Credit Union's Gen-U Team, engaged students in real world problem solving.  Sprawled across the floor and huddled around tables, students took on adult roles complete with jobs, budgets and bills. Aided by mentors, they learned to figure out which of life's expenses they could afford. "Many students don't realize the financial decisions their parents have to make everyday," said Community Liason Jessica Vasquez. "We hope this experience influences how young people make money decisions now and in the future."