Early voting has begun in Miami Dade County.  Getting out the vote is crucial in an election that many are saying is perhaps the most important of our lives.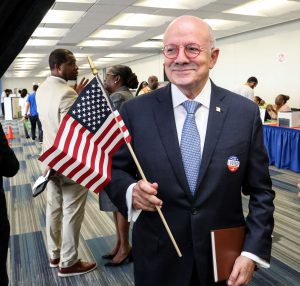 Some MDC students advocated fiercely for the county to expand their early voting sites to include locations at Miami Dade College. Their efforts paid off and now students, employees and the community may vote until November 4, at either either Kendall or North Campus. Voters must present a valid I.D. in order to vote. A student I.D. is an acceptable form of identification. You can browse this list for other forms of acceptable identification. MDC is offering their students free shuttle transportation from any campus to Kendall and North Campuses.
Early Voting
North and Kendall Campus locations are open: 7 a.m. – 7 p.m.
North Campus, Building 2, Library
11380 NW 27th Ave.
Miami, FL  33167
Kendall Campus, Building K, Room 413
11011 SW 104 St.
Miami, FL  33176
Amendment 7

Students across the college are also encouraging fellow students and the community to Vote Yes on Amendment 7.  The amendment enshrines the Florida College System in the State Constitution and ensures that crucial administrative decisions continue to be made locally, by colleges leaders who understand the needs of their students and communities.
Known as the First Responder and Higher Ed Amendment, it will also provide college tuition to the survivors of first responders and military members killed while on duty. The amendment also requires university trustees to agree by a two-thirds super-majority to raise college fees (not including tuition); and places the national model Florida College System (FCS) in the State Constitution. Florida's public universities and K-12 systems are already in the State Constitution, but state colleges are not.
Amendment 7 will effectively recognize at a statewide level, the crucial role played by MDC and the other 27 institutions that make up the Florida College System in training Florida's workforce and contributing to the economy. FCS institutions are an ongoing source of pride in the Sunshine State. These colleges function as connection points to success, providing an accessible, affordable and high-quality college education for Florida residents.
A New Spin on Political Parties
MDC is partnering with the organization VoteTogether to put a whole new spin on the idea of political "parties." The goal is to change the culture around voting by making it a celebration and holding actual parties. Students and employees are being encouraged to throw a party and invite friends and families to get together, talk about what matters and then hopefully, go vote together, or make a commitment to vote. Party throwers are being encouraged to be creative and organize anything from an on-campus get together to a backyard barbecue. MDC and VoteTogether will help the effort by providing the tools needed to create the party and even "super charge" some parties with funds to support the celebration.
More About Everything
Parties, amendments, issues, ballots and more at: www.mdc.edu/vote