— Scroll down for video —
Like a rite of spring, Miami International Film Festival arrives every year to brighten our days. Now in its 33rd edition, it remains the only major film festival worldwide to be fully produced by a college or university. It is the cineaste's counterpart to Miami Book Fair, offering something for everyone and enticing movie lovers to sit back and enjoy their favorite pastime.
"The festival is an invitation to Miami audiences to experience the world in a unique way – one that is only possible through the art of cinema. We're delighted to shine a light on a wide range of creativity and points of view brought to us by renowned and emerging talent," said the Festival's executive director and director of programming, Jaie Laplante.
10 days, 129 Films
The Festival program consists of 129 films from 40 different countries, including 29 short films and 10 student films. "The programmers have populated the festival with films and events that are essential to the complex, dynamic, ever-changing Miami of the now," said Laplante.
The schedule for the 10-day event includes stylish parties, panel discussion, competitions and cultural exchange opportunities. The historic Olympia Theater functions as the Festival's traditional venue, with screenings also offered at six other locations around Miami. Additionally, this year, MIFF is launching the Marquee Series, a program of on-stage conversations with major film personalities of the moment.
The Festival opens with Alex de la Iglesia's My Big Night (Spain), starring Spanish pop icon Raphael and an ensemble cast of many of the biggest stars in the Spanish film industry. As a special treat for audiences, Raphael will appear in person to inaugurate this year's festival.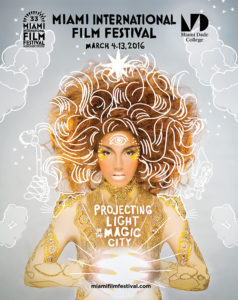 The Festival program features 11 world premieres, one international premiere, 16 North American premieres and 13 U.S. premieres this year. A complete listing of all presentations is available at: 2016.miamifilmfestival.com
Seminars
The Festival also features Masterclass Seminars where film-industry leaders discuss various aspects of the creative and business process of film production, funding, distribution, independent and documentary filmmaking, and more. Seating for these seminars is on a first-come, first served basis.
In addition to the Masterclass Seminars, the Festival offers the Google Seminar Series on Gender & Racial Gaps in Film & Tech. These seminars are a forum for discussing solutions for long-standing gender and racial inequalities in the world of film and technology.
These seminars are free to current MDC students. Faculty is encouraged to bring classes to the seminars at no cost.
TICKETING INFORMATION FOR MDC COMMUNITY
Free Student Tickets
In addition to free admission to the Masterclass Seminars, current MDC students may reserve up to three film tickets free of charge.
Details:
Get up to three ticket vouchers at the Student Life Office on campus.
Present student ID and a copy of a class schedule to pick up vouchers.
Redeem each voucher online using the unique code printed on it.
Print tickets at home or pick them up at Will Call at the venue.
Student ticket order deadline: Friday, Feb. 26, 2016
After the Feb. 26 deadline, students may purchase tickets at a discounted student rate by calling 1-844-565-6433 (MIFF). These tickets must be picked up at the venue Will-Call booth. Proper MDC Student ID is required.
MDC Employee Discounts
Full and Part-time MDC employees have the opportunity to choose from among three unique film/event packages at a reduced rate. Many films sell out each year so it's advisable to make reservations early.
Details:
Reservation deadline: Friday, Feb. 26, 2016
MDC Faculty — Class Tickets
MDC faculty may take classes to film screenings as appropriate to subject matter, content or thematics of the class.
Details:
Reservation deadline: Friday, Feb. 26, 2016