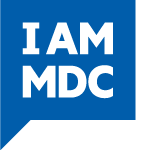 The coronavirus pandemic has had a massive impact on businesses around the world. But if there is anything that history has taught us, it's that every crisis holds the seeds of opportunity — and with foresight and creativity, it's possible to emerge even stronger than before.
Just ask Miami Dade College's class of '77 alumnus Steve Haas, the restaurateur and entrepreneur who built Miami Spice Week amidst a shaky, post-9/11 economy.  "In one week, we only had two customers, if that," said Haas, then the Greater Miami Convention and Visitors Bureau's (GMCVB) board chairman. After exploring New York City's successful restaurant week model, Haas called a meeting with the Miami Herald, American Express and GMCVB. One million dollars in advertising — and all the manpower of Miami Beach — later, Miami Spice Week was born.
Haas attributes much of his professional success to the business knowledge and skills he acquired while studying at MDC. In his latest role as the executive director of Centerplate at Miami Beach Convention Center, Haas said he is always thinking about the next big thing: "Innovation drives me. I always want to set the trends not follow them. I want to think so far out the box that the box no longer exists."
In response to COVID-19, Haas helped spearhead a new GMCVB-led program to support affected local restaurants called Miami Eats. The one-stop-shop platform lists hundreds of restaurants and their take-out and delivery offerings for diners to continue patronizing their favorite eateries while at home.
"Restaurants are such a critical part of Greater Miami's hospitality industry, and they are now reeling from an unexpected hit with dining rooms forced to close," said Haas, restaurateur. "Whether a business owner, chef, restaurant employee or patron, it is crucial that we come together with the support of one another as we navigate today's current challenges."
Haas is a 2014 MDC Alumni Hall of Fame inductee, recognized for his leadership and impact in Miami's culinary industry. He is also a Miami Beach Chamber of Commerce Lifetime Achievement Award recipient and Travel and Tourism Hall of Fame inductee.
Learn how you can support Miami restaurants while at home by visiting miamiandbeaches.com/miamieats
Written by Janee' Brown, MDC Alumni Relations Officer
---
SharkTalk by MDC Office of Alumni Relations showcases stories of MDC alumni and their accomplishments.
Do you have a story to tell?
Submit your story or nominate a fellow alum at mdcfoundation.com/sharktalk