Rao and Anita Uppaluri have always had a passion for helping others. But after learning more about the many struggles that face our country's veterans, the philanthropists, who have spent the last 30 years living in Miami, felt called to do more.
In 2020, the Uppaluris made a generous gift of $100,000 to the Miami Dade College Foundation to create the Uppaluris Veterans Peer Mentorship Endowment at Miami Dade College.
"This program will have a direct impact on local military members and veterans who seek to further their education at MDC, providing them with the support and resources they need to navigate the transition from military life to higher education," said Donna Zazanis-Burke, director of veteran and military services at MDC.
---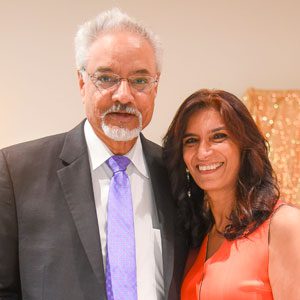 We spoke with the Uppaluris about why the veterans mentoring program matters to them, their family's approach to philanthropy and other local causes they care about.
Tell us more about the Veterans Peer Mentorship program at MDC.
Rao: As longtime supporters of the College, we've seen a lot of the wonderful work that is already being done to support veteran students. The Veterans Upward Bound (VUB) program at MDC is a pre-college program that prepares veterans to enter the higher learning environment. VUB has tutors, instructors and virtual classes. It's a fantastic program, but there are some gaps in support.
We understand one of the biggest frustrations voiced by veterans is the daunting and unfamiliar bureaucracy of higher education. They often feel alienated, confused and overwhelmed during their first terms because they aren't sure where to turn to for help.
This endowment will establish a formal peer-mentoring program where VUB participants will be paired with successful MDC student veterans as they navigate college. We hope that these relationships can help new veteran students alleviate the sense of alienation they feel upon beginning classes, find camaraderie and visualize their own success. On the other side, the student peer mentors will have a chance to complete valuable mentor training and receive a student stipend for their participation. It's a win-win.
Q: Why has this been such an important cause for you?
Anita: Through work we have done with our charitable foundation, we have talked to different people who have helped us understand the issues veterans face when reentering civilian life. A few years ago, we met with a group of veterans at MDC Homestead Campus who were conducting a sort of on- and off-campus support group. We saw how many young people come back from these tours of duty and they're struggling – sometimes they are homeless – but hardly get any attention. We began having conversations with the MDC Foundation and started a scholarship fund but quickly found there was a greater need. These young people have such a long life in front of them – they deserve more support. The peer-mentorship program is a way to help centralize and streamline support services for these students.
Q: You have a large body of philanthropic work. Where does your passion for helping others stem from?
Rao: We really feel giving is a personal thing. We have been blessed, lucky and worked hard. We have more than enough and like to give back, as do our children.
Anita: I grew up with my mother volunteering and running a school for the Red Cross in India. It was a natural thing when we got to the states to believe that we could do more based on our resources.
Q: What are some of the causes that are close to your heart?
Rao: Veteran support is one part of our approach. Our goal is to provide food, education and health services to people in need. We have the Uppaluri Family Foundation and have also been involved with Junior League of Miami, Baptist Hospital and Joshua's Heart, as well as other wonderful organizations that are changing people's lives every day.
Written by Adria Greenhauff, MDC Foundation proposal writer