Secretary of State John Kerry will meet with MDC Honors College students at the National Historic Landmark Miami Freedom Tower on Thursday, April 14, 2016.  Kerry will deliver an address at a special ceremony in recognition of their academic accomplishments and their potential to serve as future leaders. Sec. Kerry's visit continues MDC's longstanding tradition as 'Democracy's College,' where top U.S. and world leaders visit the institution. He is expected to bring words of praise to MDC's students as well as encouragement for them to consider careers in the Foreign Service and public sector. This special event is a prelude to MDC's commencement ceremonies taking place on April 30th.
Full Circle
The Honors College provides students with a framework for excellence and success. This year, more than 1,500 students submitted applications for admittance. It's a competitive process that selects the best applicants for a class of 275 seats. At the beginning of their academic journey, every Honors class is welcomed through an induction ceremony where expectations are established and post-graduation goals are articulated. Students typically take these expectations very seriously, pushing themselves to achieve at higher levels in order to get the most out of their two years in this intentional learning environment. This will be the first year where the induction ceremony at the beginning is matched by a completion ceremony at the end, bringing everything full circle.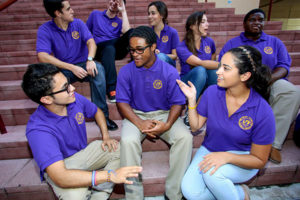 Gratitude
"We're calling it The Gratitude Ceremony to bring powerful closure to a learning experience that is created by a community of students, faculty, administrators and also family and friends." said Pascale Charlot, dean of the Honors College. "It's a way to acknowledge and celebrate the students' ability to actually have the transformational experience that is available if they are willing to do the work. It gives us an opportunity to reflect on the students' accomplishments, to celebrate who they've become, to recognize the impact they have had, to honor the cohort and to give them a wonderful send-off as they take their next steps."
The ceremony is centered around gratitude because the students also get to express their appreciation and acknowledge that they did not arrive at this point alone. They have been part of a community effort, in particular at MDC, where there have been multiple factors contributing to their success in terms of meaningful support and rigorous academic challenges.
The Honors College
Founded in 2002 and lauded by TIME magazine in 2006 as an "Ivy Stepladder," The Honors College at MDC is a peer-learning environment for high-achieving students, providing them with rigorous academic experience, leadership development and service opportunity so they are well rounded and prepared to transfer to some of the most competitive institutions in the country and around the world.
Watch the recorded event below or read the full transcript of Sec. Kerry's remarks.
Want to make it into the next Honors College class? Applications open in October and close in April. For more information visit: mdc.edu/honorscollege