MDC's School of Engineering + Technology (EnTec) was selected as one of the recipients of a major grant from Mozilla, awarded nationwide to 17 institutions of higher learning. The Responsible Computer Science (RCS) Challenge is an ambitious initiative that aims to integrate ethics and social responsibility into undergraduate computer science curricula and pedagogy at U.S. colleges and universities.
The grant award provided MDC with the means to leverage its existing resources to support and encourage curricula that integrates ethics into the field of computer technology. The RCS Challenge offers a rich platform for collaboration and learning among students, faculty, and community-based organizations.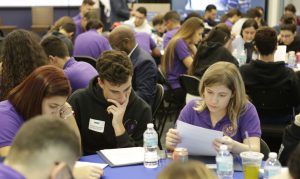 In response to the challenge, the School of EnTec, worked with the Office of Social Change Initiatives, the Idea Center, and the Arts & Philosophy department, to develop a product that can be scaled for use among different groups.
The product is a role-playing activity that exposes students to the relevance and application of ethics and social responsibility in technology today.
The collaborators used facial recognition technology as the vehicle for the role-playing scenario which can be used with students from any major and groups ranging from smaller courses (15-30 students) to larger workshops (100 students).
Read more about the role-playing activity and how to implement it.