New World School of the Arts presents the work of two contemporary Caribbean artists in "Shape | Color: Diego Espaillat & Scarlett Reyes." Both emerging artists of the Caribbean diaspora, their artworks deal intimately with ideas of movement and environment. Guided by experimentation in color and form, Espaillat's sculptural works and Reyes' abstract paintings map out a geography of transnational, cultural exchange grounded in the shapes and colors of the Caribbean. Both Espaillat's and Reyes' work capture moments of intense energy –– the animated curvature of a festival mask, the crashing mass of a wave –– to investigate the nuances of identity, culture, and place.
This show opens on Friday October 15 and runs through October 29, 2021, at New World Gallery – 25 NE 2nd Street, downtown Miami. On view Monday to Saturday, 9 AM to 4 PM. The exhibition is free and open to the public and admission ticket or reservation is not required. The gallery requires visitors to wear face masks and practice physical distancing. New World School of the Arts has implemented more frequent cleaning measures and adopted additional safety protocols for the safety of both visitors and staff.
Diego Espaillat graduated from the Lyme Academy College of Fine Arts in 2017. He currently lives and works in New York City. He recently completed his first residency and solo show at Flux Factory in Queens, NY and is preparing for two group shows this fall. Espaillat's sculptural works are inspired by the cultural collision of objects and activities between New York and the Caribbean. Through the traditional and laborious paper-maché process (utilizing cassava as an adhesive), Espaillat engages with the Caribbean's dynamic and ever-evolving mask-making traditions. In removing the performance utility of the mask form, Espaillat introduces his own New York experience to the tradition, creating a juncture through which he can interrogate his own cultural and material identity. Diego Espaillat will be holding workshops with high school students from New World School of the Arts in mid-October.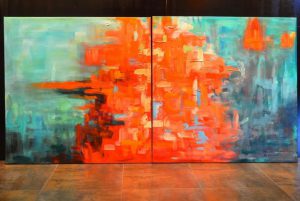 Scarlett Reyes graduated from the Pontíficia Universidad Católica Madre y Maestra in the Dominican Republic, with a background in marketing and architecture. Since 1999, Reyes has worked as an interior designer and decorator, pursuing the aesthetic functionality of interior spaces. In her series Colors of the Sea, Reyes turns her artistic vision to the natural environment of her youth. Through abstraction and experimentation with canvas and color, Reyes investigates the rich movement and textured environment of the Caribbean Sea, creating works which brim with potent emotion and energy.
Visiting artists add an additional perspective to the educational efforts of the visual arts program at New World School of the Arts. These exhibitions allow students to further explore their chosen artistic fields by engaging in projects and immersive relevant dialogue while learning from programming not usually accessible to students. Guest artists expose students to new pedagogical practices and enables them to reflect on the current world in which they may ultimately anchor their artistic practice. By showcasing contemporary artists working throughout the disparate fields of the design industry, these exhibits expand the horizon of what an art practice looks like and give students a unique opportunity to seriously consider the trajectory of their own work. In featuring artists of Latin America and the Caribbean, students are exposed to an alternate, global fine arts geography of which Miami is a vital node.
Aspiring artists in the NWSA Visual Arts division can join other exceptionally talented students as they engage in the pursuit of their artistic career in the visual, graphic, or electronic arts. Trained by nationally renowned practicing artists, students at New World School of the Arts are encouraged to develop a personal, artistic, and aesthetic vision while mastering their technical skills in traditional and new media. Students are allowed to explore new paths while at the same time being exposed to the work of both classical and contemporary masters. Through disciplined training in traditional and new media, students develop new skills and refine others while gaining invaluable understanding of the roles of art and design in society. Areas of concentration include Art & Technology, Drawing, Graphic Design, Painting, Photography, and Sculpture. Information about the NWSA Visual Arts division at 305-237-3620.
A Florida center of excellence in the visual and performing arts, NWSA provides a comprehensive program of artistic, creative, and academic development through a curriculum that reflects the rich multicultural state of Florida. With programs accredited by the National Association of Schools of Art, Dance, Music and Theater, NWSA offers four-year BFA and BM college degrees, as well as the high school diploma. Through its rigorous curriculum and conservatory-style teaching NWSA empowers its students to become leaders in the arts. New World School of the Arts was created by the Florida Legislature as a center of excellence in the performing and visual arts. It is an educational partnership of Miami-Dade County Public Schools, Miami Dade College, and the University of Florida. Information about New World School of the Arts at 305-237-3135.