The Museum of Art and Design (MOAD) at Miami Dade College (MDC) launched new online initiatives that include public programs, a new website, and a publication series.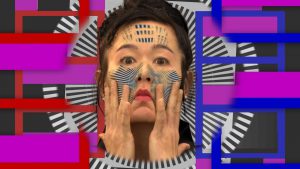 MOAD Talks
Building on ideas raised by the art in the exhibition, MOAD Talks explore the impact of art, science, and technology on contemporary life. The first installment of MOAD Talks included four live programs hosted on Zoom, as well as four prerecorded events available on the Museum's Vimeo and YouTube channels. These public programs focus on The Body Electric and feature artists from the exhibition, its curator, and local, national, and international critics, curators, and art historians. MOAD Talks are free and open to the public. Watch the recorded talks.
MOAD Website
The new website provides visitors with a dynamic and vastly expanded online presence. New interactive features, including virtual exhibition tours, bring the museum experience directly into visitors' homes. Videos of performances and links to art projects allow users to experience works by some of the world's leading contemporary artists. Visitors may also revisit the Museum's history through archives of previous exhibitions and programs, including photo galleries and brochures.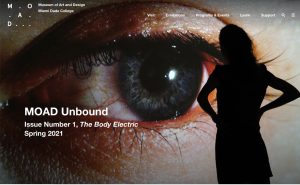 MOAD Unbound
A special feature on the new website is the inaugural issue of MOAD Unbound, a publication which aims to bring readers insights and perspectives on the art and ideas featured in the Museum's exhibitions and programming. The publication features essays and interviews by some of today's leading artists, curators, critics, art historians, and others. MOAD Unbound encourages deeper looks at the works in the galleries or offsite as part of MOAD's Museum Without Boundaries initiative. In subsequent editions, this publication will explore compelling issues raised by shows that do not have an exhibition catalogue, and investigate topics farther afield for those that do. The inaugural issue of MOAD Unbound focuses on the current exhibition The Body Electric.
"These new online initiatives hugely expand our digital footprint," says Rina Carvajal, MOAD's executive director and chief curator. "Visitors to the new website will get a full picture of everything the Museum does. They will be able to get the latest info about upcoming events, explore our past programming, and look at our exhibitions, even if they can't visit MOAD in person. These new efforts give us a far greater reach than the Museum has ever had, and they will continue as an integral part of our programming well into the future."
Museum of Art and Design at MDC
MOAD is located inside MDC's National Historic Landmark Freedom Tower. MOAD at MDC offers groundbreaking exhibitions and programs that aim to foster a reimagined Miami. Exploring the challenges and opportunities we face locally and globally, MOAD convenes artists, designers, and thinkers to address the urgent questions of our time. As the College's flagship museum, MOAD strives to be a catalyst for action and a place that empowers people to remake their city. MOAD follows the College's lead in operating across Miami with its Museum Without Boundaries initiative, which takes place in city neighborhoods and invites everyone to be a part of the conversation.