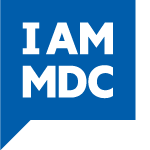 When Michael Chatila first entered Miami Dade College a decade ago, he had no idea what his future had in store, much less that it would one day lead him to Europe to work for one of the largest entertainment companies on the planet: Nintendo.
"At the beginning, I didn't know what I wanted to study," said the MDC Honors College alum. "I wanted to have the opportunity to explore different fields of study in a way that would provide insights into career opportunities."
Chatila developed an interest in marketing after taking several courses and pursuing internships that allowed him to continue exploring that passion. Each decision gave Chatila better clarity about his goals. "I kept having a longing to explore the world, learn a new language and build a career in digital marketing," he said.
Today, Chatila has found his place impacting the future of marketing on an international scale. He lives and works in Frankfurt, Germany as the digital performance marketing lead for Nintendo of Europe. In this role, he develops, monitors and drives digital efforts of Nintendo's hardware and software across Facebook, Twitter, Instagram, Snapchat, YouTube and search engines. Some of the products he's worked on include Super Mario, Pokémon and Fortnite.
Chatila credits MDC for helping him discover his passions. "For me, MDC means growth because as an adult, finding myself and my career path happened seamlessly semester-to-semester," he said. "And now I'm here."
His advice to future students: remain committed to learning, creativity and discovery. "Passion evolves as you learn and experience more," Chatila said. "Give yourself time and enjoy the present moment. It's the journey, not the destination, that matters most."
Written by Janee' Brown, MDC Alumni Relations Officer
---
SharkTalk by MDC Office of Alumni Relations showcases stories of MDC alumni and their accomplishments.
Do you have a story to tell?
Submit your story or nominate a fellow alum at mdcfoundation.com/sharktalk