Miami Dade College has launched a new degree program that will help stimulate the growth of the fashion industry in Miami. Housed under the newly formed Miami Fashion Institute, the Associate Degree in Fashion Design and Merchandising, will prepare students to enter the world of fashion and learn about the industry from both the creative and business side.
As a destination, Miami has long been associated with fashion, glamour and style, attracting models, high-end retailers and A-list celebrities. With this program, MDC intends to reboot a fundamental component of the fashion industry – a local, skilled labor force, something that existed here many decades ago but had disappeared over time. By educating and developing skilled workers, the College is creating the industry support that will encourage designers and other fashion-related businesses to open up shop in Miami.
Want to find out more about Miami's fashion history? Get the details in this blog post featuring archival footage from MDC's Lynn and Louis Wolfson II Florida Moving Image Archives.
The new program is located at MDC's Wolfson Campus in Downtown Miami and made possible with the support of the Mitchell Wolfson Sr. Foundation. When it opens its doors this fall semester, Miami Fashion Institute will be the only facility of its kind within a public higher education institution in Florida, and only one of a handful that exists nationally.
"The time is right for the fashion program and the industry to both flourish here."
"The College has been conducting its due diligence with regard to the program," said Marimar Molinary, MDC's Director of Academic Program Development. "We've been considering this degree program for some time now. Last year we started meeting with fashion industry insiders to really explore the possibility of launching this program. We met with designers, retailers, factories managers and others who could inform us about the needs of the industry and we began to develop a curriculum that would meet those needs. Miami is a growing and creative city and its diversity has a cultural impact on the world. The time is right for the fashion program and the industry to both flourish here."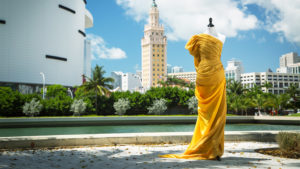 To help shape the program, MDC has invited Nicholas Huxley to serve as a visiting scholar. Huxley, who resides in Australia, is considered an influential figurehead in the fashion industry. Among other notable moments in his career, he has dressed the likes of Nicole Kidman and been nominated for an Australian academy award for his costume designs.  Currently the director of the Fashion Design Studio in Sydney, Huxley started at the college as a student and gradually worked his way to the top position. Over the years, Huxley has made the school into a dynamic, creative institution that is widely considered one of the best of its kind.
"What I hope to do here is to create what I did in Sydney, but with a Miami flavor," said Huxley. "Miami has so much going for it already. There are a lot of stylish and creative people from all over the world who come here either to live or visit. People look at Miami to see what it's doing in terms of music, food, architecture, and so on. So why not look towards Miami to see what it can offer in terms of fashion design? It's a huge opportunity that is just waiting to be tapped."
"We're moving all our production out of New York, to Miami."
New York fashion magnate Naeem Khan has announced the relocation of his couture house to a site along the Miami River. A favorable land deal approved by the city convinced the designer to leave New York.  Khan's impending move adds to the growing perception that Miami is a city where fashion designers can run their businesses under friendly economic conditions. As reported in the Miami Herald, Khan who has dressed Beyoncé and Michelle Obama, among many others said, "I'm so excited…all of my clothes are going to be made here. We're moving all our production out of New York, to Miami."
Students enrolled in the two-year program at MDC will choose between two tracks: design or merchandising. It's a diverse approach designed to nurture creativity and develop practical knowledge, both in terms of the business side of fashion and in skills such as cutting, pattern-making, garment construction and design.
"You have to be passionate, you have to be committed."
"This program will provide initial preparation to anyone who has an interest in fashion design," said Huxley. "Even if you have never made a drawing or done anything in the way of fashion design, this program will help you. But, you have to be passionate, you have to be committed. We're going to hit the ground running, so you have to be prepared to work hard and put in the hours necessary to get the most out of this program."
Want to be part of the next generation of fashion design? Start the process now.  Get more details on the program.