Miami Dade College, Wolfson Campus student Juan Daniel Luna Jose was looking for resources to help him design and build a Formula 1 race car. He had gained his passion for cars and racing back home, where he built a race car alongside his father, uncle and younger brother.
"Everything started when I was 12 years old," said Luna, a transplant from Santo Domingo, Dominican Republic. "My uncle loves cars. He has sports cars like the Ariel Atom, and he built it from scratch. So, he taught us how to build cars."
When he arrived at MDC, he decided he wanted to build a better car. He showed up in the Makers Lab and immediately got to work, visiting almost every day. Without any prior knowledge of the Autodesk Fusion 360 program, Luna used it to design his dream car with every specification and measurement accounted for in four short months.
He hasn't even started his mechanical engineering courses. He's still studying English at MDC, but Makers Lab Manager Ralph Provisero said that the practical knowledge Luna is getting from creating this car is preparing him for much more than the classroom. The possibilities are so impressive that Provisero is working on putting together a team to help build and race the car in the Formula SAE engineering competition run by the Society of Automotive Engineers International.
"All the top engineering schools have an SAE F1 race team," Provisero said. "It teaches them organizational skills, it teaches them how to budget and how to work together as a team. Then these students graduate with a golden ticket to auto-design schools and mechanical schools. They could go right into the Formula 1 industry – and some of them do."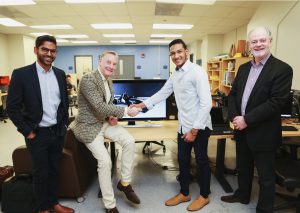 The car has yet to be built, but Luna already has captured the attention of executives from the global racing brand who are scouting Miami for a new Grand Prix. Formula 1 Managing Director of Commercial Operations Sean Bratches, Formula 1 Director of Strategy Yath Gangakumaran, and veteran racing manager Richard Cregan all visited the Makers Lab at Wolfson Campus recently to see Luna's work.
He hopes to have the full-scale F1 car built in time to showcase it at the upcoming Maker Faire Miami at MDC in April, but that's just the beginning.
He said he also plans to be the driver in competition and keep going with his studies. "When I graduate in mechanical engineering, my dream is to have my own company to do F1 cars and sports cars, to build and sell them," Luna said.
Watch what happens at the Makers Lab