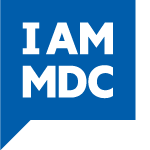 Not too long ago, Kevin Sharpley, '99, was juggling school between modeling and acting jobs. Today, he runs a successful media company that's worked with celebrities like Danny Glover and Tommy Flanagan. 
We recently caught up with Kevin to learn how his time at MDC helped lead him to the career he has today. Here's what he told us.
I had been working as a model and actor for Michelle Pommier, Wilhelmina, Ford, Boss and Major, and in between traveling to New York, Italy and Africa, I took classes at MDC.
As a film student at Wolfson Campus, I had a fundamental understanding of the film industry because I was a working actor and had been writing since I was seven years old. But what pushed me deeper into film was a course I took called, The History of Film Noir. In the class, we would read a film noir genre book and then watch a film adapted from the book. After the second book and film, I was hooked. I quickly realized the connection between the written word and the moving image, and that changed my life. I knew then that I wanted to work behind the scenes as a director.
Following MDC, I started directing, producing and writing, and then thought to myself, "why not just start my own company?" That's how KijiK Multimedia was born.
KijiK is a ghost town in Alaska that has been reclaimed by nature, which speaks to the culture of our full-service media company. We focus on conservation, social responsibility and the environment in our servicing and partner with clients who share those values. Our focus is on branding and entertainment, offering everything from brand activation to podcast production. We've worked with a range of clients from Bacardi and the United States Airforce to individuals like Danny Glover, Tommy Flanagan, Arlene Tur and many more.
Throughout my career, I have learned the value of teamwork. The truth is that life is hard. It's important to connect and collaborate with others because you maximize your output when you work as a cohesive whole instead of individually.
MDC taught me how to work with others by connecting with different people who had different mindsets but the same goal. Because of MDC, I gained the connections and skills to propel my career. Anyone can do it – it's just a matter of getting out there! An education will allow you to expand, but in the end, it's the drive and determination that will get you to where you want to go.
As told to and written by Janee' Brown, MDC Alumni Relations Officer
---
SharkTalk by MDC Office of Alumni Relations showcases stories of MDC alumni and their accomplishments.
Do you have a story to tell?
Submit your story or nominate a fellow alum at mdcfoundation.com/sharktalk