"It took losing everything for my life to flick on," says Ijamyn Gray, a year after Hurricane Irma devastated his home, and left him and his family, including six children, homeless and hungry. On the journey to rebuild his life and provide for his family, Ijamyn was inspired by a mentor to go back to school. With help from the Single Stop Program, he was able to enroll at Miami Dade College during the 2018 summer term.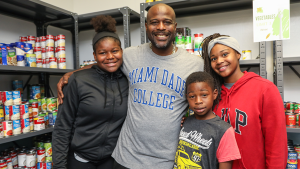 Single Stop is a one-stop source for students and immediate family members to be connected to public benefits and local resources. A benefits screening allowed Gray access to financial assistance and coaching, the student Food Pantry and health insurance assistance. More than 42,894 students and families have benefited from the program's services to date.
Ijamyn is grateful for those who have had the heart to give to the Single Stop program. With 65% of MDC students considered low-income. "it's a necessity," he says.
"Miami Dade College has changed my life in a million ways," says Gray. "I have six kids and a disabled mother who depend on me, and through the opportunities given to me at Miami Dade College, I want to give them the world."
Gray is studying psychology at MDC and wants to pursue nonprofit work that inspires today's youth.
---
GIVE TO MDC STUDENT FOOD PANTRY
---