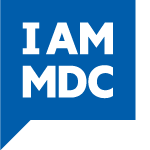 Working full-time and going to school isn't always an easy balance. But like most things that require hard work and sacrifice, the payoff can be life changing. Just ask Miami Dade College alumnus Gustavo Chacon, '11, who went from juggling a full-time job and his studies in business management to co-founding one of Florida's fastest-growing sports media companies.
"Like many people, I had to work while obtaining my education," said Chacon. "MDC allowed me to work during the day and focus on my education in the evening."
When Chacon first transferred to MDC, he was impressed by the high-quality academic program offerings, flexible scheduling and small class sizes that allowed him to network and learn from other aspiring entrepreneurs. He also enjoyed that the College encouraged him to explore a range of classes outside of his major, which allowed him to develop a passion for sound engineering, all while maintaining his day job.
"Whatever you want to do, you will be able to improve your skillset at MDC," said Chacon.
Those same skills have helped Chacon score his sports blog and podcast, Lemon City Live, several big wins, including covering Superbowl LIV and the ninth annual NFL Honors. He's also led production on over 200 podcast episodes and built a loyal following that includes several of his MDC classmates. Lemon City Live is now also hosting the morning show on South Florida's newest sports station, The Morning Juice with Lemon City Live on Onside Radio.
"Luck is when preparation meets opportunity," said Chacon. "MDC was my preparation."
His advice to today's aspiring entrepreneurs: "Be patient, and constantly learn and grow. One day you'll wake up and you'll be surrounded by the top dogs in your field, knowing you also deserve to be in that room."
Written by Janee' Brown, MDC Alumni Relations Officer
---
SharkTalk by MDC Office of Alumni Relations showcases stories of MDC alumni and their accomplishments.
Do you have a story to tell?
Submit your story or nominate a fellow alum at mdcfoundation.com/sharktalk