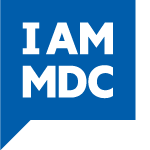 Giovanni R. Castro, '11, is the manager for state and local government affairs for Verizon in the State of Florida. Before joining Verizon, he served as deputy chief of staff for City of Miami Mayor Francis Suarez. He serves on the MDC Alumni Council. We recently chatted with Giovanni about his MDC experience, his advice for students and why he gives back to the place where he got his start.
Why did you choose to attend MDC? What program sparked your interest?
I attended Miami Dade College at a time when I wasn't sure what I wanted to major in. When I was 16 years old, I interned with the Miami-Dade County Mayor and that was a great experience. I had the opportunity to learn the operations and priorities of the Mayor's office. At the same time, I was developing an interest in becoming a film director. I've always loved scriptwriting, storytelling and storyboarding. I also wanted to stay connected with family at the time. MDC allowed me to figure out my career path and remain close to my family.
Share your best college memory.
My best memory was creating an elective course with my friend, which impacted the lives of future entrepreneurs at MDC and ultimately starting a small business because of that learning process. One of my best friends from high school also attended MDC and we were constantly discussing ideas for starting a small business in 2009. As we were brainstorming ideas, we realized there weren't any classes on how to start a small business. We leaned on advice from our business college advisor, the late Maria C. Mari, and pitched a few proposals to her. Through the process, we came up with the idea to start an entrepreneurship course at Miami Dade College's Kendall Campus. We quickly learned MDC students had a strong interest in entrepreneurship and there was a demand for the content of this new course.
How did the support from faculty and staff impact your MDC experience?
The support of Maria Mari was really a guiding light. She connected us to various business mentors. She noticed I had a passion for public service, and, with her help, I coordinated different speaking engagements on campus with various politicians. She helped me find my passion and helped me build a foundation. She has a really special part of my heart.
Briefly, describe your career path.
I maintained a relationship with those who I connected with during my internship at the Mayor's office. It's always so important to maintain relationships and be a familiar face in someone's Rolodex. I was asked to serve as a campaign manager for an individual running for state representative. Fortunately, he won the race and I continued to work with him during his other campaigns. My political bug never went away. Years later, I am now the manager for state and local government affairs for Verizon in Florida.
How did your education at MDC prepare you for what you are doing today?
MDC serves as the pulse of our community. At an early age, I was able to learn students' day-to-day issues, barriers MDC helped them overcome and their stories of professional development. Their stories and struggles were a compass for me when I was looking to help enact policies to assist our community.
What keeps you engaged as an MDC Alum?
I am proud to be an alum and enjoy seeing the growth and development of the College. It seems like every year there's something new. Miami Dade College has such a special place in my heart for the impact MDC made on me. I think every alum should find ways to check-in, give back, or try to get involved with the school that once helped them.
At this point in your life, what is the most important advice you can give to someone who hopes to succeed in your chosen discipline/career path?
Work hard. It doesn't matter if you win or lose, a strong work ethic is always appreciated. Someone is always watching your performance. Stay humble. Humility is an asset that you should carry with you in any victory. Prop up your friends and colleagues. You never know when someone needs a win. This also creates opportunities for collaboration in the future.
In a sentence or word, what does it mean to you to say, "I AM MDC?"
I am resilient. MDC has instilled in its students that you can achieve it all. It has created a culture of resilience.
Written by Janee' Brown, MDC Alumni Relations Officer
---
SharkTalk by MDC Office of Alumni Relations showcases stories of MDC alumni and their accomplishments.
Do you have a story to tell?
Submit your story or nominate a fellow alum at mdcfoundation.com/sharktalk