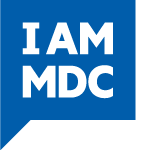 Gabriel Crespo, '11, developed the confidence and skills at MDC he needed to learn, grow and excel. Today, he manages multi-million-dollar accounts as a senior key account manager for American Airlines.
Why did you choose to attend MDC?
Miami Dade College was one of the only schools that gave me an opportunity when I felt most schools turned their backs on me. In high school, my grandfather passed away, and I took it really hard. I wasn't motivated to apply to college or do anything. Once I started looking into colleges again, I saw that MDC was willing to grow with you. MDC wanted to help you get an education regardless of where you started in life.
MDC is a special place, not just because of the professors and administrations but because of the student body. At MDC, the typical student is a working professional trying to get an education to be better prepared for the workforce. I think that's special.
How did your extracurriculars at MDC shape you as a student?
At MDC, I was a member of Phi Beta Lambda, a worldwide business fraternity. I was proud to represent Miami Dade College. During competitions, business students compete in free enterprise, small business management and several other business topics. At the 2012 national competition in San Antonio, my team and I won 1st place in the free enterprise category. Every year after that, we won first or second place out of hundreds of prestigious schools. Phi Beta Lambda shaped me as a student and was even more impactful on my confidence.
Tell us about your career path.
Upon graduating with my bachelor's degree from Miami Dade College, I was one of 20 interns hired by American Airlines. Then I was offered an opportunity to join the marketing department without any sales experience. I excelled and received another opportunity to relocate to New York as the Account Development Manager, responsible for meeting and exceeding a quota of 10 million dollars with small and mid-sized accounts. Since the move, I have been promoted three times in three years. Today, I am the senior key account manager responsible for the development, management, growth and relationship of our key agencies that generate $342M in annual revenue for AA.
How did your education at MDC prepare you for what you are doing today?
MDC taught me about character building and confidence. I am now willing to bet on myself because I have performed and excelled in competitive national competitions. Now I know in high-stake situations that I will be successful in the end.
At this point in your life, what is the most important advice you can give to someone who hopes to succeed in your career path?
Always bet on yourself and know that you are your biggest supporter and your biggest opponent. Create the environment you want to be in, and don't let your current situation define you. Ultimately, college is what you make of it, and so is your career. Bet on yourself!
In a sentence, what does it mean to you to say, "I AM MDC?"
I am part of a prestigious family that gives educational and career opportunities to people who wouldn't otherwise be given a chance.
Written by Janee' Brown, MDC Alumni Relations Officer
---
SharkTalk by MDC Office of Alumni Relations showcases stories of MDC alumni and their accomplishments.
Do you have a story to tell?
Submit your story or nominate a fellow alum at mdcfoundation.com/sharktalk