In 1960, when Gary Canner enrolled at a tiny new school called Dade County Junior College, he never thought he would soon become a part of history.
"Back then, classes and activities took place outside, under the trees," said the New York Native and member of MDC's first graduating class. "We had some portables but most were not air conditioned. It was quite an experience."
Canner reminisced about being a member of the debate team for the College and traveling for a competition at the University of Texas where, at the time, no one had ever heard of Dade County Jr. College. "We were up against schools that were around for over 100 years. So, before the debate, I picked up a piece of chalk and wrote on the blackboard behind us MIAMI DADE JUNIOR COLLEGE, so everyone knew who we were!"
Through his love of debate, Gary focused his studies on pre-law and graduated from MDC in 1962 with an associate's degree. He later went on to pursue an undergraduate degree from Florida State University where he graduated in 1964. After leaving Tallahassee, he continued his education at the University of Miami School of Law where he earned his Juris Doctor in 1967.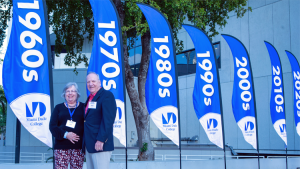 Looking back at his time at Miami Dade College, Gary Canner says he and his classmates established close relationships with the staff noting, "we knew them well." Gary's academic passions were fueled by MDC Political Science professor Fred Frohock.
When asked about what excited him the most about coming back, the proud alumnus noted, "It is amazing to see how much the college has grown."
As one of MDC's first graduates, he has held on to important mementos all these years; including the first college newspaper, The Falcon Times, the very first yearbook and cherished photographs.
Gary has now retired from law and lives in Leesburg, FL with his wife.