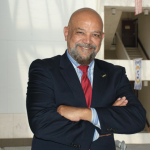 I want to tell my story. It's just one man's journey but it's one of 2 million grown from the classrooms of Miami Dade College. Perhaps, my story is yours too.
As a teenager I hung out with the wrong crowd, but I wasn't a bad kid. My father worked hard, my mother set the rules, and education was at the top of the list. Like so many immigrants, my parents' dreams were for their children.
But I slouched through high school. I was aimless and adult life was running up fast to grab me. In those final weeks of childhood, however, a man with walrus mustache appeared at my high school. Eduardo Padrón, circa 1982, jumpstarted my life. Apply yourself, he told me, and MDC would help me grow. As it turns out, so would he, every step of the way to this very day.
Padrón told me his story, of the day he stood up in an MDC classroom and found his voice, one that would eventually change countless lives. Suddenly, there I was tutoring my recent high school peers in the accounting and math labs. Their surprise could never have matched my own. But this is the magic of MDC, the moment that learning turns the lights on. My goodness, I am smart. I can do this.
At Dr. Padrón's urging, I mentored high school students in math, helping them turn a corner they couldn't yet see. On the final day, these tough kids from Edison, Jackson and Northwestern high schools delivered Thanksgiving dinner to Camillus House. Find your strength, your passion, Dr. Padrón had told me, and you'll be able to help others. That's real life.
I've experienced good fortune since turning that first crucial corner at MDC. I am the in-coming chairman of the Miami Dade College Foundation. No other achievement in my life has given me greater pride.
As we wind down our fourth annual I AM MDC Day, the results are a testament to the impact of this College on the lives of so many. Thousands of people across our community contributed a total of $2 million this year for student scholarships, an unprecedented feat for community colleges and far beyond many university efforts. Surely, every dollar is needed to sustain MDC's excellence and meet the challenges of an evolving world and workforce. And all this was accomplished during a leadership transition and as Dorian threatened.
Consider the challenges and accomplishments of MDC students: 43 percent live beneath the federal poverty line and 65 percent are from low-income households; 70 percent work while studying; and nearly half are the first in their family to attend college, ending the cycle of poverty and setting a necessary precedent.
Accomplishments? MDC students have the highest economic mobility rate among Florida state colleges, and rank 4th nationally; 99 percent of associate in science graduates are employed in their field within one year; 93 percent graduate debt-free; and MDC's Honors College sends graduates to every elite university.
Everyone has a dream. Too many, however, remain buried and untouched. But we live in a community with a real-life dream factory. It's the empowering heartbeat of countless success stories from every household in our community. Thanks to so many of you who have embraced this college, I AM MDC Day is every day for students across our community. And rest assured, the next generation is about to turn the same corner you and I have, waiting to jumpstart their dreams.
This Op-ed was featured in the Miami Herald.
Learn more about how you can make a difference at www.mdcfoundation.com.