Chelsea Clinton paid a visit to MDC's InterAmerican Campus at the invitation of the School of Education, on October 22, 2015 to discuss her book, It's Your World: Get Informed, Get Inspired & Get Going.
Clinton holds a B.A. from Stanford University, a Masters in public health from Columbia University and a doctorate degree in international relations from Oxford University. Wearing jeans and a blazer and looking much like her audience of students, Clinton gave a brief, informal talk to the enthusiastic group.
As a child, one of her favorite books was 50 Simple Things Kids Can Do to Change the World. Clinton tackles a similar theme with her own book, encouraging everyone to embrace global citizenship and understand the impact—both positive and negative–that individual and group actions have on the world.
As the book title suggests, Clinton talked to her audience about three basic steps to becoming agents of change. First, "get informed" –  ask questions, find out what the challenges are and why we face them. She then asked people to "get inspired." Clinton effectively used stories about teens and children who have made a difference, to demonstrate how sometimes simple ideas, or ideas that at first seem to only address an issue in one's immediate surroundings can have ripple effect that result in significant and wide spread benefits to others. The last step of Clinton's plan is to "get going."  She encouraged students to take action and move on the issues they are passionate about.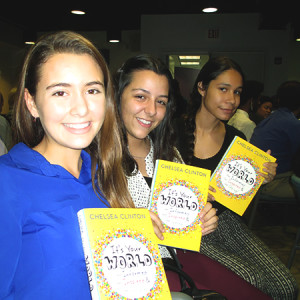 Among the student attending was Luiza Kinzerska-Martinez who was at the event with classmates Sydne Garcia and Maydee Martinez. The group was thrilled to be there and inspired to make a difference.
"Her powerful message to inspire students to pursue community activism has elucidated the idea that an individual or small group of people with a drive for positive change can have an impressive impact on their local or global community," said Kinzerska-Martinez.
Clinton's book helps to inform readers about some of the challenges we face today by outlining a number of causes in various fields such as the environment, health, and social issues, and includes a number of suggestions for actions that young people can take.
Following her talk, Clinton engaged in a discussion and Q&A moderated by Pascal Charlot, dean of the Honors College at MDC. On the same day that her mother, former secretary of state and current presidential candidate Hillary Clinton, was facing a contentious congressional hearing, Chelsea Clinton ended her visit to MDC by posing a question to her audience.  Chelsea pointed out that precisely because of her family's political stature, young people often ask her if she has plans to run for political office. She said she often turns the question around because she thinks it's more important for students to ask themselves that question, regardless of their personal background. Clinton looked across the room at all the young faces and asked pointedly: will you ever run for political office?