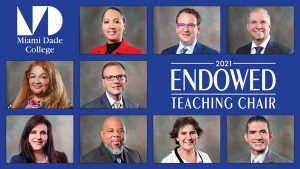 Nine outstanding Miami Dade College faculty have been named 2021 Endowed Teaching Chairs, the College's highest faculty honor.
Donors generously fund Endowed Teaching Chairs through the ongoing work of the MDC Foundation. Each year, top faculty are selected by their peers for this special award, demonstrating excellence in teaching and commitment to MDC's mission.
More than 300 MDC faculty have been recognized since the Endowed Teaching Chair Program began in 1992, when MDC blazed the trail nationally with this type of recognition program at colleges. These programs had traditionally existed at universities. Endowed Teaching Chairs receive an annual stipend of $7,500 for three years to explore new teaching methods, develop new projects, and enhance their technological expertise.
Meet the 2021 Endowed Teaching Chairs:
George W. Jenkins/Publix Super Markets Charities Endowed Teaching Chair
Dr. Diego Tibaquirá, Professor
Padrón Campus
Dr. Diego Tibaquirá is a Professor of Computer Science with a Cybersecurity concentration. After serving in the U.S. Marines, he attended UNC Greensboro and North Carolina A&T University, where he received a master's in Computer Science, including a graduate certificate in Information Privacy and Security sponsored by the National Security Agency (NSA). He obtained his doctorate in computer science from NOVA University. Since 2017, in addition to his teaching calendar educating the next generation of cybersecurity and cloud computing practitioners, Tibaquirá has been investing time in the Honors College, PTK and student-veterans, providing them with professional development opportunities. He has also been instrumental in the design of innovative curriculum through his role on the committee focused on updating courses and developing new programs, and in securing critical grant funding for these programs.
The Esther T. Colliflower, R.N. Endowed Teaching Chair
Sharon Plotkin, Assistant Professor
North Campus
Sharon Plotkin is an Assistant Professor at MDC's North Campus. She obtained her master's in Criminal Justice with a minor in Psychology. She is currently pursuing a doctoral degree in education. Plotkin has been doing crime scene work for almost 21 years, and received her certification in crime scene investigations in 2006. She is a member of several forensic organizations, as well as Florida's and federal disaster response teams. Plotkin has taught about crime scenes throughout Florida, the United States, India, the Cayman Islands and China. To stay in touch and ensure students are always current with the latest developments in the industry, she maintains an open-door policy for alumni to return and learn. Plotkin published a crime scene reconstruction textbook with author Robert Ogle Jr., and her second textbook on fingerprinting was released in May 2021.
The Northern Trust Bank of Florida Endowed Teaching Chair
Dr. Elodie Billionniere, Senior Associate Professor
Padrón Campus
Dr. Elodie Billionniere is a Senior Associate Professor who teaches courses in programming, (cloud) databases, information systems management, system design, and analysis. Her professional experience outside of Miami Dade College includes roles as Lead Quality Analyst, Software Engineer, Enterprise IT Solutions Architect, Data Analyst Specialist, and Information System Analyst. Billionniere helped MDC secure over $3 million in funding for STEM and emerging technology education programs, as well as a collaborative high tech learning hub and Cloud Computing Center designed to provide equitable opportunities for minority students into the workforce. In partnership with industry, she has been instrumental in the creation of new educational pathways and the reimagining of transfer for student success. She holds a Ph.D. in computer science from Arizona State University
The Mardee Jenrette Endowed Teaching Chair of Excellence
Dr. Leon Palombo, Professor
North Campus
Dr. León Palombo is a Professor in the Department of World Languages at MDC's North Campus. He has a doctorate degree in Spanish with a major in Peninsular Literature and a minor in Latin American Literature from Florida International University. He also earned bachelor's and master's degrees in Modern Language Education with specialties in Spanish and French. His field of specialization is 19th Century Peninsular Literature with secondary interests in 20th Century Peninsular Literature. He is highly engaged in research and publication in the areas of cultural studies, language instruction and literature. At MDC, Palombo actively seeks to provide students with meaningful educational opportunities in the classroom that will be beneficial to their future careers. He also worked closely with colleagues to create and implement the Foreign Languages Learning Outcome Assessment, and led the way in updating foreign language courses to reflect ACTFL standards. These efforts were crucial in obtaining grant funding of over $63,000 for the Department of World Languages.
Demie Mainieri/Miami Jai-Alai Endowed Teaching Chair
Dr. Stephen Johnson, Senior Associate Professor
Kendall Campus
Dr. Stephen Johnson is a Senior Associate Professor in the World Languages Department and Honors College. Johnson earned his doctorate from Florida Atlantic University in 2015. He has worked in higher education domestically and internationally in places like South Korea, Germany, Brazil, California, Texas, and Florida. Johnson was a Fulbright Teaching Assistant in Germany and is the director of MDC's Fulbright Gateway Orientation program. He currently teaches English (EAP), German, Honors Leadership, and (SLS) courses at Kendall Campus. Fueled by his belief in experiential learning in and out of the classroom, he frequently leads study abroad sessions for MDC students to countries like Austria. His research and policy interests focus on higher education access for at-risk students. Recently, as part of the Kendall Campus Impact Committee, he designed a system for online, on-demand information (orientation) sessions to assist new immigrants entering the community.
Congresswoman Carrie Meek Endowed Teaching Chair
Dr. Simeon Richardson, Senior Associate Professor
Homestead Campus
Dr. Simeon Richardson is a Senior Associate Professor of English and Developmental Reading. Richardson was born and raised in the South Dade area. An innate realist, he strives to balance creating and cultivating a love for literature with the pragmatics of reading and writing in the real world. For the past 10 years, Richardson's courses have ensured that his students are heard and are able to walk out of the classroom knowing they are prepared for the next step in their academic career. He is a co-founder of his campus's Black Male Initiative, and has worked diligently to improve the enrollment, persistence and graduation rates for all of his students, especially Black men.
The J. Harvey Watson Endowed Teaching Chair in Aviation
Dr. Soumia Massaoudi Souchak, Associate Professor
Kendall Campus
Dr. Soumia Massaoudi Souchak received a bachelor's in Physics from Mohamed V University, Rabat, Morocco in 1999; a master's in Physics from Rennes I University, France in 2000; and a Ph.D. in Physics from Paris XI University Paris, in 2005. She moved to the Catholic University of Louvain, Belgium, for a post-doctoral on Metamaterials for Magnetic Resonance Imaging (MRI) in 2006. In 2010, Souchak joined MDC as an adjunct faculty to teach Physics. In 2013, she was hired as full-time faculty at Kendall Campus. She is known for using creative and innovative strategies that engage both traditional and non-traditional students in the process of learning physics. Her primary research deals with electromagnetic theory and optical telecommunication.
The Joan K. Stout, R.N. Endowed Teaching Chair in Nursing
Dr. Roxana Orta, Senior Associate Professor
Medical Campus
Dr. Roxana Orta is a Senior Associate Professor at the Benjamín León School of Nursing RN to BSN program. She graduated with an associate degree from MDC. In addition, she received a master's, doctorate and a post-master's in Nursing Education from Florida International University, and a Psychiatric Nurse Practitioner degree at Florida Atlantic University. Orta strives to stay committed to student learning and the college at all levels. At MDC, she led the effort to integrate EvidenceBased Practice in curriculum. She has also led projects creating partnerships that blend health promotion and health literacy programs. Orta serves as the Curriculum Committee Chair and leads our accreditation task force.
The Frances Louise Wolfson Endowed Teaching Chair of Excellence in Arts
Agustin Gonzalez, Assistant Professor
North Campus
Agustin Gonzalez, M.F.A., joined MDC's School of Entertainment & Design Technology as a faculty member in 2013. Prior to that he served as an adjunct instructor for The School of Community Education and The School of Entertainment and Design Technology. Gonzalez has more than a decade of film and television industry experience with companies including E! Entertainment Networks, DreamWorks Films, Maverick Films, National Geographic Television, and Electronic Arts. He has also written several feature length screenplays. His interests include history of film; documentary film theory and production; film business, marketing, and distribution; film festival studies; and screenwriting which all fuel his passion as Assistant Professor at MDC. In addition to his role as Assistant Professor, he also serves as Producer of MDC's annual student film festival. Gonzalez is best known for his immersive lesson plans and student projects that are highly relevant to what they will encounter working in the entertainment industry.
About the Miami Dade College Foundation
Founded in 1965, Miami Dade College Foundation raises essential private funds to support scholarships, academic programs and support services so MDC students have the opportunity to pursue their dreams. MDC Foundation also supports world-class arts and cultural programming at MDC that enriches the community. In 2019-2020, MDC Foundation distributed $15.5 million to benefit the students and programs of MDC. Known as Democracy's College, MDC changes lives through accessible, high-quality teaching and learning experiences that prepare students for tomorrow's workforce. MDC is the nation's most diverse institution of higher education with an enrollment of more than 100,000 students and more than two million alumni. It is also the nation's top producer of Associate in Arts and Science degrees, and awards more degrees to minorities than any other college or university in the country. For more information visit mdcfoundation.com.
MDC Foundation contact: Ana Mantica, director of communications and digital engagement, 305-237-3331, amantica@mdc.edu.