New World School of the Arts theatre alumna and rising star, Katerina McCrimmon, returns to South Florida this month in the lead role of Vaudeville's sweetheart, Fanny Brice, in the first national tour of Broadway's Funny Girl. For NWSA however, her visit to her hometown is also an opportunity to connect current students to a successful alum who is actively practicing her artform to support the mission of the institution, as students prepare to launch their own artistic careers.
 
Despite her demanding rehearsal and acting schedule, Katerina will visit New World School of the Arts to present a masterclass to more than 100 theatre students, where she will also coach performers from the NWSA college and high school programs and offer a Q/A about her career.
 
"It is an invaluable experience for our current students to hear from Katerina about her journey from being a New World School of the Arts high school student to headlining a first national tour a few short years later," notes Alan Patrick Kenny, Dean of Theater at New World School of the Arts.
 
Dena Barros, a New World School of the Arts college musical theatre senior and President of the NWSA Student Government Association highlights, "Katerina McCrimmon has become an inspiration to all current NWSA theatre students. I'm so excited that she's coming back to share nuggets of wisdom about her career and experience of portraying Fanny Brice!"
 
West Rubin, a high school student in the musical theatre track adds enthusiastically, "Having Katerina visit my school is such an honor and exciting event. Knowing that she was in my same position just a few years ago shows so much hope for my future. I know I'll learn so much in a short amount of time and will be able to apply it to my own training."
During her tenure as a high school student at New World School of the Arts, Katerina took the lead on stage numerous times, both as a young actor-in-training and as a featured performer during the school's signature annual showcase, Rising Stars.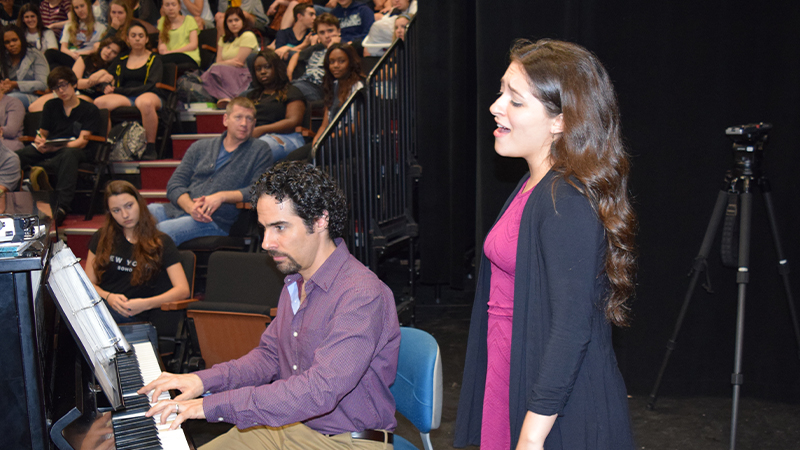 Jeff Hess, NWSA Associate Professor Senior and Music Director who worked closely with Katerina recalls, "Katerina was always a delight to work with during her high school years at New World. She was always eager to work, positive, humble, and supportive of everyone.
Working with students who have these attributes at a young age is very fulfilling for a teacher. Seeing her career flourish in portraying the iconic role of Fanny Brice is thrilling to me."
Katerina McCrimmon, a YoungArts Finalist and Presidential Scholar in the Arts, graduated from the New World School of the Arts' high school program in the spring of 2016. Her NWSA performance credits include Fiddler on the Roof, Children of Eden, and John & Jen. Regional credits include In the Heights, Gathering Blue, and Hair.
Katerina McCrimmon headlines Funny Girl in the musical's first national tour at Broward Center for the Performing Arts. November 14 – November 26, 2023. Tickets at ticketmaster.com.

The New World School of the Arts theater program is dedicated to the professional training of talented and committed students interested in pursuing a performing career on stage, screen, and in other media, offering students an opportunity to work in a hands-on intensive, physically demanding, artistically challenging and exciting environment. Guided by faculty who are professional actors, directors, playwrights and designers, the curriculum is a progressive journey toward the ownership of a personal technique and a comprehensive methodology of working. The faculty guides the student through the discovery and exploration of self, the learning of diverse techniques used in our craft, intensive rehearsal process, and finally the application of this knowledge into dramatic forms and styles in productions. For more information about the NWSA Theater Division, contact 305-237-3260.
A Florida center of excellence in the visual and performing arts, New World School of the Arts is an educational partnership of Miami-Dade County Public Schools, Miami Dade College, and University of Florida. NWSA provides a comprehensive program of artistic, creative, and academic development through a curriculum that reflects our community and the rich multicultural state of Florida. Through our partners NWSA confers the high school diploma, Associate of Arts degree, and Bachelor of Fine Arts and Bachelor of Music degrees in programs accredited by the National Association of Schools of Dance, Music, Theatre and Art & Design. NWSA's rigorous eight-year curriculum and conservatory-style teaching has empowered students in our community and our nation to become leaders in the arts for more three decades.
Information about New World School of the Arts at 305-237-3135 or nwsa.mdc.edu.
KATERINA MCCRIMMON MASTERCLASS AT NEW WORLD SCHOOL OF THE ARTS
November 17; 1:10 PM-2:25 PM
Louise O. Gerrits Theater
25 NE 2 Street, 8th Floor, Miami
Media access contact:
Jeannique Alexis, Assistant to the Dean of Theater, (305) 237-3260 or jalexis1@mdc.edu