Pursuing studies in the arts is a journey through a creative world that asks the young artist to acquire skills, techniques, and tools that allow them to express their talent and creativity. If you are a family or community member, we are grateful for your continued support of New World School of the Arts' students and mission, and invite you to attend performances, gallery exhibitions, and special events and explore the magic that is New World School of the Arts.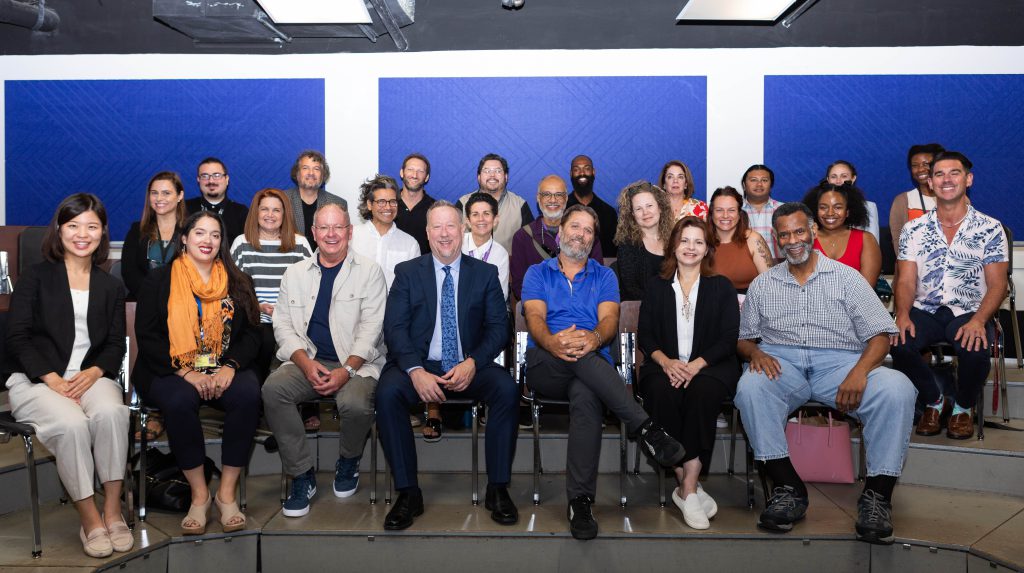 "We want you to join us on this journey behind the scenes at New World School of the Arts, and show you many facets of what the work of an NWSA student looks like while sharing with you insights from the faculty and administrators who support and guide them. These stories illustrate a vibrant artistic world which we hope will capture your imagination and inspire you to join us in the future by becoming a student at NWSA."

– Dr. Jeffrey Hodgson, Provost & CEO
Rising Stars, A One-Of-A-Kind Showcase
Rising Stars, a professionally staged, energy packed, one-of-a-kind showcase presented the extraordinary talent of high school and college students from New World School of the Arts. Comprised of a cutting-edge visual arts exhibition and an evening of performing arts excerpts, Rising Stars has become the signature event of the school and a highly anticipated showcase of the arts for the South Florida community. "Of Pale and Furious Youth," the Rising Stars exhibition, kicked off the event with a varied exhibition curated by Miami exhibiting artist and NWSA alum, Loriel Beltran. Tasked with addressing the uncertainty that recent world events have unfolded, where the new normal has taken new meaning, 16 visual arts students from the NWSA high school and college programs presented their response through a vast and varied display of artistic expression. During the Rising Stars performing arts showcase, held at Miami-Dade County Auditorium for the first time in its history, student dancers enthralled the audience with a diverse mix of choreography including "Land of the Sea and Sun," set to the irresistible music of Harry Belafonte, and presented in two parts. Created by award-winning choreographer and filmmaker Darshan Singh Bhuller, "Jujun" also gripped the audience with its quick and powerful movements, while a solo performance entitled "Sequential" offered a mesmerizing display of choreographic exhilaration and elegance. The varied music program beautifully brought on stage the NWSA choir to interpret "Entreat Me Not to Leave You" – an inspiring tribute to love. Under the masterful direction of Dr. Hyunjee Chung, select orchestra and opera students performed portions of the comedic opera "Cosi Fan Tutte," while the 46-member Wind Ensemble interpreted the blues-inspired melody "Blue Shades." The lively 1924 jazz composition "Rhapsody in Blue" rounded-off the music program with four rousing solos. Among the theater performances presented were spirited scenes from the award-winning musicals "Ragtime" and "Grease," moving excerpts from "The Crucible" and "Faust," and a series of brief humorous monologues that seamlessly intertwined and welcomed the excerpts.
"Synergy is the word I would use to describe my memories of Rising Stars. As an NWSA vocal student, I was part of the choral performances each year. The Gusman was filled with energy between performers and audience. There was such anticipation not only of our own opportunity to perform but to see our peers perform as well. As the Principal of NWSA, I now feel that same synergy with our students and share their passion as they showcase their artistry on a professional stage."

– Dr. Contessa S. Bryant, High School Principal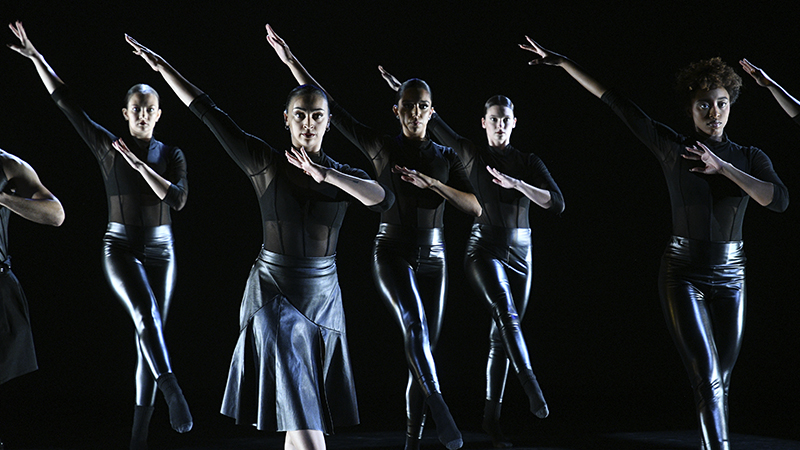 New World School of the Arts dance training is conservatory-based, grounded in classical ballet and modern/contemporary techniques, and incorporating dances of newer forms and different cultures. Supporting studies are in choreography, music, dance history, dance pedagogy, anatomy and kinesiology, movement analysis and dance production. NWSA is recognized internationally for the success and artistry of its professional alumni, for its distinguished professional faculty, outstanding dance curriculum, productive relationship with many international and national dance companies, the multi-cultural nature of our faculty and student body, and excellent facilities provided for dance.
"As artists, we explore both our common humanity and our individual uniqueness, expressed through dance. The faculty and I share our professional experience, skills, and perspectives with the students as they broaden and deepen their artistic voices. Within the rigor of the program, students work with dedication, skill, and passion as they explore their personal vision and expand their creative imaginations. This effort promotes the spark of new ideas and innovative contributions to our culture and that inspires all of us, every day."

– Mary Lisa Burns, Dean of Dance
BFA Dance Concert
New World School of the Arts college seniors produce the BFA concert in its entirety each year using the skills and creativity they have developed and honed, for a weekend-long concert open to the public. They begin the year with individual artist statements and proposals of their projects. In addition to choreographing and performing, the students manage all aspects of the performance from program information to budget, theme, costumes, publicity and marketing, and grant-writing. The students coordinate rehearsal schedules, conduct rehearsals, work with the technical director and lighting designer, and assume the artistic and administrative responsibilities as they would in the professional world, with the guidance and feedback of our professional faculty. It is an exciting, rigorous, and challenging process but each year the works presented are uniquely personal and reveal the talents of the next generation of creative dance artists.
"My goal is to encourage students to use dance to determine and discover who they want to be, as people and as artists. I want my students to understand both, the how and the why of what they are doing, so that they can continue to grow regardless of who is teaching or what style of dance they are practicing."

– Lara Murphy, Assistant Professor, Ballet
Dancemakers: New Works
Dancemakers: New Works presented exciting new works by professional New World School of the Arts faculty and selected NWSA college student choreographers. The program offered a wide range of styles and important new choreographic voices in Miami. New faculty works included Gentry Isaiah George's moving new work, "Blowin' in the Wind," set to the iconic music of Peter, Paul and Mary, and Jeffrey Lloyd Smith's powerful dance "Itis" set to the music of Green Day. Student premieres included Melissa Del Carmen Gonzalez's riveting "Raices" which pays homage to her Cuban heritage, and Destiny Diaz's dramatic dance/theater work, "Kò: Bodies" which invites the audience into a dystopian family setting.
"As a teaching artist my mission is to celebrate the world's diversity through dance, to create original works that foster collaboration, and to expand access to the arts. I believe dance has the power to inspire people of all ages and walks of life to come together to learn about uncommon pasts as they discover countless expressions of the common present."

– Gentry Isaiah George, Instructor, Ballet
"My students are my best teachers and by being an active artist, by choreographing and directing my company, and at times by serving the Martha Graham Dance Company as Associate Artistic Consultant, I am in the role of a learner and a student. That equals the playing field for them and for me – it is fabulous for a compassionate, generous, and healthy learning arena. I understand where they can be… the doubt, the excitement, the pain, the anxiety, the fear, the anger, and the jubilation."

– Peter London, Professor, Modern Dance
College Spring Dance Concert
The exciting Spring Dances presented NWSA college dancers in works by faculty choreographers Jeffrey Lloyd Smith and Peter London, as well as works by guest choreographers Francesca Harper, Geeta Dias, and Darshan Singh Bhuller. Francesca Harper is currently the Artistic Director of the renowned Ailey II dance company, and her work "Sanction 2.1" evidenced her background in contemporary ballet (Dance Theatre of Harlem; Frankfurt Ballet / William Forsythe), and her skill and experience as a choreographer. Darshan Singh Bhuller's new tour de force "Jujun," a piece for eleven dancers set to a driving musical score of the same title, presented a wildly kinesthetic work which blended high-energy movement with skillfully integrated video projections. Dias, a noted Miami teacher and choreographer, created "Wedding Medley," a work based on the traditions of Indian dance and Bollywood, and evoked that world with a vibrantly colorful set and costumes conjuring India.
"Physical learning is in the doing, the effort, and the attempt to approach your dancing as an instinctual creature. The body knows more about what it is capable of than the mind, so if you set your body in motion with intention there are no limits to your physical prowess. My goal as an educator is to provide a platform to find new ways of moving daily."

– Jeffrey Lloyd Smith, Assistant Professor, Modern Dance
High School Spring Concert
The popular High School Spring Concert, presented over two weekends this year, featured works in a variety of styles and techniques, from Geeta Dias' vibrant Bollywood work "Bangra Medley," to Gentry Isaiah George's new work "Land of the Sea and Sun," which blends ballet technique with the music of Harry Belafonte to create a work that is uplifting and moving. Guest artist Kanji Segawa's powerful work "Scorching Bay," brought his professional expertise as an artist who has performed with both the Alvin Ailey American Dance Theater and prior to that, Battleworks Dance Company to life in a work that shows the virtuosity of these athletic dancers. NWSA faculty member Peter London's work "Agua Dulce Espiritu Santo," set to the irresistible music of Cuban composer Israel Lopez Valdes ("Cachao") and Rebecca Cannan's work "Jazz Jam," both showed off the dancers' skills in their engaging styles of dance.
"It is most important that I teach my students to enjoy the process. It is the every-day progress that comes from dedication, patience, and hard work, that I encourage them to find joy in. Understanding that the journey of honing technique and artistry is endless, and that its pursuit is the reward, is what makes the moments of expression on stage magical for the performer and the audience."

– Karin Bejerano, NWSA High School Teacher, Ballet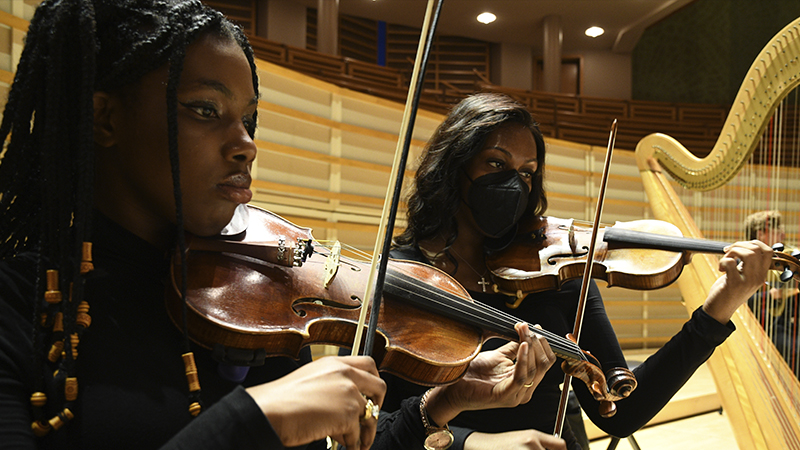 The academic music curriculum at NWSA fosters creativity and develops a knowledge of musical heritage. Course work develops the student's growth and maturity in comprehensive musicianship. The study of music history and theory is pursued through foundations of music, surveys of music history, music cultures of the world, and seminars in composition, jazz improvisation, chamber music, and general musicianship. Students receive private lessons – a one-on-one experience with NWSA faculty who specialize on a particular instrument. Rigorous daily practice and preparation is expected of students, with their progress closely monitored. Each student is required to perform a solo jury at the end of each semester, adjudicated by faculty of their area.
"When we express our emotions through music, we afford ourselves the opportunity to reveal our humanity. When our humanity connects with our community, we offer a chance to change our world for the better."

– Dr. Daniel Andai, Dean of Music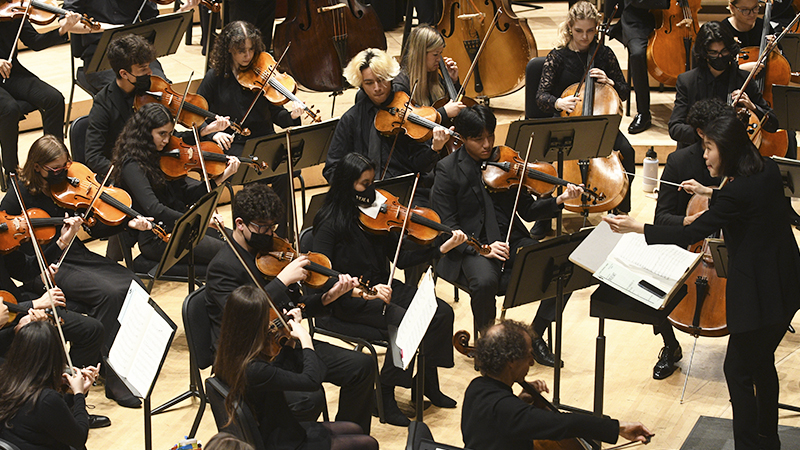 Symphony Orchestra
New World School of the Arts' music division returned to the Adrienne Arsht Center for the Performing Arts to celebrate the annual NWSA Symphony Orchestra Concert in 2022, and the debut of the division's newest orchestra conductor and faculty member, Dr. Hyunjee Chung. The concert featured British cellist Colin Carr, as guest soloist. The orchestra at NWSA prioritizes teamwork, collaboration, responsibility, and accountability. Promoted under the guidance of Dr. Chung and reinforced by guest artists through meticulously selected repertoire, the goal is to inspire the young musicians to master their instrument and musical communication skills in rehearsal and performance. The conductor encourages students to support one another by building meaningful experiences amongst each other, so that the ensemble works as a tightly knit unit. World-renowned cellist Colin Carr's visit to NWSA also offered a masterclass during Cello Lab Miami – a weekend event promoting all things cello. Now in its 3rd edition, the workshop was directed by Assistant Professor of Cello, Dr. Bryan Hayslett, and offered ensemble rehearsals, presentations, and an exhibition of cello prizes. The music-packed weekend culminated with a cello orchestra concert featuring every participant and conducted by Dean of Music, Dr. Daniel Andai, while highlighting voice faculty, Dr. Megan Barrera.
"It is my long-term vision to help each ensemble to realize its unique character, which will be possible as each ensemble grows closer as a group, and united in its musical vision."

– Dr. Hyunjee Chung, Assistant Professor, Conductor
Opera Theater Ensemble
New World School of the Arts' specialized Voice & Opera concentration is unique and rare among Bachelor of Music degree programs in the nation. The curriculum offers undergraduate music students the opportunity to perform mainstage leading roles in fully staged opera productions and opera scenes, accompanied by piano collaborators and the music division's opera orchestra. This year, the NWSA Opera Theatre Ensemble presented the opera buffa "Così fan tutte," by Wolfgang Amadeus Mozart. Modernized 'a lo Cubano,' under the direction of Dr. Barrera, the production was modernized to Havana, Cuba in the thriving 1950s. Recitatives were converted into spoken dialogue to help the plot flow, with students singing in Italian and adding a mixture of English and Spanish (otherwise known as 'Spanglish') for added authenticity. The fully staged opera featured costumes, scenery, props, and accompaniment by the NWSA Opera Orchestra under the baton of Dr. Hyunjee Chung.
"Opera is grand because it encompasses so much of the arts, enhancing emotions through drama, dance, singing, and acting. At NWSA, our students expand their abilities to embrace these important components in our fully staged productions that are reinforced by the NWSA Opera Orchestra."

– Dr. Megan Barrera, Assistant Professor, Voice & Opera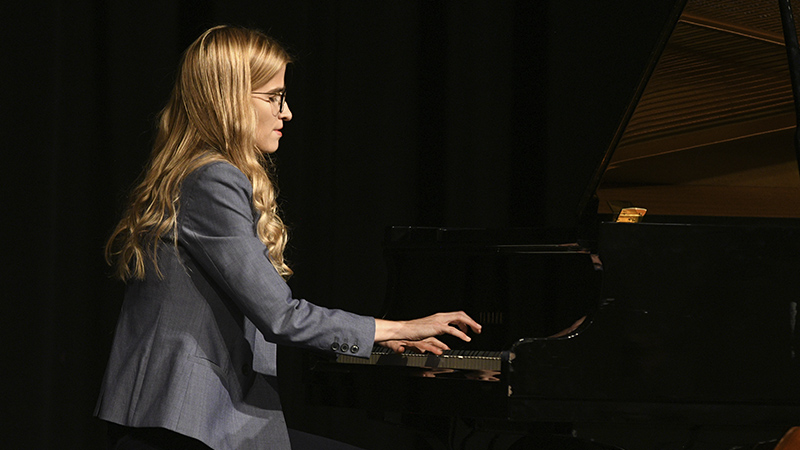 Collaborating Onstage
Through year-round collaborative performances, the music division highlights exceptional work achieved through teamwork. Part of NWSA's rigorous music curriculum includes the important chamber music skill-builder by encouraging students to strengthen their musicianship by personalizing and communicating interpretations of chamber music masterworks and new works composed by NWSA composition majors, featured as world premieres. The annual Concerto Competition Winners' Concert highlights contestants who proved their ability to master their instrument and lead interpretations with the accompaniment of an orchestra via a competition scored by judges unassociated with NWSA. Judges look for a range of components in the contestant's performance, including but not limited to musical expression and a deep understanding of the repertoire and conductor's score, by using appropriate technique based on the style, and a slew of other elements required to successfully perform in public. Each year, the competition winners are awarded the chance to put their solo and ensemble skills to the test in this exciting exhibition of musical prowess.
"Studying music theory helps us to fully express a composer's intentions and helps us profoundly interpret musical works. Composition allows us to freely and uniquely express our innermost emotions and personae and connects us to others through the spine-tingling or heart-swelling feelings we create through our music."

– Dr. Susan Epstein Garcia, Professor, Composition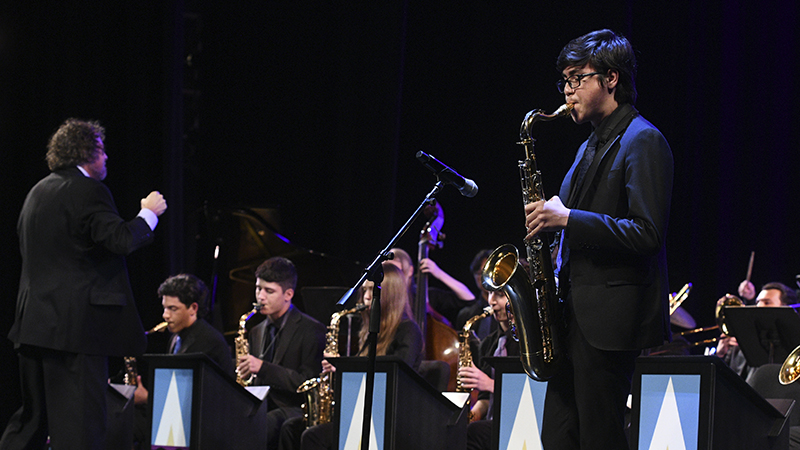 Elevating Artistry
Along with 14 other jazz ensembles nationwide, the New World School of the Arts High School Jazz Ensemble was again selected to compete in the annual "Essentially Ellington High School Jazz Band Competition and Festival" in New York City. Under the direction of professor Jim Gasior, the band performed three songs during the 27th Festival, composed by Duke Ellington: "Smada" featuring Lucas Netto on the Clarinet; "The Shepherd" with Gabriel Johnson on the Trumpet; and "Trombonio-Bustoso-Issimo" featuring Bruno Tzinas and Andre Perlman on the Trombones. The Competition and Festival was held at House of Swing Frederick P. Rose Hall, home of Jazz at Lincoln Center.
"Performing regularly is intrinsically bound up with the enthusiasm and methodology of my teaching. They're inseparable; each informs the other."

– Jim Gasior, Associate Professor, Jazz Studies
"My abilities as a teacher are constantly shaped and redefined across time. As a performer and educator in the community, each time I perform on my instrument I am reminded of several important elements – passion for what I do, desire to make art beautiful, what it takes to be successful, and the necessary skills that it requires; all of which I seek to pass along to my students."

– Brent Mounger, High School Teacher, Wind Ensemble Director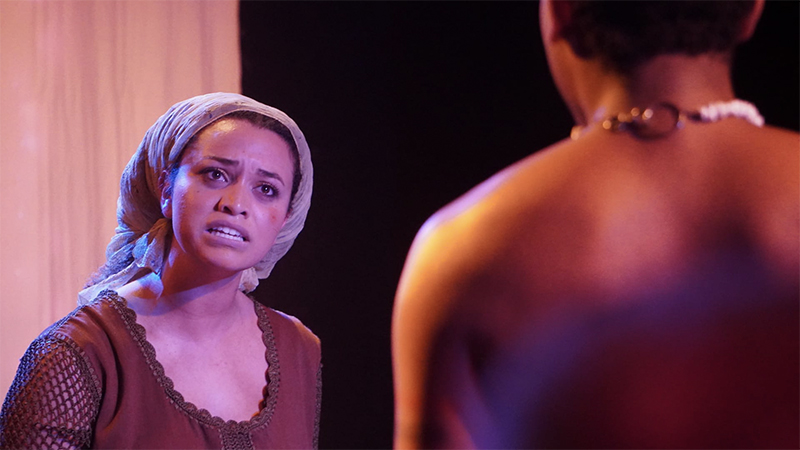 The theater division at New World School of the Arts is dedicated to the professional training of talented and committed students interested in pursuing a performing career in Acting and Music Theater. Led by faculty who are professional actors, directors, playwrights, and designers, the theater curriculum is a progressive process of continuous exploration toward the ownership of a personal technique and comprehensive methodology of work. The faculty guide the student through the discovery and exploration of self, the learning of diverse techniques used in the craft, intensive rehearsal process, and ultimately the application of this knowledge into dramatic forms and styles in productions. To this end, college freshmen perform in a Discovery Play Project at the beginning of the year. Sophomores perform in a full-length play in the studio theater. Juniors perform a full-length classical play in the studio, and Seniors, as part of their BFA degree requirement, present their One-Person Show – a performing thesis which requires the students to create, direct and act in their own fifteen-minute monologue.
"Our purpose is to prepare students who have a love of theater to work professionally in an environment that is supportive and nurturing. Our program allows for students to grow as artists in a process-based curriculum taught by professional theater makers."

– Patrice Bailey, Dean of Theater (Retired 2022)
Alan Patrick Kenny, Dean of Theater
Ragtime
Under the direction of NWSA Dean of Theater, Patrice Bailey, and faculty member James Randolph, the New World School of the Arts college theater students presented the award-winning musical "Ragtime." "Although our time period for Ragtime is in the early 1900s there is much relevance to our lives in America today," explained Bailey. "Ragtime clearly illustrates what it means to be an upper-class woman, a newly arrived immigrant, and a Harlem musician who all find courage and conviction in the hope for change and the future of America." The musical style of Ragtime was created in African American communities throughout the southern parts of the Midwest, particularly St. Louis.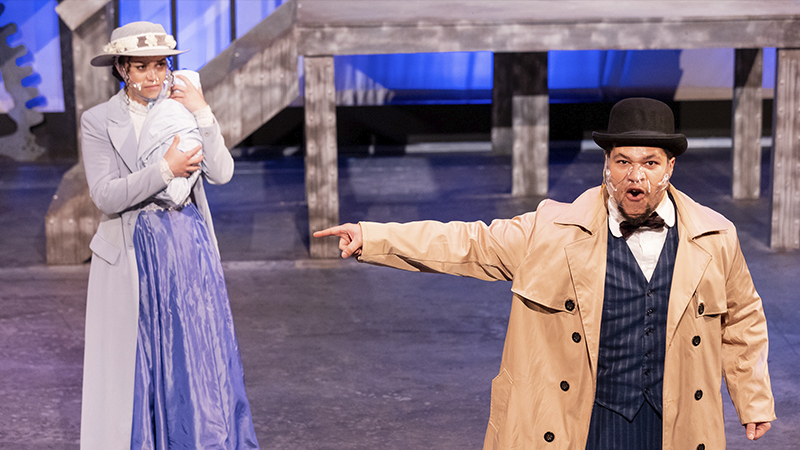 "It is imperative for young artists to feel safe as they overcome individual obstacles and learn to work with a sense of confidence. I carry this philosophy into my classroom by always encouraging open dialogue and honest bilateral communication. My music theater students inspire me, and it is extremely rewarding to see them become confident budding artists while working toward artistic excellence."

– Jeff Hess, Associate Professor Senior, Music Director
Blood Wedding
The New World School of the Arts college theater students presented the epic tragedy by Spanish dramatist Federico Garcia Lorca, "Blood Wedding." The three-act play, directed by NWSA faculty member Jennifer de Castroverde, highlighted the talent of college juniors and seniors in a story of dissent, frustration, and guilt which eventually led to inevitable loss and death. This poignant tragedy explores the everlasting struggle of gender roles and the inescapable outcomes of passionate rebellion against societal constraints. "Blood Wedding" was written in 1932, and first performed in Madrid, Spain in 1933.
"The classroom can become a place where the student actor develops empathy, patience, and means of debating that are productive and respectful. They can develop a voice and presence that is connected to who they are, and their vision of life. A voice that is strong and articulate. A body that is athletic and connected to the ground, and to their gut and impulses. Moreover, the mind of the actor, be it cerebral or "from the gut," expands in its knowledge of theater, and its purpose in society."

– Jennifer de Castroverde, Instructor, Acting
One Festival Explores The Human Condition
The popular One Festival opened its doors to a live audience at New World School of the Arts once again this year. A collection of fifteen-minute plays written, directed and acted by the college theater seniors, and directed by the Dean of Theater and other faculty members, the student-produced one-act shows are a required project for graduation and mark the culmination of the students' artistic training at NWSA. The monologues, critiqued and evaluated by the faculty, also serve to propel many of the students into the professional field as they continue to expand on their script while finding new audiences and venues to present it. With relevant and sensitive storylines, the two-dozen plays offered the audience the opportunity to explore the conscience of each of the artists. With an impressive display of vibrant artistic styles and intricate topics about their own lives, the actors presented poignant, humorous, and uncensored story-telling about societal norms, stereotypes, stigmas, and the human condition.
"This project can be quite daunting for many of our students however, it will be the most exhilarating experience they will have in their four years of study at NWSA. The challenge of this project is how much of themselves students are willing to share with an audience. We encourage them to write what they know, what they have experienced in their own lives and put it into a theatrical form. This approach is what makes these productions unique and successful, and leaves the audience with a meaningful experience in the theater."

– Patrice Bailey, Dean of Theater (Retired 2022)
"I was able to turn my deepest pain, shame, and rage into a living breathing story. One in which others could hopefully find solace. One where the victim conquers in the end and, in her eyes, takes complete control." – Emily Marie Valdes, BFA Theater 2022 – "Blood is Thicker"
"My play is a depiction of a life on the brink of disaster and the path to recovery. I was inspired by my older brother who came to the States to study, but after the first year, he had trouble keeping up his grades. I have met many young men who are unable to properly articulate their feelings or don't have the support system to help them overcome emotional and mental challenges. My hope is that this piece helps start the conversations of mental health and generational stress, and to encourage those of us that need help to seek it." – Sefanja R. Galon, BFA Theater 2022 – "A Secret for the Mad"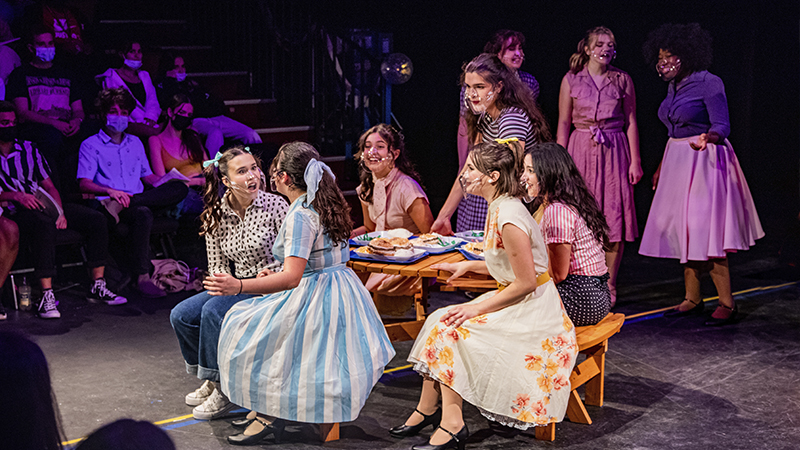 Grease
Led by faculty member Matthew Buffalo, "Grease," the musical by Jim Jacobs and Warren Casey which saw its debut in 1971 as a reflection of the working-class youth of its time in Chicago, took the stage in December to welcome the holiday season. The musical was named after the 1950s United States youth subculture, "greasers" who were teenagers looking for excitement and different ways to express themselves. Presented by the high school theater students, the popular show saw sold-out performances and even offered additional matinees to accommodate the audience.
"The themes include love, friendship, teenage rebellion, and sexual exploration during adolescence. It is still what adolescents are feeling. In addition to that, "Grease" is FUN! After over a year of separation due to the pandemic, it is refreshing to take a pause and enjoy why we love musicals in the first place."

– Matthew Buffalo High School Teacher, Director
Theater Auditions
To be admitted to the theater program students must be accepted through an audition process, based on requirements for Acting or Music Theater. New World School of the Arts is accepting Video Auditions for the NWSA 2023-2024 college program academic year on an ongoing basis. To audition, students interested in the Acting track must present two contrasting monologues from published plays, maximum of two minutes each. The Music Theater track audition requirements includes two contrasting monologues from published plays – maximum of two minutes each; two contrasting songs from published musicals. One song should be a ballad and the musical accompaniment cannot have vocals; and a one-minute musical theater dance number, preferably from a well-known Broadway show.
"Time is money and the technique the student begins to develop in school and then builds upon in their career, is what grounds the acting tools and keeps the career pressure in check."

– James Randolph, Associate Professor, Acting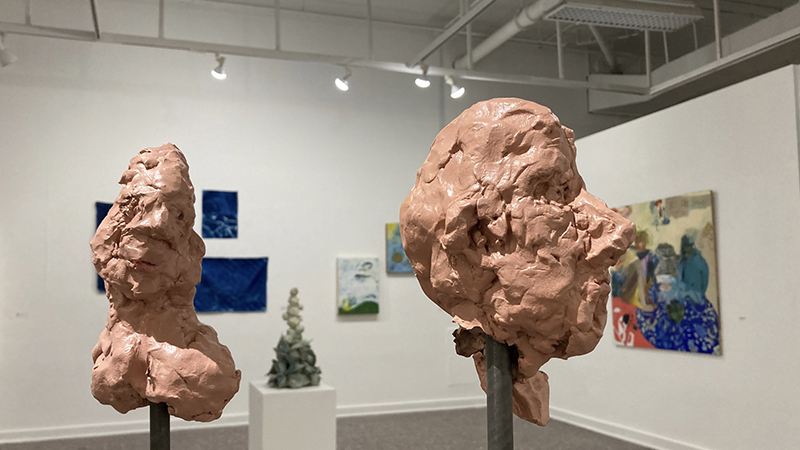 Aspiring artists in the visual arts division can join other exceptionally talented students as they engage in the pursuit of their artistic career in the visual, graphic, or digital arts. Mentored by nationally renowned practicing artists, students at NWSA are encouraged to develop a personal, artistic, and aesthetic vision while mastering their technical skills in traditional and new media. Students are allowed to explore new paths while at the same time being exposed to the work of both classical and contemporary masters. Through disciplined training in traditional and new media, students develop new skills and refine others while gaining invaluable understanding of the roles of art and design in society. In addition, visual arts students also learn from alumni who keep close ties with the school as they return to the classroom to offer lecturers and career guidance. Alumni can also be found exhibiting their work at the New World Gallery and donate their work to New World School of the Arts often to help with fundraising initiatives.
"As an educator, I have the responsibility to challenge my students and to provide a space where those challenges can be processed in a productive way. In teaching, I have the unique opportunity to empower individuals to discover their potential and the ability to provide them with the knowledge and skills necessary to reach that potential in the current art world and job market."

– O. Gustavo Plascencia, Dean of Visual Arts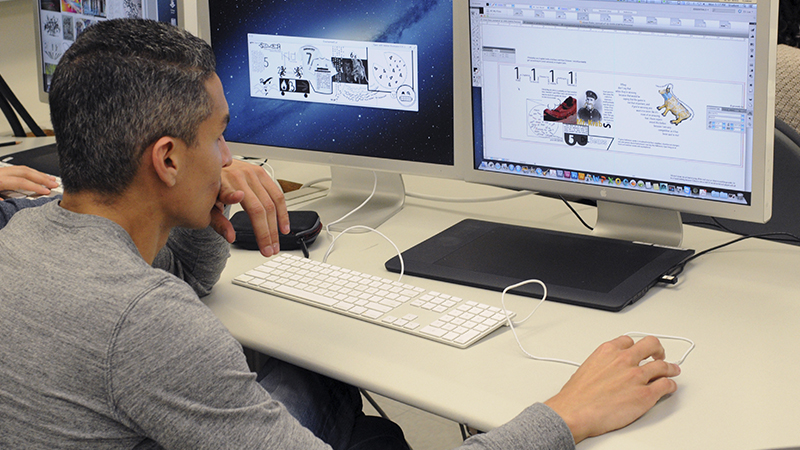 Graphic Design: An All-Encompassing Discipline
Conceptual thinking, typography, packaging, design layout, and productions are essential elements in gaining mastery for students interested in a career in Graphic Design. A collaborative discipline, students in this visual arts track are encouraged to incorporate their knowledge of other visual art disciplines into their designs. This multi-disciplinary approach creates an awareness of the endless possibilities inherent in graphic design and helps nurture the development of each student's own unique design identity. Coursework is supported with opportunities for students to attend lectures and masterclasses with visiting guest artists, and participate in private museum tours, conferences, and competitions within the United States and abroad.
"I've dedicated my life to the advancement of graphic design, and this has brought me great satisfaction. However, to share my art and my knowledge with my students and to see them excel and become contributing citizens of our community, is incomparable to anything else."

– Rosario Martinez-Cañas, Professor, Graphic Design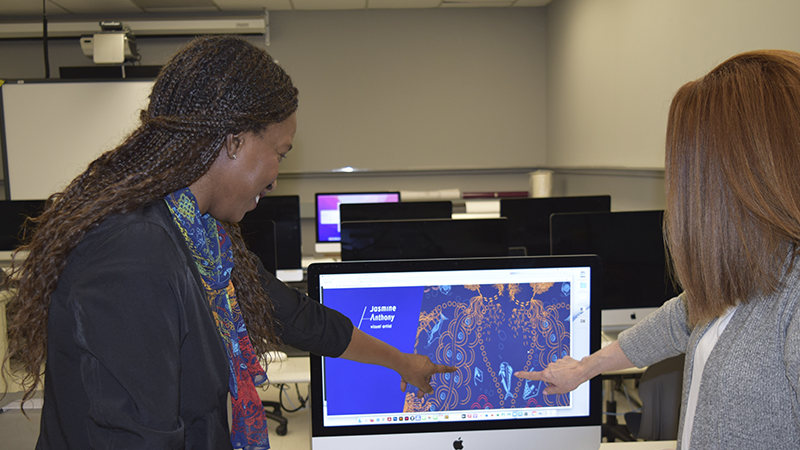 Miami-Dade Days Ties and Scarves Annual Design Competition
The NWSA Ties and Scarves project illustrates the power of graphic design. This continuing partnership that was forged 34 years ago between New World School of the Arts and Miami-Dade County Days bring awareness to Miami-Dade County during the annual Florida Spring Legislative Session. College graphic design students at NWSA compete annually to create a beautiful cutting-edge design that represents the county and its municipalities, celebrating the diversity and richness of South Florida's impact on the community. These limited-edition accessories have become a tradition for NWSA and a popular collectors' item among political, community and civic leaders, as well as amid arts and education supporters. Selected by a jury from the pool of graphic design student competitors, the selected designer is publicly recognized in Tallahassee during the two-day Legislative Session.
"A dynamic and diverse geographic area, our local marine world presents us with developed and undeveloped islands, beautiful mangroves, and lush seagrass beds. Home to the only living coral reef in North America, Miami-Dade County's reef tract stretches the full length of the county, offering a rich and colorful kaleidoscope of sea life. This was the central theme of my design, which I presented through colorful and intricate curves and line drawings." – Jasmine Anthony, 2022 Miami-Dade Days Ties and Scarves Winner.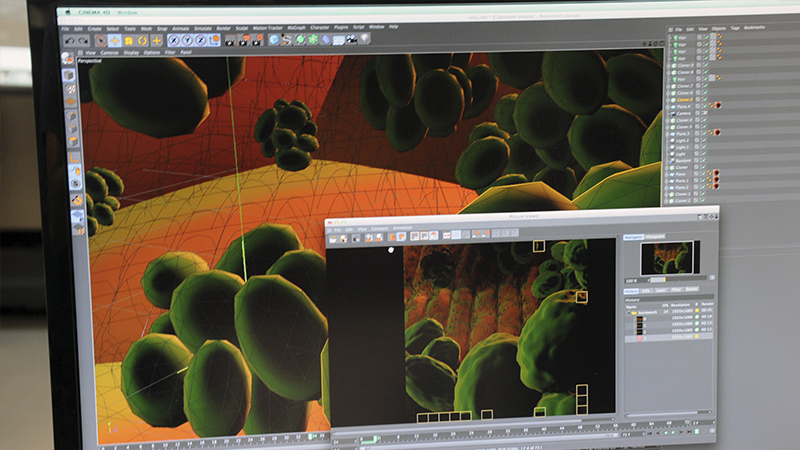 Integrating Multimedia
The emphasis in Art & Technology at New World School of the Arts integrates contemporary art and technology, preparing students for various fields in emerging fields related to film, television, multimedia, and fine arts through the investigation of several avenues of contemporary media. With courses that include hypermedia (Web Art), motion design, 2D animation, 3D modeling and animation, experimental video, and narrative filmmaking among others, the curriculum culminates in a creative and diverse body of media work synthesized into a final professional digital portfolio and BFA exhibition.
"I aim to prepare the student as a lifelong and adaptable creative person, able to respond to the changing technological environment. My students are rooted and trained in the fundamentals and conceptual possibilities of media art."

– Alisa Pitchenik Charles, Professor, Art & Technology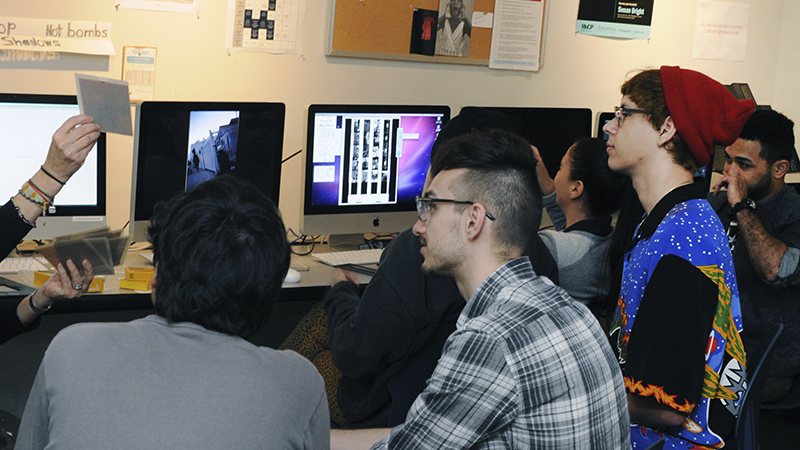 Through The Lens
At New World School of the Arts the emphasis in Photography provides a solid background in traditional photography and digital imaging. Designed to train students technically as well as aesthetically, the curriculum fosters artistic autonomy within the discipline by offering students in-depth training in craft and ideas fundamental to photographic imaging with an emphasis on conceptual thinking. The curriculum covers both descriptive photography and more experimental manipulated image making, while technical exercises emphasize electronic imaging as well as traditional black and white, and color processes.
"Each student is a unique individual who needs a stimulating atmosphere in which to grow and mature emotionally, intellectually, and creatively. As an art educator I aim to help them meet their fullest potential by providing an environment that supports risk-taking and invites a sharing of ideas."

– Maria Martinez-Cañas, Associate Professor, Photography
"Axiom" BFA Show
The New World School of the Arts visual arts BFA candidates presented their final work as students of NWSA's college program in the historic Freedom Tower. The 2022 BFA Exhibition highlighted 22 graduating seniors offering a varied and diverse group of projects. The artwork, which ranged from traditional approaches to painting and photography to installation and performance, also explored cultural identify, gender norms, personal narratives, and commentary on capitalism and consumerism.
"We create arts programs that emphasized the development of the technical skills, critical thinking, and creative problem-solving skills of our students to help them establish professional goals that are actionable."

– Donald Lambert, Assistant Professor, Sculpture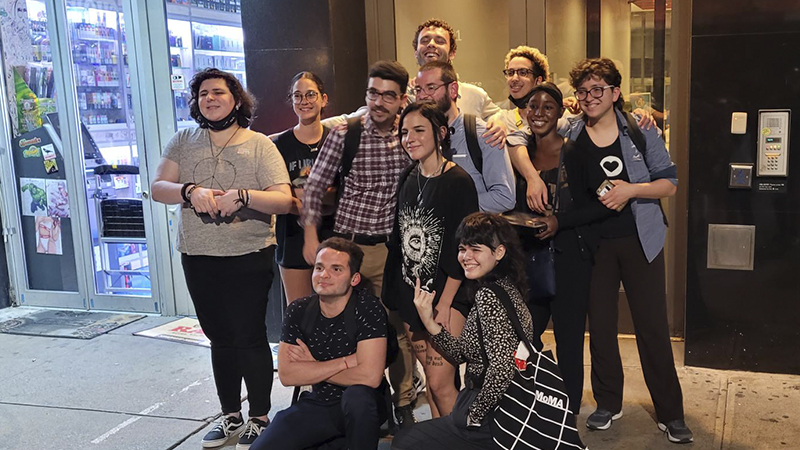 Scholarship Takes NWSA Grads to NYC
Twelve of the graduates from the New World School of the Arts BFA class of 2022, received a full scholarship from Rosa and Carlos de la Cruz (de la Cruz Collection), in partnership with the John S. and James L. Knight Foundation, to participate in a month-long artists residency program at the School of Visual Arts in New York City. The generous scholarship covered all expenses associated with travel, housing, and a $2,500 stipend for each participant. Students had access to a private studio in a location central to New York City's museums, gallery districts, and alternative hubs for culture and technology, while daily studio visits from renowned artists, curators, and theorists supported an ongoing discourse among an international community of fellow artists. In addition to concentrated work in the studio, NWSA participating artists, accompanied by faculty member Aramis O'Reilly, attended lectures, gallery walks, and museum visits and workshops during the program.
"I see any knowledge as a gift and a gift keeps its power when it moves from giver to receiver. My teaching philosophy is to be a curious learner first while sharing in the gifts of knowledge. This communal exchange can lead to insights that may leave a lasting impression on all involved."

– Aramis O'Reilly, Professor, Drawing & Painting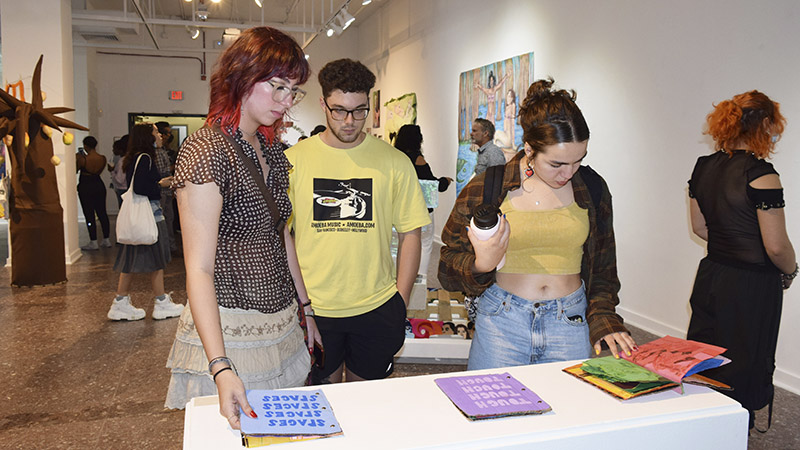 Prelude 2
Prelude 2: Senior Visual Arts Showcase featured the New World School of the Arts high school senior class of 2022, curated by Yana Payusova. Her paintings and sculptures blend the styles and symbols of folk art, Russian icons, graphic poster art, illustration and comics, and reflect her cultural heritage and her training in Russian realist painting. The artwork presented ranged from painting and photography to installations and performance. Payusova met with the senior students throughout the spring term, during which time they received one-on-one feedback and guidance. This experience exposed them to a professional process and expanded their art practice by challenging them to include (and learn) new skills and materials in their final senior showcase.
"Every student has something important to say with their work. They need techniques, practice, critical feedback, materials, and a supportive environment where they can feel safe to take creative risks to learn how best to communicate their ideas visually."

– Jennifer Gifford, High School Teacher, Drawing & Painting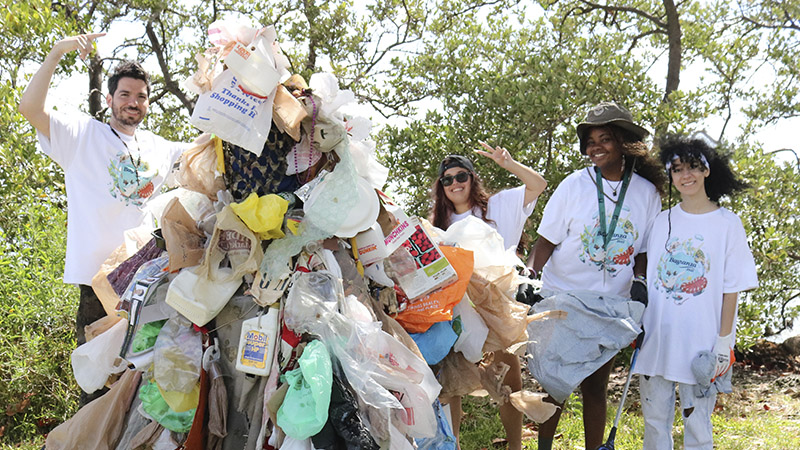 Led by graphic design high school teacher, and NWSA alum, John Soto, three students from the visual arts program were selected winners of the 2022 Baynanza Art Competition. The first-place winning artwork was featured in event's 40th year commemorative t-shirt.
"Guiding and teaching our talented NWSA students to fulfill their creative vision through art and design is an honor. Their dedication to the visual arts program and commitment to learn allows for opportunities like these to flourish."

– John Soto, High School Adjunct Teacher, Graphic Design
NWSA Honors Madeline Pumariega During Presidential Investiture
New World School of the Arts students performed during the Presidential Investiture of Madeline Pumariega, the first female president appointed to lead Miami Dade College – one of the nation's largest educational institutions. While NWSA music student Dalila Lugo presented her rendition of the National Anthem during several celebratory investiture offerings, NWSA dance performances prevailed during the month-long celebration to commemorate the occasion, including "Spanish Dance" from the NWSA/Armour Dance Theater production of "The Nutcracker" and an excerpt of "Dancing Spirit." This uplifting and vibrant work by professional guest choreographer Ronald K. Brown was created to celebrate the achievement of former Alvin Ailey American Dance Theater dancer and artistic director, Judith Jamison. In closing the Wolfson Campus celebration, the dancers surprised the audience with a flash mob choreographed by NWSA college senior Leylani Machado, inviting guests to join in on a dance procession from the Auditorium to the Plaza. Highlighting madame president's preferred song "I Hope You Dance," NWSA music theater student Sophia Camacho sang, accompanied by the NWSA High School Jazz Ensemble under the direction of Jim Gasior, during the MDC Wolfson Campus celebration. The NWSA Symphony Orchestra then performed W. A. Mozart's Overture to "The Marriage of Figaro" under the Baton of Dr. Hyunjee Chung, during the culminating Presidential Investiture moment at Adrienne Arsht Center for the Performing Arts in full celebration of the beginning of President Pumariega's tenure as the fifth President of MDC.
NWSA College Class of 2022
College Commencement is a special time at New World School of the Arts. Earning a Bachelor of Fine Arts or a Bachelor of Music takes discipline, hard work, networking and creativity. At NWSA we recognize the sacrifices our students have made to achieve their passion of pursuing a career in the arts and commencement is their time to celebrate their achievements. It is also our time to recognize and continue our unwavering support of their academic and artistic efforts. With sixty-nine graduates this year, this momentous occasion took center stage, in person, at the beautiful New World Center for the first time and perhaps, the beginning of a new tradition for future NWSA college graduates.
"Each of our successes are built from the love and support of others that have shaped and informed who we are. Remember this as you move forward… why it is we do this work."

– Francesca Harper, Artistic Director – Ailey II Company, NWSA College Class of 2022 Commencement Speaker
Alumni Connections
The New World School of the Arts Alumni Foundation is celebrating its 10-year anniversary throughout 2022. The Foundation's mission is to support NWSA alums across the years and across the globe, and to help our alumni to make the most of their respective talents and paths. The Foundation does so by fostering connection, collaboration, and mutual support among our nearly 7,000 alumni, with a network stretching throughout the entertainment and arts industries. Incoming and current NWSA students should follow the Foundation on Instagram and/or Facebook, as several of their grants are open to current students, including their annual "Grutman Scholarships" which are designed specifically for graduating seniors. Plus, if current students want to jump-start their careers before they leave school or would like to learn more about their industries of interest, the Foundation helps connect them with potential alumni mentors. Every New World School of the Arts alum is automatically a member of the Foundation and there is no fee or other barrier to membership; therefore, the entire NWSA community can connect and collaborate.
Turn Up The Volume
The "Turn Up the Volume Grant" is an annual, $1,000 grant. It has been generously funded for 10 years by 1997 music alum Debora Sanchez and Encore Academy of the Arts. This grant is awarded each year to help support the career of a New World School of the Arts high school senior or NWSA alum who: (a) either graduated between 2017 and 2021 or will be graduating in 2022; and (b) was in the music division at NWSA and/or who now works in the music industry. It can be used for anything they need to help them on their early-career path as a musician and/or working in the music industry.
"We're excited to help support these early-career musicians as they begin to make their mark. This year's recipient is J'Von Brown (music 2021), an opera singer who performed in "Porgy and Bess" with the Florida Symphony Orchestra and in solo work with Kunya Rowley's "Hued Songs." Kunya is a previous Inspiration Grant recipient. In 2021, J'Von began composing music and will utilize this grant to help further his publishing goals."

– Amy Langer, Director – NWSA Foundation