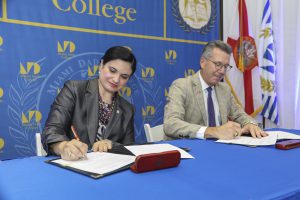 Students who earn an associate's degree from the Miami Dade Honors College and meet transfer requirements for the University of Miami will be guaranteed acceptance and merit-based financial support.
MIAMI, May 7, 2019 – In a signing ceremony held today at Miami Dade College's Wolfson Campus, the University of Miami and Miami Dade College (MDC) formally executed an articulation agreement that serves to provide guidelines and assist students in the transferability of coursework from MDC to majors within the College of Arts and Sciences at the University of Miami (UM).
Dr. Lenore Rodicio, MDC's executive vice president and provost, and Dr. Jeffrey L. Duerk, UM's executive vice president for academic affairs and provost, served as signatories for the 10-year agreement between the two institutions.
"This partnership ensures MDC students continue to have access to quality and affordable higher education," said MDC's Executive VP and Provost Dr. Lenore Rodicio. "At MDC, we believe opportunity changes everything. We are also pleased to again collaborate with the University of Miami, a longtime institutional partner."
"The University of Miami takes pride in serving our community in creative ways. This agreement demonstrates how UM and Miami Dade College are working together to meet the education needs of students in South Florida," said Dr. Jeffrey L. Duerk, executive vice president for academic affairs and provost of the University of Miami. "We are honored to continue to partner with Miami Dade College in this endeavor."
The agreement establishes that UM will accept and guarantee merit scholarships to MDC students who have received their associate in arts degree from the Honors College and meet the requirements of transferability of coursework necessary to complete their four-year degree, and further will meet full demonstrated financial need for domestic transfer students. The transfer application fee will be waived by the University for students active in the Honors College.
Upon acceptance, students will transfer to UM's College of Arts and Sciences with junior year standing, without having to duplicate coursework already successfully completed at MDC. Transfer students will need to complete UM's Cognates Program, which serves as the University's framework for general education requirements. Cognates comprise three courses and must be completed within three areas of knowledge: STEM, People and Society, and Arts and Humanities.
The 10-year agreement between the two academic institutions will continue through May 31, 2028. Enrollment will be limited to 300 new MDC students in the fall semester, and 150 new MDC transfers in the spring semester.