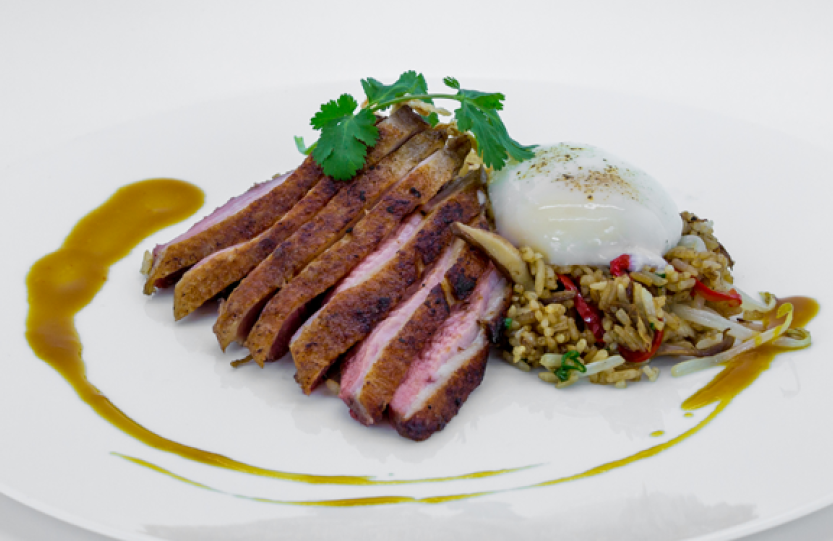 Miami, May 4, 2016 – – Miami Dade College's (MDC) very own culinary gem, Tuyo, was selected by Estrella Damm to offer a Chef's Choice selection, a gastronomic feast featuring a three-course meal and Estrella Damm beer for $39 May 14 – 28.
Tuyo restaurant, rated by OpenTable diners as one of the area's top restaurants for ambiance, scenic views and celebrating special occasions, is one of only 20 restaurants selected for its strong culinary background.
For the Chef's Choice selection, Tuyo applied a contemporary approach using quality, seasonal ingredients with Estrella Damm's "arroz" or rice theme as inspiration. Crafted by Executive Chef Victor Santos, Tuyo's Chef's Choice selection will include Spanish Octopus Carpaccio as an Appetizer; Estrella Damm- Cured Breast of Duck with Fried Rice, Mango Sweet and Sour Sauce, and topped with a perfect Poached Egg as an Entrée; and culminates with Poached Peach Tart and Caramel-Beer Ice Cream for Dessert.
Located on the top floor of MDC's acclaimed Miami Culinary Institute (MCI), Tuyo offers one of South Florida's most elegant dining experiences with a panoramic view of the downtown skyline and Biscayne Bay.
Tax and gratuity are not included in the Chef's Choice selection.
To make a reservation, please call 305-237-3200, or e-mail reservations@tuyomiami.com.
View all Tuyo menus at www.tuyomiami.com.