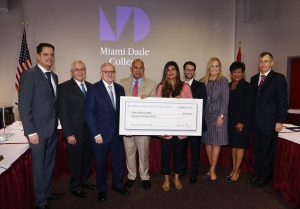 Miami, Oct. 23, 2017 – The Mohsin & Fauzia Jaffer Foundation recently donated $75,000 to Miami Dade College to establish the first Lecturer for Islamic Studies on campus to provide resources, education, and outreach on Islam.
"A quarter of humanity is Muslim," said Dr. Mohsin Jaffer, co-founder of the Mohsin & Fauzia Jaffer Foundation.  "If we don't understand Muslims, we don't understand a quarter of the world.    The biggest evil is ignorance and the antidote is education."
As MDC's Visiting Lecturer for Islamic Studies, Dr. Mohammad Homayounvash will operate out of the Homestead Campus and will serve as a resource by providing expertise on curriculum and organizing various panel discussions on Islam, the Middle East, women's rights and political violence.  He will also work with MDC's Live Arts on programming, which has dedicated its new season to Muslim culture, and to coordinate student trips abroad.
Originally from Iran, Dr. Homayounvash has a doctoral degree in International Relations. Among his many accolades, he is also the author of the book, Iran and the Nuclear Question: History and Evolutionary Trajectory.
COSMOS (Coalition of South Florida Muslim Organizations) collaborated with The Jaffer Foundation to fund the Lecturer for Islamic Studies position.  COSMOS works to establish a Muslim presence in the community, offer outreach, and provide media engagement.  The mission of the Jaffer Foundation is to make a positive impact on society through various charities throughout the world. For decades, MDC has worked to build bridges of understanding between cultures. Its renowned Holocaust and Genocide Education Program, which is coordinating the Islamic Studies initiative, is developing a deeper awareness and understanding of cultural diversity and the events that have shaped our shared history.
For more information on the Visiting Lecturer and on Islamic Studies at MDC, please contact the Dean, Faculty & Student Services, Prof. Randall Kaufman, at 305-237-5267 or rkaufma1@mdc.edu.