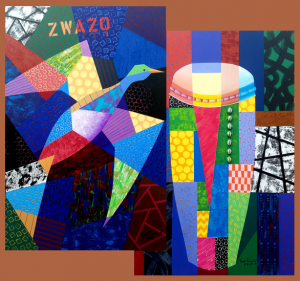 Miami, June 25, 2019 – Miami Dade College's (MDC) West Campus will present Fred Thomas' exhibition, Relevance.  The opening will take place on Thursday, July 18, at 11:30 a.m., and it will be on display through Friday, Sept. 27. The event is free and open to the public.
Thomas' subject matters, style and techniques vary from abstraction, cubism, surrealism, minimalism, and lately pop art. He uses straight edge and painterly approaches while using collage, stamps, cut metal, knotted rope, heavy-impasto-texture.  His artwork exudes a halo of familiarity, mystery and symbolism, which suggests primeval yearnings for elusive dreams associated with his childhood, other significant life experiences and his visions for the future.
Born in Haiti, Thomas started to draw at an early age, reproducing sketches created by his father.  As a teenager, he was already a freelance commercial artist designing seasonal greeting cards and promotional posters.  His interest in art became even stronger while living in Canada, the United States, and Germany.  Thomas enrolled in the art education program at MDC and since then, he has participated in and curated countless art exhibitions and cultural events throughout the Miami area.
He is the co-author of the 2008 book, Here, There and Beyond: The Works of 16 Haitian Artists of Florida.  Thomas is the author of the catalog, Haiti Focus 2014 and a contributing writer with Marcel Duret to Tokyo Journal, an international magazine with a series of articles on Haitian artists living in South Florida.  He illustrated the children's book, The Little Helpers, written by his wife, Carline Duret; and the book, Bless Me Father for I am Not a Born Sinner, by Rev. Aaron Moore.  Thomas was also the illustrator of the 2009 Silver Addy award-winning promotional billboards for the former cellular telephone company, Voila.
For more information, please contact Fred Thomas at 305-987-7994; ftartconnection@aol.com
WHAT:            Opening of Fred Thomas' Exhibition Relevance
WHEN:           Exhibition Opening: Thursday, July 18, at 11:30 a.m.
The exhibition will be in display until Sept. 27
WHERE:         MDC's West Campus, 3800 NW 115th Ave.