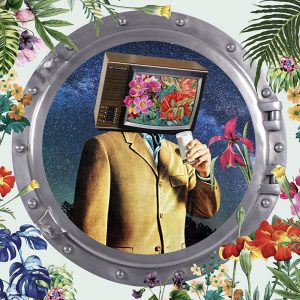 Miami, Jan. 15, 2019 – Miami Dade College's (MDC) West Campus will present the opening of David Krovblit's exhibition, Strange Paradise, in collaboration with Contemporary Art Projects USA, Tuesday, Feb. 12, at 11:30 a.m. The exhibition, free and open to the public, is on display through Thursday, April 11.  
Born and raised in Toronto, Canada, Krovblit studied photography at Ryerson University. He cleverly merged his career as a professional advertising photographer, shooting national and international brand campaigns, with creating artistically celebrated artworks as a fine art photographer. His art is influenced by the everyday world, which he interprets depicting an artistic response based on common issues and images that as an artist he transforms in intriguing and provoking depictions. His powerful images are engaging to viewers, creating very personal relevant thoughts and feelings. To contemplate his collage photography is a visual and intellectual experience. Krovblit has a keen eye for detail and a great skill with the medium. He plays with symbolic images that in his artwork acquire a meaning entirely the opposite, from the delicate or priceless to volatile and surprising. His creations play with the ironic and the unexpected, such as how a symbol of life might become something destructive or vice versa. His images are visually eye-catching and provocative, while they highlight the contrast of carrying the weight of human history joining with our contemporary society, merging the contents of their back story and present creative depictions. At the same time as his concepts can be of a serious nature, Krovblit's collage combinations create a lightheartedness that makes each piece engaging and approachable, as they talk about subjects from different cultures with a unique variety of assembled images and time frames.
Curated by Mariavelia Savino, the curatorial selection of this exhibition defined collages in which we can appreciate how his colorful images are conceptually rising above contemporary issues, while exploring social and ecological themes with great humor and intense messages.  For example, in two of his main pieces for the exhibition, surrounded by beautiful earthly flowers and plants, the Astronaut and TV-Head make a call to love nature warning us about endless issues, such as: the possible need for humanity to have to migrate to other planets, the space race to learn about other worlds, the contamination that men are producing on Earth and in space, the need.  These images make viewers to experience an immeasurable travel from the deepness of the seas to the infinity of the heavenly space. Looking to them, we will feel like staring out from a spaceship window, making us to think that no matter the shape or the size of the window from which we look, to understand and assume life will depend by who we are and what we want to see, to accomplish, or to believe about.
The artworks by Krovblit have been featured throughout Canada and the United States in juried group showcases, in solo exhibitions, relevant art fairs, such as in Scope 2018 during Art Basel Miami week, where Kovblit was presented by Contemporary Art Projects USA, as well as in Art Wynwood 2019.  His art is part of private art collections in Europe, Asia, Canada and the United States of America.
For more information, please contact Tata Fernandez at 786-262-5886.
WHAT:             David Krovblit's Strange Paradise exhibition
WHEN:             Tuesday, Feb. 12, 11:30 a.m. – Opening
Exhibition on display through Thursday, April 11 during regular campus hours.  
WHERE:           MDC's West Campus Gallery, 3800 N.W. 115 Ave.