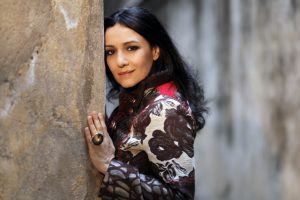 Miami, March 6, 2017 – Miami Dade College's (MDC) Arts and Philosophy Department continues its successful jazz series, Jazz at Wolfson Presents, with vocalist and songwriter Roxana Amed, at noon, Wednesday, March 15, at MDC's Wolfson Campus. All Jazz at Wolfson Presents concerts are free and open to the public.
Born in Buenos Aires, Argentina, Amed is considered by colleagues, audiences and critics to be one of the most important voices in Argentine music. Since 2004, she has released six albums and developed a sophisticated sound blending jazz and Argentine popular music, original poetry and the greatest authors from her country. Amed is also considered a unique performer of this fusion in Spanish language.
She has released six albums, Limbo and Entremundos, produced with Grammy Award winner Pedro Aznar; La voz más alla (DVD); Cinemateca Finlandesa, a duo album with Grammy nominee Adrián Iaies; Inocencia, a tribute to Argentine folk music; and La sombra de su som- bra, a duo album with New York pianist-composer Frank Carlberg with original music to the poetry by Alejandra Pizarnik. Her albums are now released by Sony Music Entertainment US Latin, and Amed is an exclusive author for Sony/ATV Music Publishing, working as songwriter for world-known commercial artists.
For a complete list of concerts, please visit http://www.mdc.edu/main/jazzatwolfsonpresents.
For more information, please contact Dr. Michael Di Liddo at 305-237-3930.