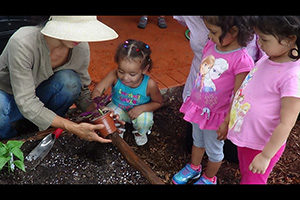 Miami, March 1, 2016 – Miami Dade College's(MDC) School of Professional Development at the Hialeah Campus was awarded a recent grant from theAetna Foundation to implement the Si a la Salud Ahora (SALSA) project, which works with several childcare centers in the City of Hialeah to address childhood obesity and promote nutrition education.
The grant funds personnel to offer workshops, lectures and provide health related presentations. Vegetable gardens have been planted at childcare centers, including Kidz City Learning Center; Pinocchio Day Care; New Angels Academy 2; Juana Rodriguez Large Family Day Care, and Cardona Large Family Child Care.
Approximately 75 childcare practitioners have received critical information and training related to understanding childhood obesity and promoting proper nutrition and physical activity among their preschool students. The project has reached 477 preschool children, who increased their awareness of the benefits of consuming healthy foods and participated in regular physical activity to promote long-term health and discourage obesity.
In addition, 20 parents of preschoolers have increased their knowledge of healthy meal preparation and resources to prevent child hood obesity through a workshop offered by an expert in child nutrition. The recent grant amount was for $25,000.
For more information, please visit  http://libraryguides.mdc.edu/SALSA.