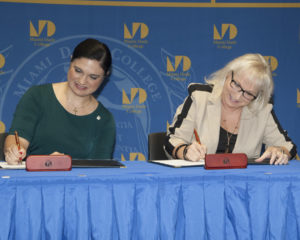 Miami, Sept. 9, 2016 – Miami Dade College (MDC) signed an agreement today with Miami Cerebral Palsy Residential Services (MCPRS) to award college credit hours toward an Associate in Science degree in Human Services to MCPRS employees who are registered Direct Support Professionals (DSP), which provide support, guidance, and care for persons with intellectual and developmental disabilities.
MCPRS positively impacts the quality of life for people with cerebral palsy and other developmental disabilities, meets their multiple needs and those of their families, prevents developmental disabilities, and minimizes their effect.
Through this partnership, MDC and MCPRS will combat the growing demand for DSPs, the limited availability of training and education, and increased expectations and requirements that make it essential that there be increased investment in this vital workforce. The field is plagued with high turnover at a time when demand for additional direct support professionals to support both disability and aging populations in the United States is peaking. It is estimated that nationally more than one million new DSP positions will need to be filled by 2022.
The Generalist Human Services Associate in Science degree prepares the students for employment in the network of programs and agencies which provide a vast array of human needs. These include areas such as child care, criminal justice, education, health, housing, income maintenance, mental health and disabilities, among others. These needs are provided for a variety of settings, such as clinics, hospitals, nursing homes, rehabilitation centers and social agencies.  Participating MCPRS employees must meet MDC admission requirements and Prior Learning Assessment Portfolio program eligibility criteria to participate.
For more information, please contact Tiffani Malvin, Director of Prior Learning Assessment, tmalvin@mdc.edu, 305-237-3039