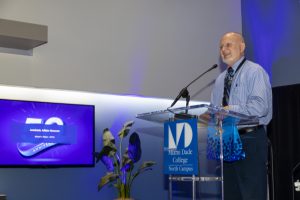 Miami, May 8, 2019– This year, professor Michael Walton celebrates the amazing milestone of teaching for 50 years at Miami Dade College's (MDC) North Campus.  It is estimated that Walton has taught and mentored more than 18,000 students, many of whom have had children who also took his classes.
During his career at the College, Walton has been a professor through the evolution of information technology and the explosion of computer science in the business and higher education landscape.
"Michael Walton embodies and exemplifies the true MDC story – starting as a student and continuing to grow through the decades as a dedicated professional and faculty member throughout his career," said Dr. Malou C. Harrison, President of the North and InterAmerican Campuses.  "We are so proud of his service and the impact he continues to have on student learning and success in computer science."
Walton's connection with the College began in 1965, when he enrolled as a student and earned an Associate in accounting. He then transferred to the University of West Florida and completed his Bachelor of Science  in accounting.  In 1969, Walton was hired as a full- time instructor at the North Campus to teach various programming classes in IT, which was then a relatively new field.
"I love teaching, introducing new students to the world of IT and showing how it can help them in their various majors," Walton said.  "I especially love being in the classroom. This is where I feel most comfortable, being able to educate the leaders of tomorrow."
Later in his career, Walton proceeded to complete his M.S. in Computer Technology from Barry University.  At one time, he became the chairperson for the department but after a year, he went back to teaching as full-time faculty.  One of the many highlights of his career, while serving as an advisor to the Computer Science Club, was taking a team of students to Myrtle Beach, South Carolina to participate in the Data Processing Management Association Stucon convention. They placed first while competing with other top colleges and universities in the region. During the first five years of the club's existence, it was recognized as the most active organization among all colleges and universities in the United States for three years, while twice coming in second place.
Walton is not slowing down anytime soon and when asked if he plans to retire, his response was: "My legacy began here, and I will continue for another 50 years if I can."