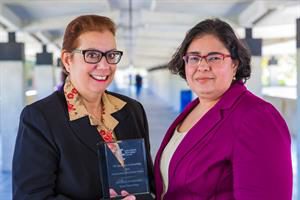 Miami, March 1, 2016 – Miami Dade College (MDC) professor Dr. Sheryl M. Hartman and instructional designer Melisa Rios recently received the Instructional Technology Council (ITC) 2016 Award for Excellence in eLearning: Outstanding Fully-Online Course.
ITC is an affiliated council of the Association of American Community Colleges and represents nearly 400 institutions that offer distance education courses to their students globally.
The winning course for the award needed to be designed with a high level of interactivity, multimedia, communication, and variety of instructional and course management strategies, according to the ITC. These strategies must be replicable and assist an instructor to facilitate more effectively; continuously evaluate student performance and course quality; and provide an outstanding educational experience for the students.
Hartman, a professor of psychology and student life skills, and Rios, a MDC Virtual College senior instructional designer, won the Outstanding Online course award from ITC for their Advanced Abnormal Psychology course.
Hartman's total commitment to her students has earned her MDC's highest distinction of Endowed Teaching Chair 4 times. She has facilitated faculty development and training programs, as well as trained more than 100 MDC faculty members and staff.  Hartman has also customized four courses for delivery with the Virtual College:  Abnormal Psychology, Introduction to Psychology, Preparing for Student Success and College Survival Skills.
Rios is a rising star within the MDC Virtual College. After only six months in her original position as a learning management specialist, she became a senior instructional designer, a position she has held for the past five years.  Rios is responsible for providing direct instructional design support to developers and others in areas including American History, Business, Computer Programming, and Psychology. Most recently, she was appointed as the point person for the Bachelor of Science in Information Systems Technology.  Rios has also had the opportunity to present the poster, A Model for Collaborative Learning, at the 2013 Quality Matters Conference