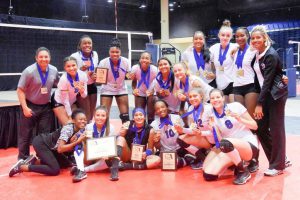 Miami, Nov. 5, 2018 – Miami Dade College's (MDC) women's volleyball team, the Lady Sharks, have once again won the coveted 2018 FCSAA State Volleyball Tournament.
"I am very proud of our stellar student athletes.  Thank you, Lady Sharks, for giving your all to your team and your College, and for your outstanding contribution to MDC's long and successful history in collegiate sports. Kudos to Coach Benoit and staff," said MDC's President, Dr. Eduardo J. Padrón.   
The Lady Sharks defeated Polk State College in the final match to win the state championship.   The Lady Sharks victory (23-25, 25-20, 25-12, 25-21) featured Tiziana Baumrukova with 50 assists, one ace and eight digs, Scherine Dahoue with 12 digs, 16 kills and two blocks and Samaret Caraballo with 21 digs.
This season's victories mirror the team's outstanding performance in previous years, when they wrapped up a stellar undefeated post season by bringing home their ninth NJCAA Volleyball National Championship title.  The NJCAA Volleyball National Tournament is   Nov. 15-17 in Hutchison, Kansas.   At nationals, the Lady Sharks will have a chance to set an MDC volleyball record by bringing home three consecutive national championship titles.
MDC's Department of Athletics prides itself in the sponsorship of academic development and promotion of sports. MDC teams have earned a total of 35 NJCAA national titles, including 15 in women's sports.
The intercollegiate athletic program at MDC works in partnership with its dynamic, multi-cultural community to provide accessible and high-quality guidance and direction by keeping the needs of the student-athlete at the center of all decision-making. Go Sharks!
For more information, please contact Giovanni Montenegro at gmonten1@mdc.edu